On this site I used to quite often drive all over town and take pictures of all the new construction and demolition, store openings and closings, road work, and all the other visible facets of a changing city. One thing I've never been, though, is consistent, and it's been a long time since I've done any of those posts. So I thought I would make an effort to go around town, and try to capture some of the recent changes that I've noticed happening lately, plus some stuff that's been announced for the future.
Carson Tahoe Care Center
You might remember, off of Mountain Street, the old medical buildings that were demolished back in 2012 . The Ross, Gilbert and Waters Buildings were built in 1976 and housed medical offices for decades, even after the hospital moved to the other side of town. But the buildings were torn down and the land stayed empty until a couple of years ago.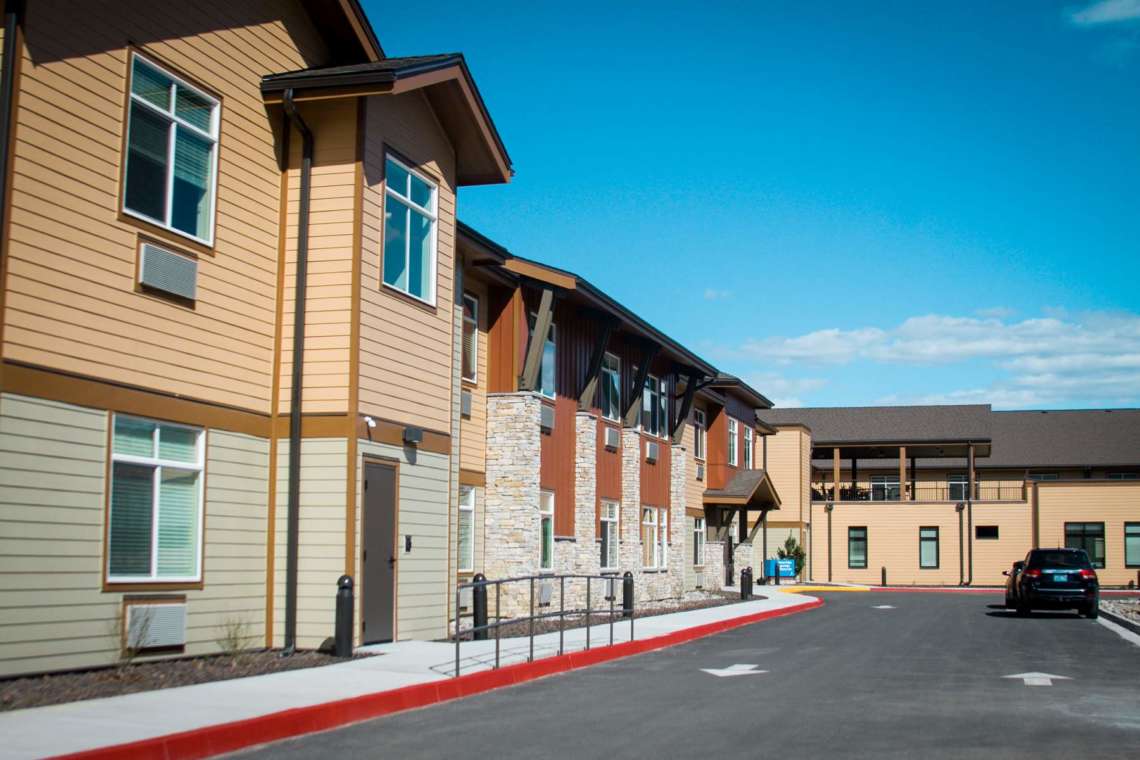 Construction on a new medical facility has been going on for a couple of years, and it looks like it is finally finished and ready to start accepting patients. This will house a rehabilitation center and a memory care center.
Chevron Station
There has been a Chevron gas station at the northwest corner of Carson and William Streets for as long as I've lived in Carson City (over 30 years). Recently I noticed it was boarded up, and I wasn't sure what was going on with it. In the last week or so, heavy equipment suddenly moved in and demolished the whole station.
There's nothing left now but dirt and the underground fuel tanks. I haven't heard any news on what is planned for this corner, if it will stay vacant or if this is just the first step of something new going in.
Arco Station
Similarly, the Arco gas station next to the Ormsby House (at the corner of Seventh and Carson) closed suddenly back in January. There has been speculation online that this is somehow related to imminent news about the Ormsby House, but there hasn't been anything concrete reported. The station and convenience store have been slowly dismantled, with the pumps and fixtures being carted off, and it makes me wonder if it will meet the same fate as the Chevron Station. There has been a gas station on this corner since at least the 70s or 60s, I believe. Before Arco this was a Richfield station.
Costco Gas
Not every gas station is closing. The Costco Gasoline station is so successful they are working on adding more pumps. This is sorely needed; there is usually a line backed up around the corner to get gas here, since they often have the lowest prices in town.
National's Sushi
Back in February, National's Sushi closed its doors. It was located at 1701 N Carson Street, right next to the O'Reilly Auto Parts. It had been located here in this small building for 15 years. Rumors abounded that they closed because of disputes with the landlord, and that they were looking for a new location. This is a story we've heard many times before, and there usually isn't a happy ending. But this time, everything actually worked out. In late March, National's reopened in the shopping center at Stewart and William, just behind the Cracker Box. I tried to go there and there was a line out the door, so the move may turn out to be a good thing for them.
Little Caesar's
The curse of the Carson Mall continues. Little Caesar's was located in the Carson Mall for over a decade, but they packed up and left one day last year. And Gordon's Photo Center, which had occupied the space next door for several decades, also closed.
Five Guys
Seven years ago we were all excited about Carson City getting a Five Guys Burgers. We had heard a lot of good things about this fast food burger place, and when it opened it didn't disappoint. I went there many times during the first couple of years it was open. But then I started noticing that every time I went, the prices had inched up a little more. It started to not make financial sense to go anymore, so it became more of a rare treat. Eventually it seemed like the prices were even higher than Chili's or Applebee's, and way overpriced for fast food, so I just stopped going all together. I guess I wasn't the only one, because at the beginning of March the doors were locked and the place was being cleared out. I kind of feel sad, because of all the excitement and build-up to its opening, but at the same time I hadn't been in a long time so it's no loss for me.
Chick-Fil-A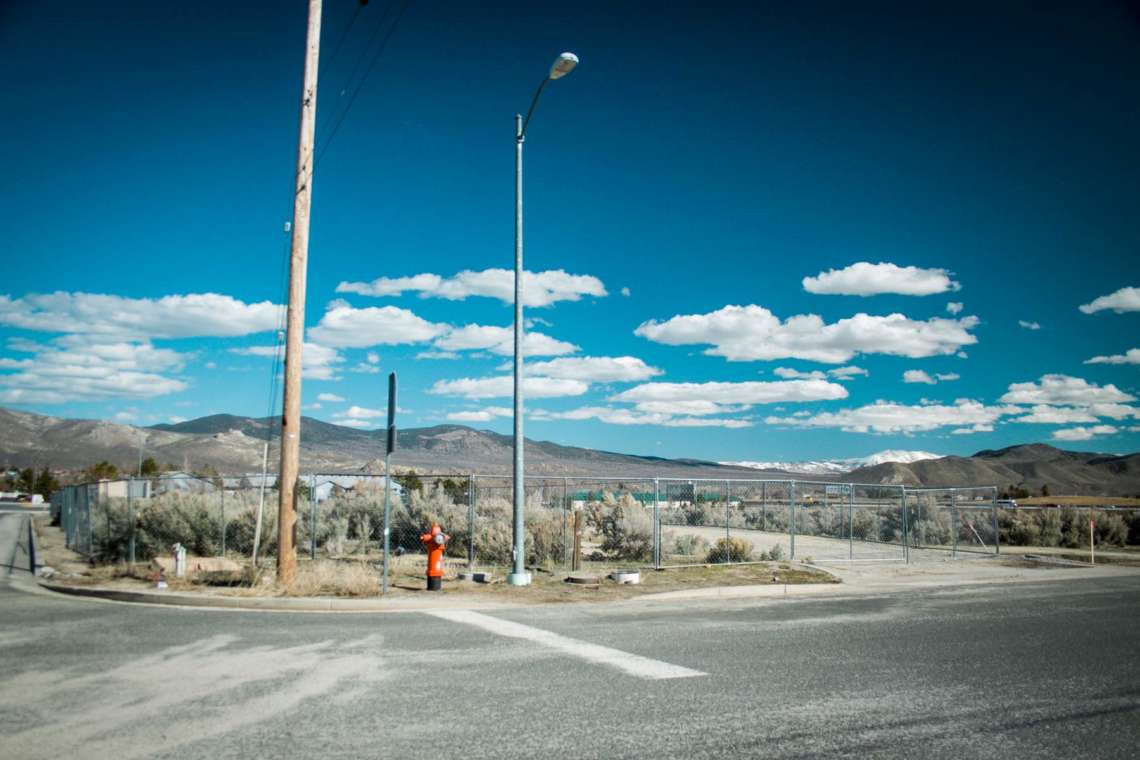 Last summer a new retail development was announced at the corner of Cochise and Appion. This is at the south end of town, just before the turnoff to Spooner Grade (right next to Terrible's Chevron). At the time the only tenant announced was Chick-Fil-A, though they said there would be another fast food and a larger retail building also going in. Since then there has been no news, and there hasn't been any work on this corner yet. We'll have to wait and see if this is actually going through or if it's another project that's going to quietly die.
Nissan Dealership
In 2014, the Craft Market closed on south Carson Street. This store had formerly been known as Ben Franklin Crafts, and had moved to this spot from Hwy 50 in the 90s. In total, the store was open for 37 years before closing. The building sat vacant ever since, until recently when it was demolished and the whole lot cleared off. Construction is now underway for a Nissan dealership, to add to all the other car dealerships along this part of the street.
Carson Hills Apartments
Carson City is in the midst of a housing crisis. Hardly any new houses or apartments have been built in the last decade, but lots of people still want to move here. This has led to rents and house prices skyrocketing over the last few years, leaving a lot of difficulty for anyone trying to find a place to live, especially at lower prices. A few different plans have been announced for new multi-family housing, and the last year has seen some progress and construction on a few of these. One of these is the Carson Hills Apartments, which are right next door to the Galaxy Fandango movie theater at the south end of town.
I took a look at this construction last summer, when it was little more than dirt. Now several of the buildings have started to go vertical, and several others are having their foundations worked on. This has been in the planning stages for a few years, so it's good to see construction moving along. There are supposed to be 370 apartments here when it is done.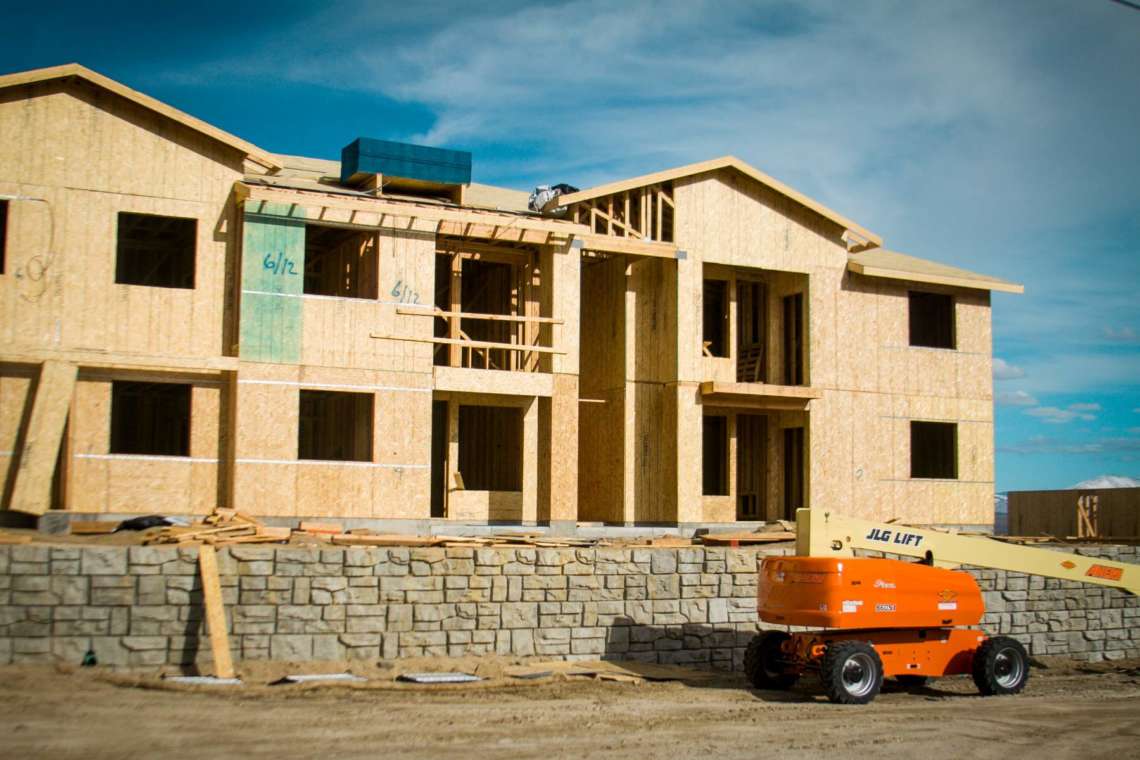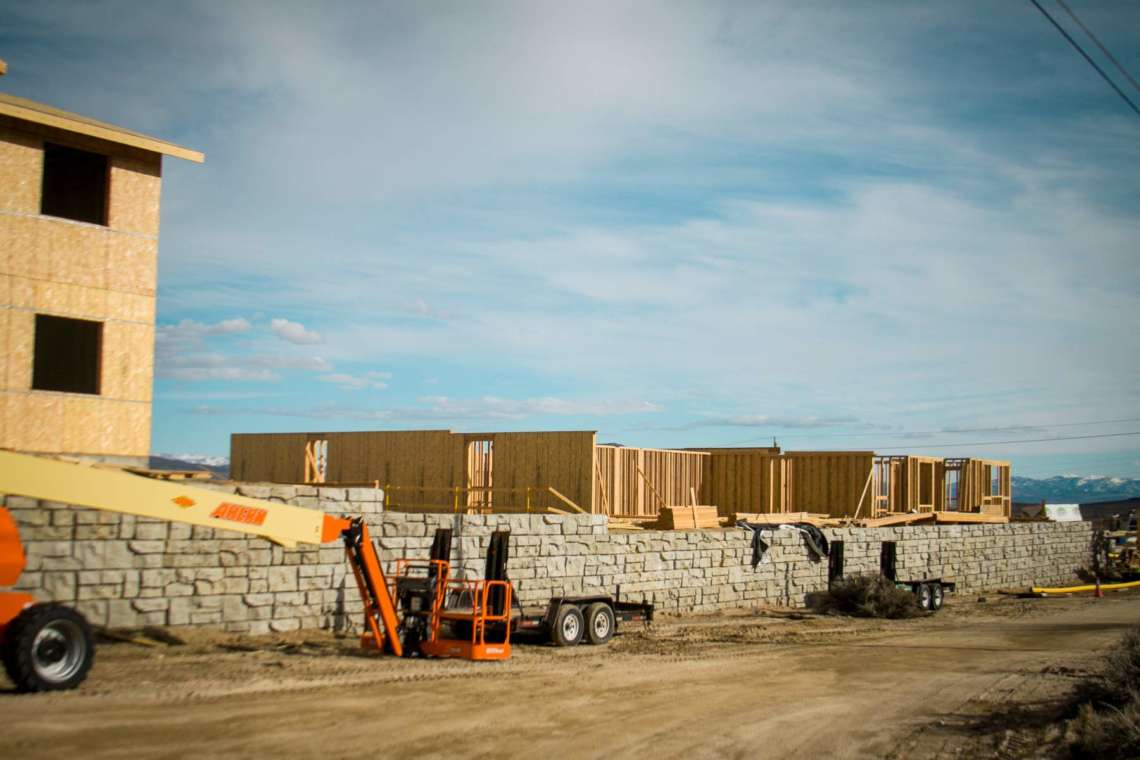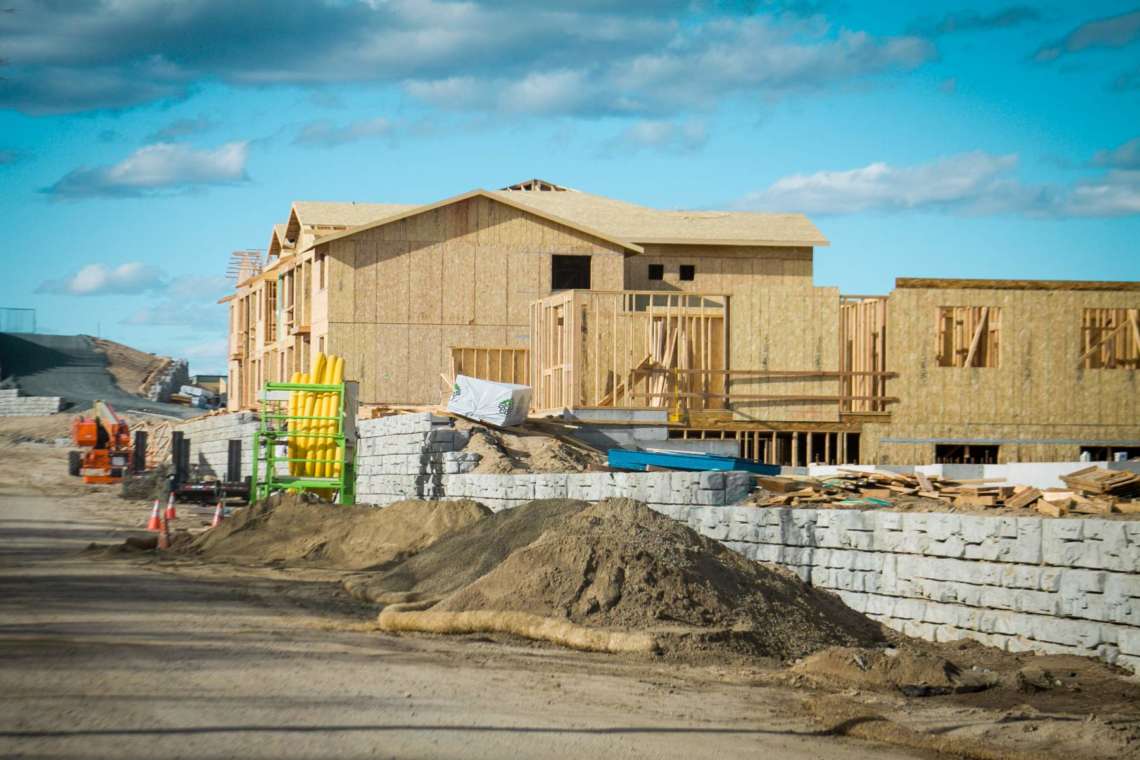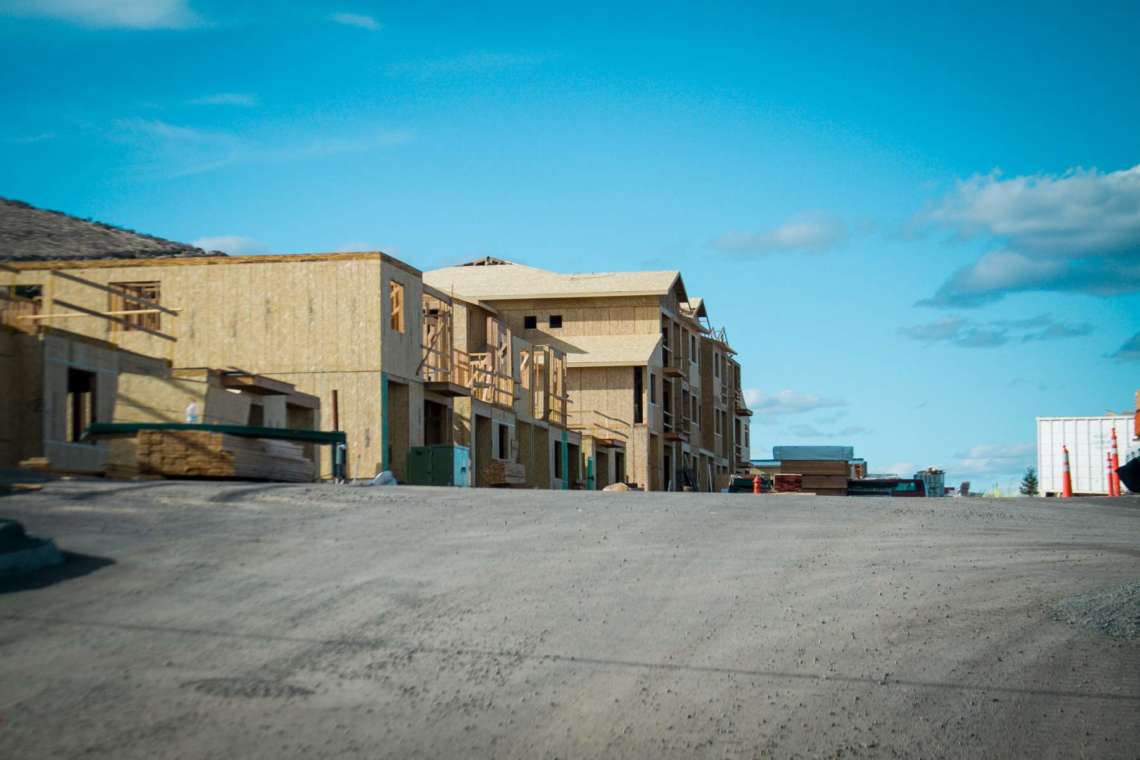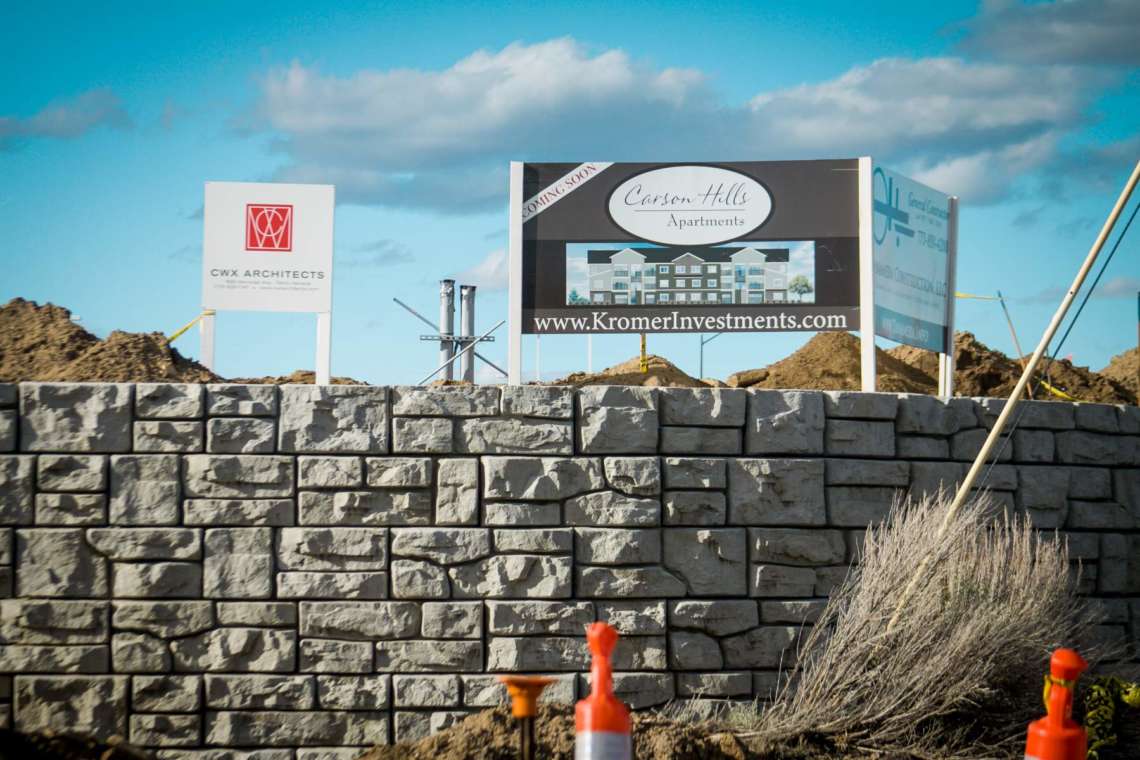 Arbor Villas
Another new construction project has been moving along at a glacial pace. In January 2017 ground was broken on Little Lane for the Arbor Villas townhouse development. Over 2 years later, the model homes are finally finished and work is underway on the first block of actual houses. That is a very long time. I've watched this project for two years, and there were long stretches of time where nothing was being done. Hopefully now they can work quickly to get these houses finished.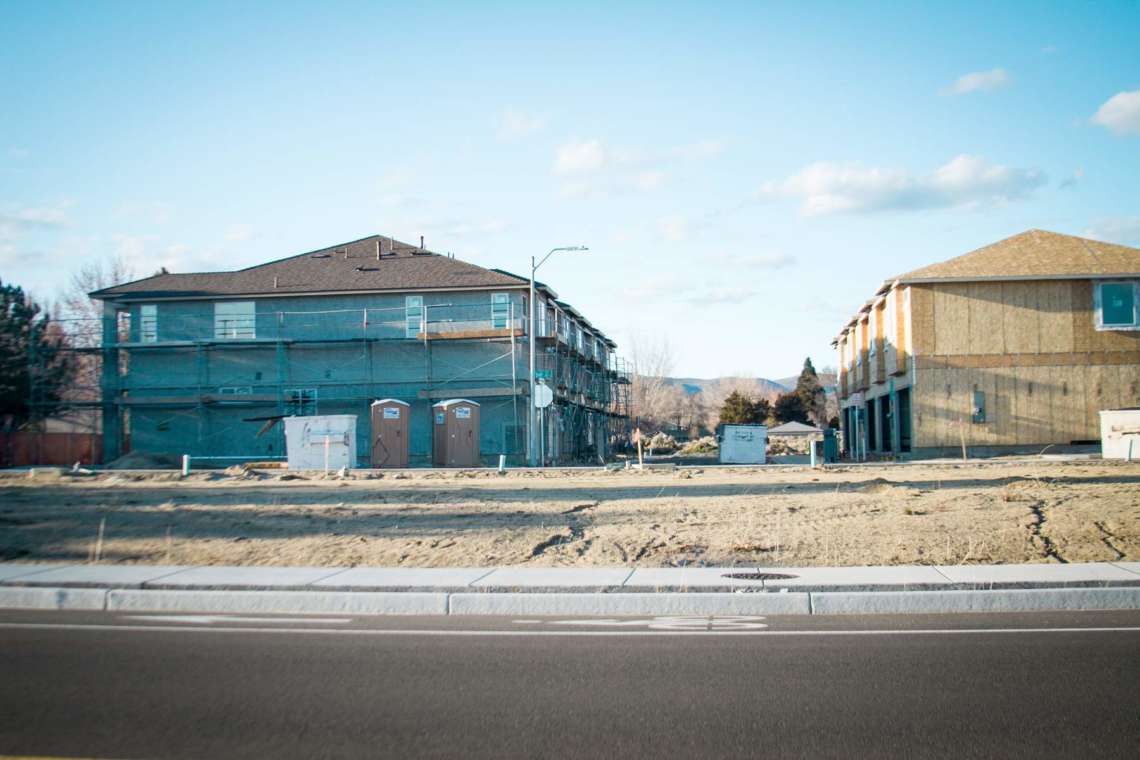 Mills Landing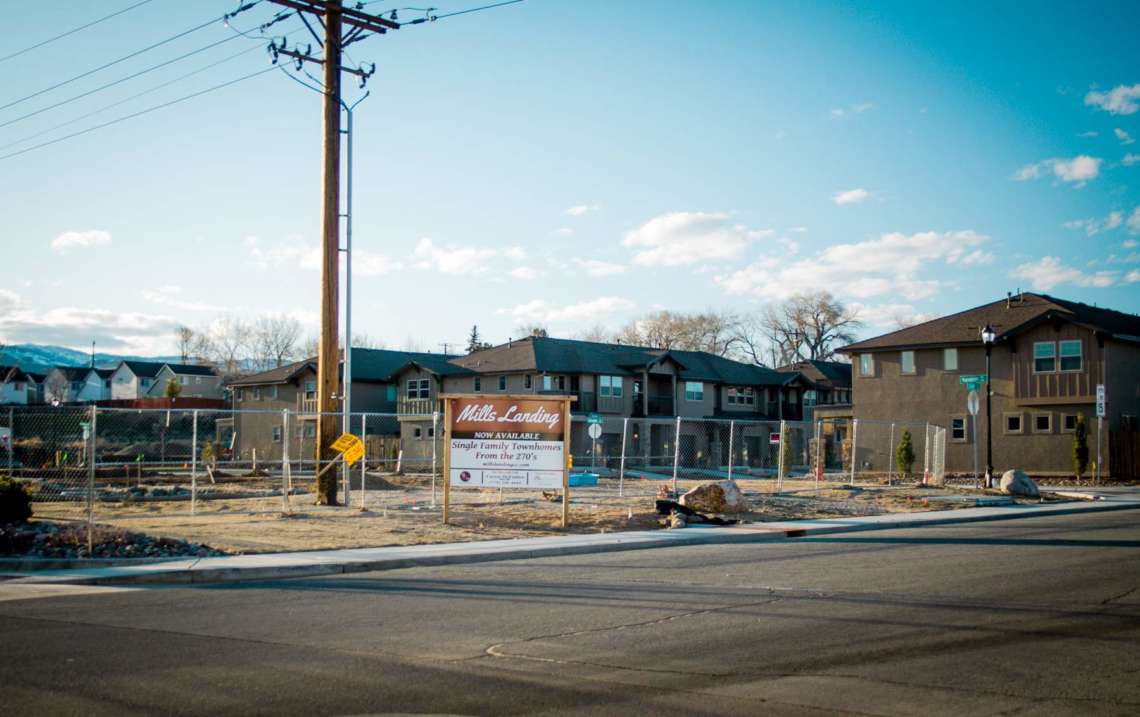 Another project that has been moving a bit faster is Mills Landing, on State Street (behind the Hwy 50 Starbucks). Ground was also broken here in 2017, but they have been moving much faster and several of the units are finished with people living in them already. Other units are still under construction.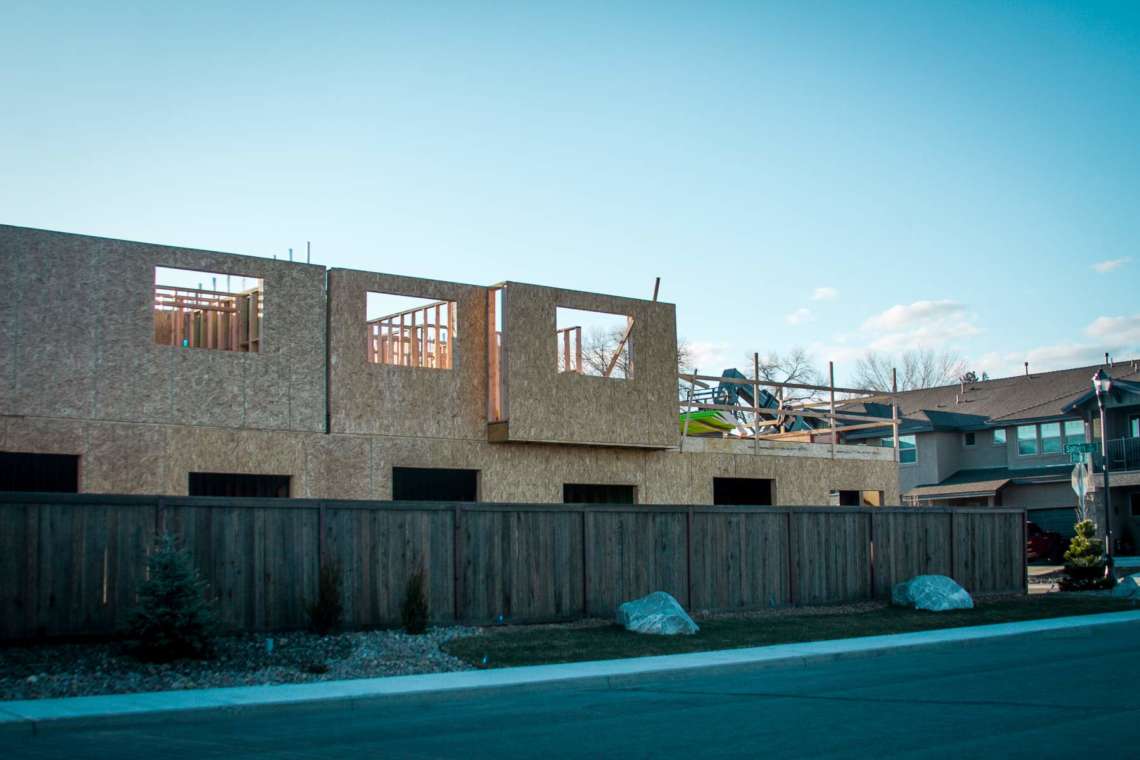 Lompa Ranch
The largest tract of empty land in Carson City is the Lompa Ranch, between Saliman and the freeway. There are hundreds of houses and apartments planned for this land, along with retail and office space. But so far, only this little bit of earthmoving has been done. This project could be in the works for another 10-20 years at this rate.
Newly Announced Apartments
Just this week, another new apartment complex was announced for the corner of Cochise and Overland, just down the street from the Chick-Fil-A site. This one is super early in the process and still has to go through approval, permitting and financing stages. So it could still fall through. I remember many years ago a plan to build on the opposite corner of this intersection was announced and never went through.
213 South Nevada
In September I did a feature on the old house at 213 South Nevada Street that was being demolished. Soon after that it was torn down, and now a new house is going up on the site.
This has been a huge post but every so often it's necessary to get out and take a look at how all these projects are coming along. Hopefully in the future I'll keep up on it and do these posts more often so that they're not so overwhelming!