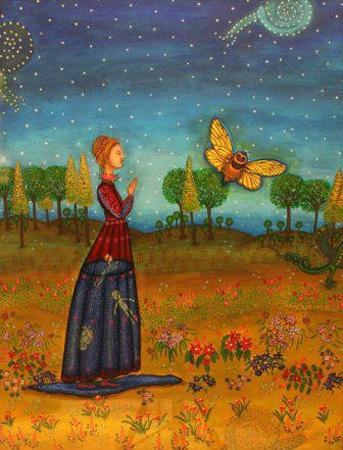 Image Info: Elizabeth Gomez, Moth Prayer, 2001, Mixed Media on Paper, 33 x 25 inches, collection of the Nevada Museum of Art, loan courtesy of the artist.
The Nevada State Museum hosts Voces Latinas, on display in the South Changing Gallery October 3 through November 18, 2007. The exhibit explores the diverse range of creative voices within the Latino community. The bilingual interpretation showcases fifteen artists and highlights works of art on paper from 1921 to the present, including early prints by Diego Rivera and Jos� Clemente Orozco.
Although it is impossible to survey the entire history of Latino art in a single exhibition, the artists in Voces Latinas explore a range of themes that have long been important within Latino culture. Traditional scenes celebrate the importance of religion and family, while contemporary works show the influence of Modernism, Symbolism, and Magical Realism.
The exhibition features works by Enrique Chagoya, Camille Rose Garcia, Carmen Lomas Garza, Elizabeth Gomez, Sergio Gonzalez-Tornero, Gronk, Luis Jim�nez, Jr., Jos� Chavez Morado, Jos� Clemente Orozco, Diego Rivera, Gustavo Ramos Rivera, Tino Rodr�guez, Frank Romero, Rufino Tamayo, and Patssi Valdez.
Voces Latinas supports the museum's ongoing effort to welcome diverse audiences. The exhibit complements the Latino cultural festival, Day of the Dead, scheduled for Saturday, November 3, 2007.
The Nevada State Museum will also partner with Carson City area middle and high schools to create an art competition in conjunction with the exhibit.
Curated by the Nevada Museum of Art, Voces Latinas is part of the Nevada Arts Council Nevada Touring Initiative Program, which is sponsored by American Masterpieces: Three Centuries of Genius, an initiative of the National Endowment for the Arts. For more information, contact Deborah Stevenson at 775-687-4810, ext. 237.
The Nevada State Museum actively engages people in understanding and celebrating Nevada's natural and cultural heritage. The museum collects, preserves, and presents this heritage through exhibits, educational programs, and publications. Exhibits highlight the state's geology, history, a replica walk-through mine and ghost town, and Under One Sky: Nevada's Native American Heritage. The museum is open from 8:30 a.m. to 4:30 p.m. daily. Admission is $5 for adults, $3 for seniors, and free for children under 18. For information, call (775) 687-4810.