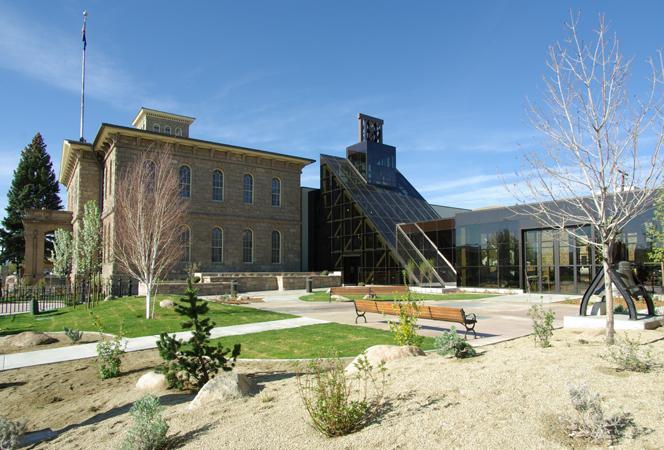 Carson City, Nev.?The Nevada State Museum will celebrate the public grand opening of its new concourse on Thursday, May 14 from 5:00 p.m. to 8:00 p.m. Governor Jim Gibbons is scheduled to perform the official ribbon cutting ceremony at 5:15 p.m. The ceremony will be followed by a program in the South Changing Gallery at 6:00 p.m.
The concept of a structure linking museum buildings dates back to the late 1990s when the State of Nevada purchased the former FIB building just north of the museum. The building, now known as the North Building, currently houses the Under One Sky exhibit.
"The concept was founded on the clear advantages of creating an enclosed walkway between buildings," said museum director Jim Barmore. "Such a structure improves visitor safety, comfort and access as well as ties the museum together."
The idea grew later into a larger vision, encompassing improvements for disabled access and the famous underground mine exhibit. The design of the structure took on the look of a stylized mine headframe, reflecting the mission of the museum and heritage of the state.
The cost of the project was approximately $5.4 million. Funding was finalized in the spring of 2007, when the economic conditions of the state were very different from today. Construction commenced in October 2007.
According to Barmore, "The now completed concourse elevates the museum's standing as one of the best mid-sized museums in the country. The distinctive design is intriguing, creating an attraction for drawing visitors. The contemporary style suggests the museum is current and up to date."
Visitors now enjoy a single entry point, enhancing their introduction and orientation. The structure simplifies the flow through galleries and buildings, reducing confusion. New spaces are provided for staging tour groups and exhibiting large artifacts not seen before. A ride down the elevator takes visitors on a tour of the underground mine exhibit, which remains otherwise unchanged. An expanded museum store appeals to shoppers of Nevada heritage merchandise.