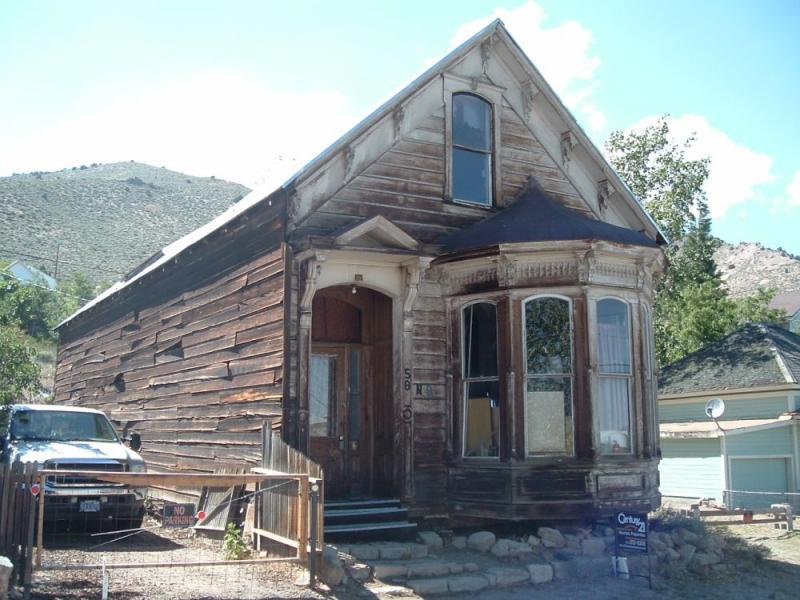 You know, I was really happy to see this article in the Nevada Appeal. It's the story of the B Street Bed & Breakfast in Virginia City, which just opened its door a couple of weeks ago. Above is a picture of the place. I know it doesn't look like much. But that's the before picture, the way it looked in 20032004 when I went for a day trip up to Virginia City. I was drawn to the house not only because of its run-down appearance, but also because of the For Sale sign out front. Who, I wondered, would be brave enough to take this "fixer-upper" on as a project?
Apparently, Carolyn and Chris Eichin were brave enough. They bought it soon after I took the picture, and put in three years of sweat to restore it to a glory it probably hadn't seen since 1876. And they've opened it up as the B Street Bed & Breakfast, the latest move in the great resurgence Virginia City has been going through lately.
It's great to see these adaptive reuse projects springing up all over Virginia City. The B Street Bed & Breakfast is only the latest in a long line of renovations, like the Cafe Del Rio and Edith Palmer's Country Inn, where buildings that were crumbing and neglected were restored to life, and with them, a little life is brought back to Virginia City. I wasn't around to see Virginia City at its lowest point, in the 1950s and 60s, but I have been around to see the growth it's been going through in the last 20 years as it's being rediscovered as one of the best tourist attractions in the West. Of course with new development and new growth come the danger of losing the very things that make Virginia City a charming place to visit, but I think that most of these renovations are done in the spirit of bring back to Virginia City the Victorian grandeur it once had. Trying to erase the effects of time, and go back to the 1870s when the town rivaled San Francisco in opulance. The entire town is one giant museum, after all, and projects like these are just new exhibits being put on display. I'm excited to see what else Virginia City has in store for all of us.
I just wish I could get up there more than once a year.
Visit the website of the B Street Bed & Breakfast for information on the history of the house, a peek inside the bedrooms, and list of prices.