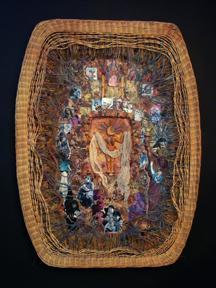 Carson City, Nev. The Nevada State Museum presents Interwoven 2010: Visions of the Great Basin Basketmakers on display in the Dema Guinn Concourse and North Changing Gallery of the Nevada State Museum, March 25 through July 24, 2010.
A free grand opening reception will be held Thursday, March 25 at 5:00 pm. Visitors can enjoy light refreshments, visit with many of the exhibit's artists and purchase some of the baskets that are for sale.
"Interwoven 2010 represents the finest in both contemporary and traditional basketry, including innovative woven sculptures of natural and man-made materials," said curator of education Deborah Stevenson. "This is the third time the museum has partnered with the Great Basin Basketmakers to produce this exhibit and each time their creations are more inventive, imaginative and fascinating."
Encompassing nearly all of Nevada and parts of Utah, California and Oregon, the vast Great Basin is the home of the 200 member strong Great Basin Basketmakers.
According to founder Mary Lee Fulkerson, "our membership is large and diverse, showcasing a rich blend of basketry traditions from around the country. To that, we've added some fine Native American baskets, along with cutting-edge artistic creations, so folks will be treated to a spectacular show, maybe our best ever."
The focus of the Great Basin Basketmakers is to make baskets, to learn everything possible about the tradition and techniques of basketry and to pass this knowledge along to others. A wide variety of programs complement the exhibit, including demonstrations, lectures and workshops integrating traditional styles with imaginative new forms.
Basket demonstrations are free with regular admission; workshops require a fee. For more information, contact Deborah Stevenson, Curator of Education, at dstevenson@nevadaculture.org or 775-687-4810, ext. 237.
Program schedule:
April 24 10:00 am ? 1:00 pm: Contemporary Weaving with Recycled Materials, Demonstration
May 22 10:00 am ? 1:00 pm: Traditional Methods of Weaving with Natural Materials, Demonstration
10:00 am ? 1:00 pm: Help Build a Giant Outdoor Basket, all ages welcome; location: Loftin Park (located right outside the museum entrance)
June 5 1:00 ? 4:00 pm: Pine Needle Basketmaking Demonstration with Native American artists, Audrey & Brenda Frank, in partnership with the Folklife Program of the Nevada Arts Council with funding from the National Endowment for the Arts
July 17 9:00 am ? 3:00 pm: Weaving a Traditional Basket with Reed, Workshop for beginners
The guild has written and published a book titled Weaving Naturally in the Great Basin: A Guide to Harvesting and Preparing Plant Materials for Basketry. The book is available at guild meetings and selected locations, including the Nevada State Museum Store.
Due to mandatory state budget restrictions, the museum is closed Sunday ? Tuesday, and open from 8:30 am to 4:30 pm, Wednesday ? Saturday. Please enter through the Dema Guinn Concourse. Admission: $6 for adults, $4 for seniors, and free for members and children under 18. For information, call (775) 687-4810.
The Nevada State Museum is one of seven managed by the state Division of Museums and History, an agency of the Nevada Department of Cultural Affairs. The Department serves Nevada's citizens and visitors through cultural and information management, presentation and promotion of cultural resources, and education. The Department also includes the State Office of Historic Preservation, Nevada State Library and Archives and the Nevada Arts Council. For more information, please call Teresa Moiola at 775-687-8323 or visit the department's website at www.NevadaCulture.org.