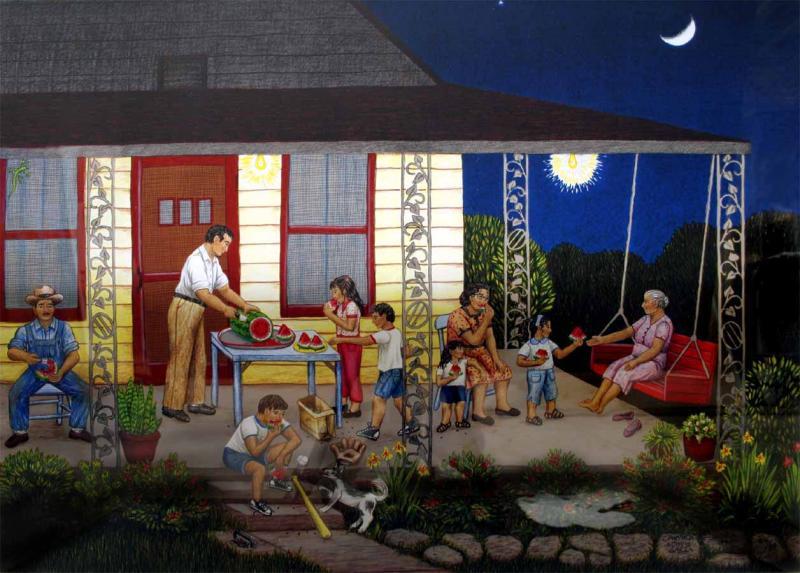 The Nevada State Museum will present a gallery talk on the exhibit, Voces Latinas: Works on Paper from 1921 � Present by Guest Curator Ann M. Wolfe at noon on Wednesday, November 7, 2007, in the South Changing Gallery.
Wolfe is the Curator of Exhibitions and Collections at the Nevada Museum of Art and curator for Voces Latinas. Drawing upon her vast expertise, Wolfe will explain the significance of Voces Latinas in relation to important themes in Latino society, such as family and religion. Her discussion will also shed light on the contemporary artistic traditions of Modernism, Symbolism and Magical Realism.
On display at the Nevada State Museum through November 18, Voces Latinas showcases 15 renowned Latino artists, representing the diverse range of creative voices within the Latino community. Featured artists include Diego Rivera, Jos� Clemente Orozco, Enrique Chagoya, Camille Rose Garcia, Carmen Lomas Garza, Elizabeth Gomez, Sergio Gonzales-Tornero, Gronk, Luis Jim�nez, Jr., Jos� Chavez Morado, Gustavo Ramos Rivera, Tino Rodr�guez, Frank Romero, Rufino Tamayo and Patssi Valdez.
The exhibit is part of the Nevada Arts Council's Nevada Touring Initiative with support from the American Masterpieces Initiative of the National Endowment for the Arts. Voces Latinas is part of the Nevada Museum of Art's permanent collection.
Before coming to the Nevada Museum of Art in Reno, Wolfe served as Assistant Curator at the San Jose Museum of Art, where she curated Suburban Escape: the Art of California Sprawl and authored a book with the same title. She also served in various curatorial capacities at a number of California museums: Crocker Art Museum in Sacramento, the de Saisset Museum in Santa Clara and Fisher Gallery/USC Museum in Los Angeles. Wolfe received her M.A. degree in Art History and Museum Studies from the University of Southern California, Los Angeles and earned her B.A. in Art History from Santa Clara University.
The museum is open from 8:30 a.m. to 4:30 p.m. daily. Visitors enter through the museum's south entrance on Robinson Street. Admission is $5 for adults, $3 for seniors, and free for children under 18. For information, call (775) 687-4810.
Photo Information: Carmen Lomas Garza, Sandia (Watermelon), 1997, Color lithograph, 22 x 30 inches, collection of the Nevada Museum of Art, loan courtesy of the artist.