The Nevada Appeal has another full-page cover story again today. That's starting to become quite the tradition around the paper, to devote the entire front page to one story. But it's okay, because it's a story I'm interested in. So I'll let them slide this time.
The story is all about Tunnel #2 on the V&T Railroad, one of the biggest obstacles left to the reconstruction effort now that the Overman Pit has been filled in. The article, of course, is written by Becky Bosshart, who seems to be the paper's V&T beat reporter, and is kicking all kids of ass with that assignment.
The Virginia & Truckee Railroad had six tunnels when it was fully completed. This is Nevada, after all, and every once in a while you're going to run into a mountain that's tough or impossible to go around, so you've got to go through. And they did go through, six times. Tunnel #1 was built on Duck Hill, near the top of the grade leaving Carson City and going up to Lakeview, Washoe, and Reno. Thousands of motorists pass by the remaining scar every day on Hwy 395, and if you know what you're looking for it's pretty obvious. This tunnel collapsed sometime in the early 20th century, and they were able to build a shoo-fly around it, but you can still see the odd depression in the hillside that used to be the tunnel entrance.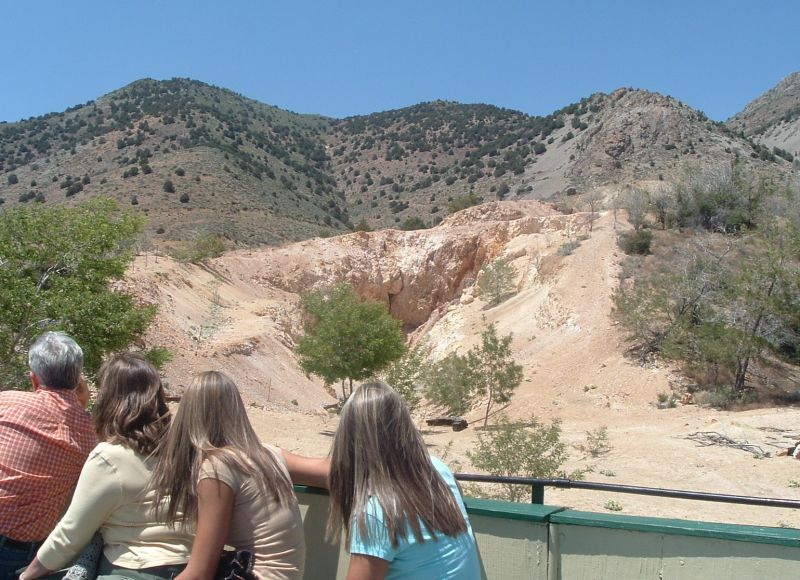 The east entrance of Tunnel #3. It's still open, but don't go in there. Seriously.
Tunnel #3 is visible from the road too, if you look from the right angle. The tunnel is on the grade above Gold Hill, as you're travelling up to Virginia City. Bob Gray tried to reopen this tunnel in the late 80s so he could run his trains through it, but there were too many collapses and it couldn't be made safe. So they built a shoo-fly around it, too, and left both the entrances open. I've been inside Tunnel #3, but it's a pretty foolish thing to do. The ground is littered with boulders, and you never know when another one's going to come down, maybe right on your head. Make sure your life insurance is paid up if you're going to go explore Tunnel #3.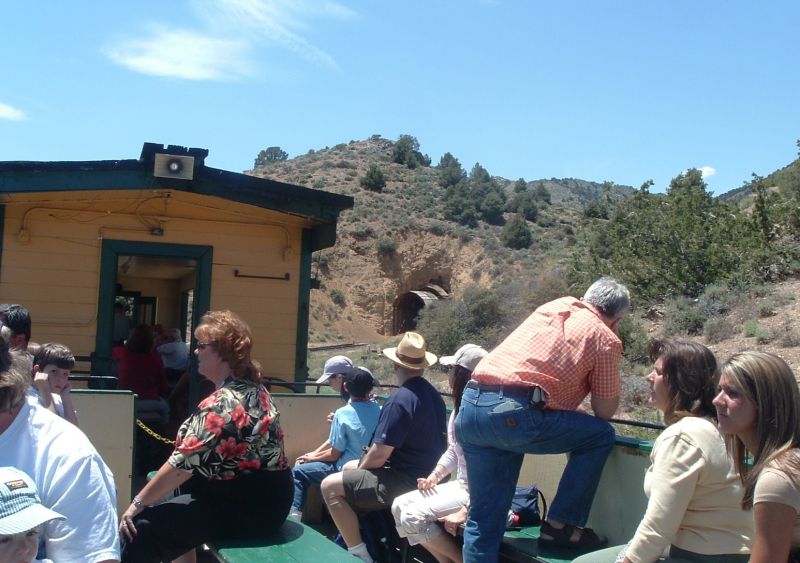 Coming up on Tunnel #4.
Tunnel #4 is the only one that's been fully restored. It's just a few hundred yards east of Tunnel #3, and it cuts right through an impossible ridge that stood in the way of the V&T tracks. The train runs through it every day on its way between VC and Gold Hill, and if you've got a steam locomotive in front of you it's pretty exciting as the tunnel fills with water vapor and a fog starts to form on the windows. With the diesel engine the V&T has been running the last few years, though, it's a little less exciting. The only thing the tunnel fills with are diesel fumes, and you start to wonder if you'll make it to the other end without being asphyxiated.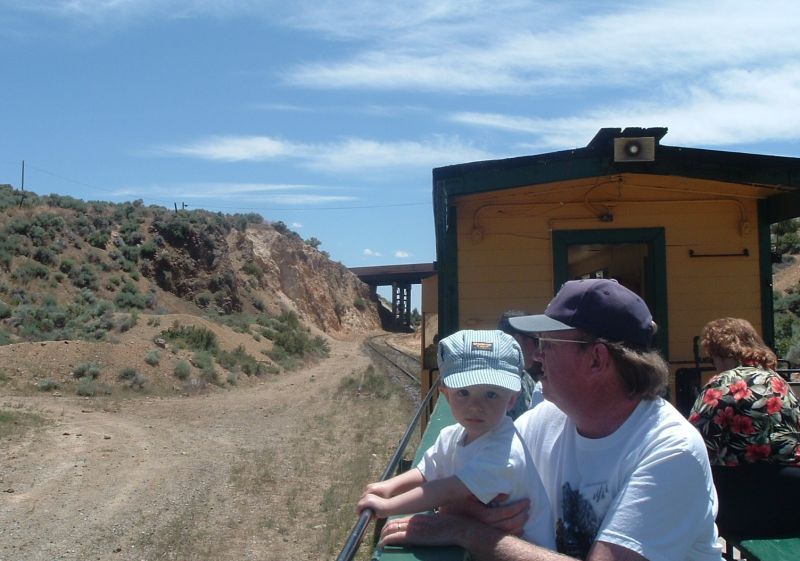 Tunnel #5, in the background next to little Sammy.
Tunnel #5 is a strange case, since the trains go through it every day, but most people might not realize it. That's because the tunnel has been daylighted, meaning the roof has been ripped off so it really just looks like you're going through a stone canyon. But not only has the roof been removed, a highway bridge has been built over the top. So when you're going through the tunnel you're also passing under a road. Not as much fun as going through a tunnel, but the bridge is a great place to take train pictures from.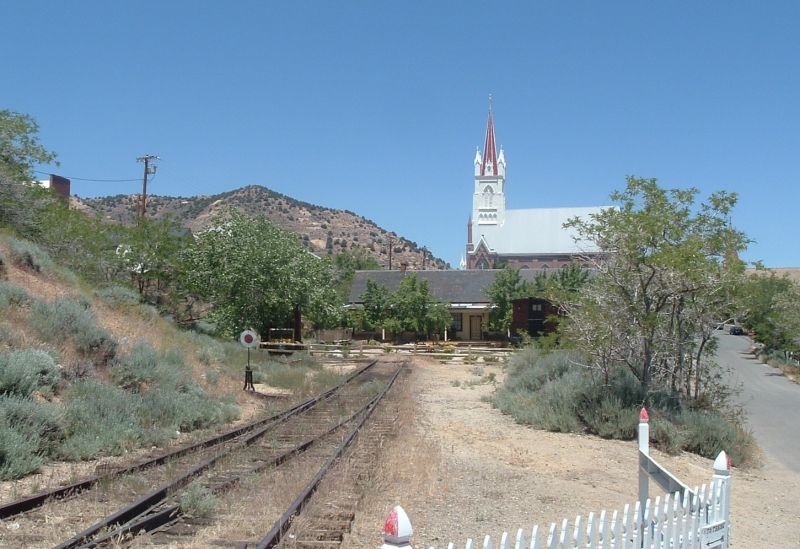 Believe it or not, this is the south entrance to Tunnel #6. It's somewhere behind that big tree to the left of the building, and the tunnel runs right next to the foundations of St Mary's Chruch.
Tunnel #6 is another strange case, since it's hidden right in plain sight. It's there, but you won't even realize it unless you know the story. That's because Tunnel #6 is plugged at both ends, yet it's right in downtown Virginia City. When the V&T rails finally reached VC, there was one more little ridge that was standing in the way. They had to drill this hole through the ridge so they could get to the other side, where they planned to build the depot. After the tracks were removed in 1938, the tunnel was closed and a road was built over the north entrance. Bob Gray never bothered to reopen this tunnel, but it is in the plans for the final phase of the V&T reconstruction effort. The current V&T track dead ends right at the south entrance, and somewhere beyond that, underneath E Street, right in front of St Mary's Church, is a tunnel waiting to be reopened.
But this brings us to Tunnel #2, the most mysterious of the tunnels, because it's the most inaccessible. It sits about halfway between Gold Hill and Mound House, and you can only get to it on foot or by four-wheel-drive. It's the one tunnel even I've never seen. Both ends of the tunnel were collasped in 1969 after the inside was damaged by fire, but construction crews have been cleaning things out this summer, trying to see if the tunnel can be saved. That's what Becky Bosshart's article is all about. I suggest you go read it, because she was actually there, and talked with the work crews, so she's got a better handle on what's going on. Tunnel #2 is a crucial part of the reconstruction plan. Without that tunnel being reopened, or a shoo-fly built around it, no train is ever going to travel between VC and Carson City. But if it can be restored, a journey on the V&T should be quite an exciting ride.