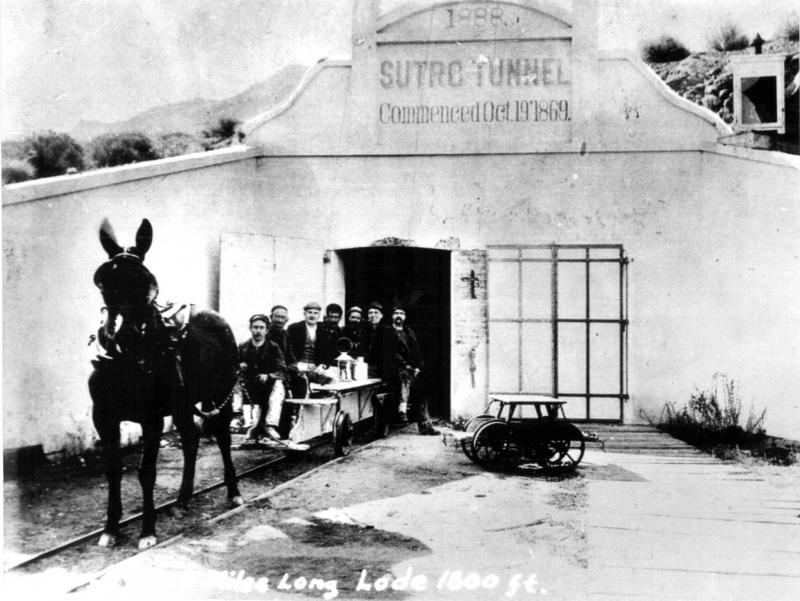 Richard Moreno last week wrote an excellent column on his Backyard Traveler blog about the town of Sutro, just east of Dayton. Sutro was built, and named for, Adolf Sutro, who had the idea to dig a tunnel all the way from the Dayton Valley straight across to the lower levels of the Comstock mines underneath Virginia City. This would both drain water out of the mines, which at the time had to be pumped constantly so they didn't flood, and would provide a much easier path to get the ore out of the mountain and down to the river so it could be milled.
Sutro actually built his tunnel, but by the time it was finished the mines had been dug much deeper, so there were still flooding problems that the tunnel could do nothing to help. And, the V&T Railroad made it super easy to get ore down the mountain, so the tunnel wasn't needed for that either.
So the tunnel proved to be a bust, and the town Sutro had laid out at the mouth of the tunnel never came to be. His own mansion stood a ways up the hill, overlooking a sagebrush plain full of desperation and failure. Sutro managed to cash out of the company before it collapsed financially, and took his money back to San Francisco. Later the tunnel collapsed physically, and now the former town of Sutro consists of little more than the impressive tunnel entrance, and a handful of old buildings on private land.
And all of this is just a way of highlighting this photo of the Sutro Mansion that someone contributed to the site, taken about a year before it burned to the ground in 1941.