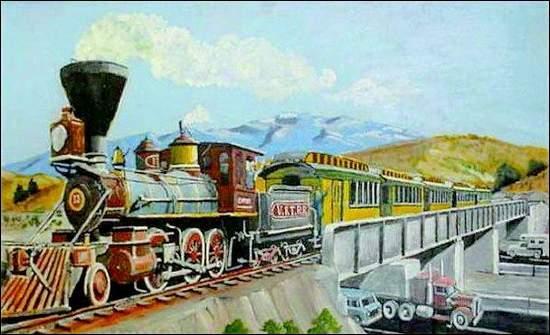 Nevada Appeal: V&T agreement allows Grays to use new track:
The trains of the Virginia & Truckee Railroad will be able to travel on the new track for another year.

Tom Gray, owner of the Virginia & Truckee, reached an agreement with the Nevada Commission for the Reconstruction of the V&T Railway, which is building the track from Gold Hill to Carson City. The agreement allows the Virginia & Truckee to take its 4 p.m. train on the 1.4-mile stretch of track from Gold Hill to American Flat that was completed in 2006.
Hopefully the Grays really will get their steam trains running again this year, because I'm getting a little tired of seeing that diesel engine up there.
The painting above was coincidentally submitted to the site today. It shows V&T #13, the Empire, crossing the proposed railroad bridge over Hwy 50 in Mound House. It would be quite a feat if this could come true; currently the Empire is being held captive at the California State Railroad Museum in Sacramento, one of three of our native engines that are being held against their will in a foreign land. We'd love to get the Empire, and her sisters, back to Carson City to ride the rails, but the outlook for that happening is grim.
Instead, the engine we'll really see pulling cars over the new bridge is this burly beast, #18 that was purchased from McCloud few years ago: