If you're a real Carson City old timer, you remember Kmart being in the Silver City Mall, right where Lowe's is today. It was there until about 1994, when the superstore moved to a brand new shiny big box at the north end of town. This site on College Parkway had enough room for them to expand to a full "Super" K, with a complete grocery store attached.
This Super K was the hot thing in town. At a time when our Wal-Mart was still regular and there was no Costco, this was the only all-in-one department/grocery store we had, and the largest store in town. I even worked there for a year and a half, manning the sporting goods counter. In later years, though, Costco, Target, and the new Super Wal-Mart took their toll on the Super K. The store lasted until 2003, when sales had fallen enough that it didn't make sense to the corporate office to keep it open anymore. They held a huge closeout sale, then shuttered their doors.
Ever since, the old Super K has sat empty. Carson City was lousy with these empty big box stores for a while, though luckily just about all of the other ones have been repurposed with new tenants. Super K is one of the few left still abandoned.
Super K opened in 1994 and closed in 2003. That was 9 years open. Now, in the year 2012, it's been closed and abandoned for as long as it was open. That's half its life spent in this state. That's a pretty bad statistic, and there are no signs of it getting any better.
Real estate companies have tried to invest in the Super K over the years, either finding one big retailer to move in or chop it up into space for smaller stores. Nothing has ever worked out. Only one tenant ever even tried to make a go in the old building. Gold's Gym took over the old garden shop, and it's still open today. That's a small percentage of the total square footage here, though.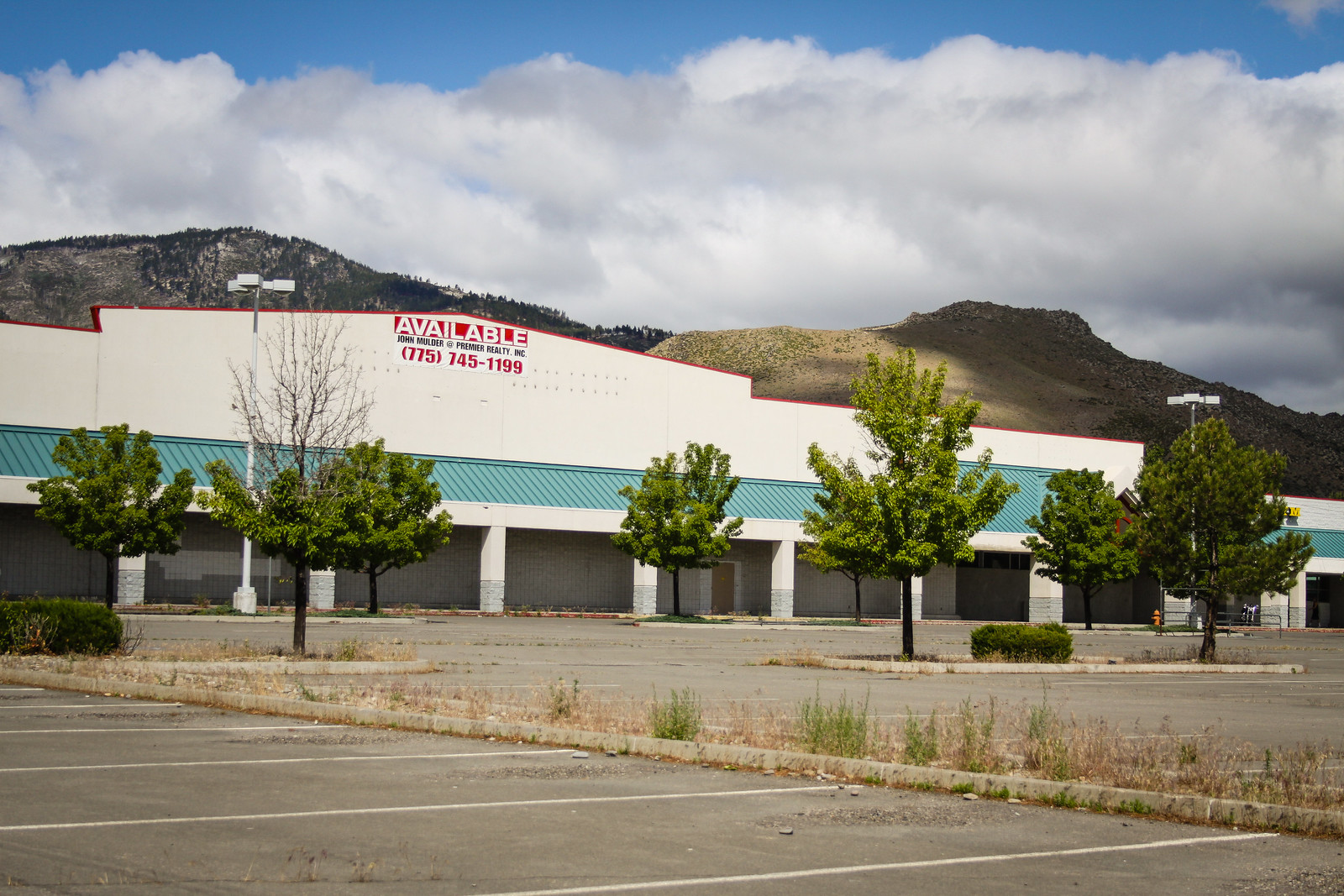 For a while after it was built, Super K stood alone. Soon it fulfilled its promise of being an anchor store, though, bringing a larger shopping center and other stores and restaurants to this corner. Bully's Sports Bar has been here quite a long time.
In the late 90's, the shopping center was greatly expanded and named "NorthTown Plaza". Thousands of square feet of retail space were built, with the expectation that Super K would be here forever. That didn't quite work out. Some of these spaces are still standing empty, and in 14 years haven't had even one tenant. Others are a revolving door of failed businesses, or they house offices that don't need a lot of foot traffic to be successful. The shopping center is faltering, and without a strong anchor to support it, it's never been a success.
2003 Pictures
In 2003, when they were in their last days of closing, I took my camera into the rapidly emptying shell of the Super K. I recorded aisle after aisle of empty shelves and clearance merchandise. It was the last days of what had once been a bustling retail operation. We didn't know at the time that 9 years later the building would still be sitting lifeless.
So Super K waits for some kind of second life, a slumbering ghost on the edge of town.