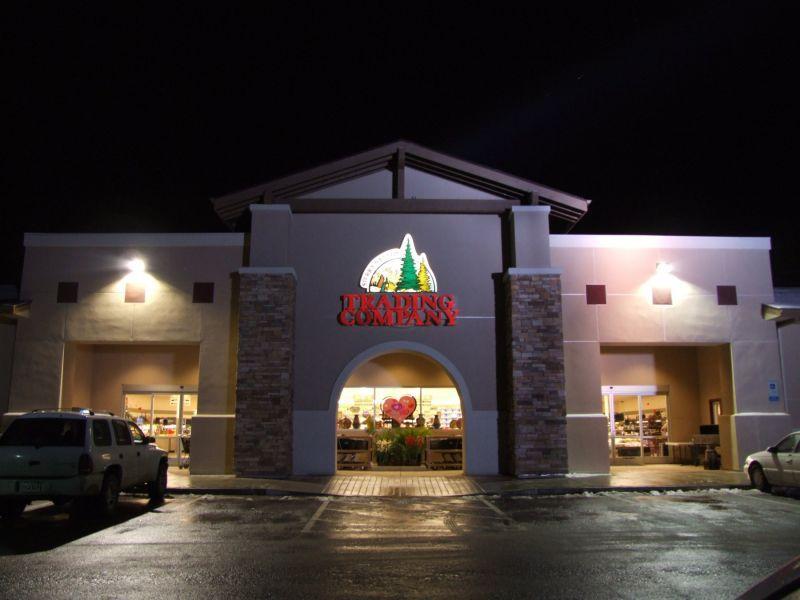 I can't say this is too surprising, but it is bad news. Lira's Supermarket, the only grocery store in Minden, will be closing in exactly one week. The store opened in 2006, when things were looking good in Minden and there was a boom of houses being built and people moving in. At first it was called the Sierra Nevada Trading Company. Only two years later it was taken over by Lira's, a small supermarket chain with a store at Lake Tahoe. And now, after two more years, it's done. It's a shame because whenever I went shopping there I enjoyed it. It was a small place, not a mega mart, and it seemed to have a lot of quality products and hometown charm. Just a nice place to shop, certainly better than Scolari's or Smith's.
It's hard to say exactly what caused the store to close. Basically people just weren't shopping there, but the why is the root of the problem here. The biggest reason, I'd say, is that it was hard to find and not many people knew it was there. It was located in the Minden Village shopping center, which was built during the 2004-05 time frame. But it was not located by the highway, it was all the way in the back. And I suppose I can see inside the developer's mind for making the decision to put the anchor store for the center all the way in the back. The store faces the Winhaven subdivision, as well as La Costa. And the master plan for that part of Minden included plenty more housing subdivisions and multi-family living, including the Wild Goose Villas and a relocated Minden Post Office right across the street. If all of that had come to pass, Lira's Supermarket might have been more of a success.
But let's come back to reality. All of that was bubble thinking, and things came crashing to Earth before most of it could be built. The parts that were built, like La Costa, are looking kind of orphaned and lonely now. And Lira's is sitting in the middle of a lot of wishful thinking, but not a lot of customers. It was built to be a neighborhood supermarket, but no neighborhood ever materialized around it. So now out of the people that are in Minden, they have a decision to make if they go to Lira's or if they go to the Raley's/Smith's/Scolari's superblock at the south end of Gardnerville. Even the Wal-Mart at the opposite end of the valley could be considered a competitor to Lira's, because we here in the Carson Valley are used to driving a long way to get anywhere, especially if it means saving money.
And that's the other part of the equation, the one I'm dancing around because it's not really a fair argument. When the Sierra Nevada Trading Company opened, prices there were noticeably higher. Higher than Smith's and Scolari's, and certainly higher than Wal-Mart. Now of course this is because it was a smaller store and a smaller company, and it didn't have the bulk discounts and volume profits that the larger companies can use to keep prices low. It's the problem that all small businesses face; there's always going to be a bigger company that can undercut you. So that's why it's not really fair to complain that their prices were higher; it's hardly their fault, it's just how the supermarket business works. And sometimes convenience is able to overcome higher price. I know I stopped by quite a few times just because it was close; I didn't mind the higher prices if it meant I could just quickly pop in and grab the three items I needed. I also didn't go there a lot in the last couple of years, so Lira's might have cut the prices down from what they were in the Sierra Nevada Trading Company days. This is where a neighborhood store has an advantage; when so many people live close by, they'd rather pay a little more close by than drive far to spend less. Lira's just didn't have enough people living by it, and it's not visible from the road so probably a lot of people who passed it every day never even knew it was there.
So now there will be another empty storefront in Minden, and this one's pretty big. It's a shame, but the community just couldn't support a store like Lira's. So it's hard to say how long the building will sit empty. The failure of two businesses in four years at this location, plus all the above issues, will turn off a lot of potential tenants.