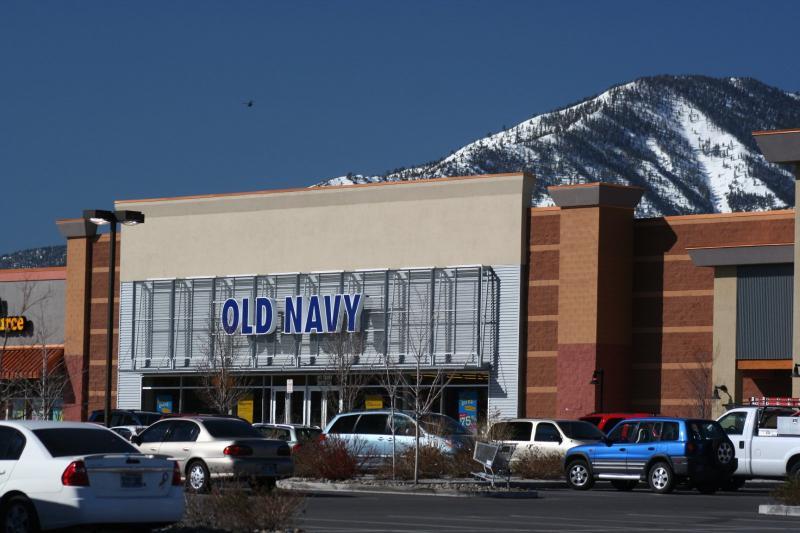 This blog used to the The Construction Blog. But now it's turning into The Store Closure Blog. It seems like I just wrote about Gottschalk's teetering on the edge of closing, and now today comes the news that Old Navy in the Carson Valley Plaza is closing. March 24th will be the last day, and for the next two weeks everything is being sold at close-out prices. The Old Navy stores in Reno (apparently there are three up there) will not be touched. Yet.
Old Navy is where we do a lot of our clothes shopping, so now we're going to have to burn more gas driving up to Reno. The store always seemed to have a lot of customers, I guess it's just a matter of the parent company needing to cut back, and striking the "weak performers" off the list.
This is the first major tenant to leave Carson Valley Plaza since it opened five years ago. The smaller stores have come and gone, but all the big anchors have been stable since the beginning. Maybe this is just the first step in a larger shakeup. Borders has been laying people off, and if they decide to cut back on locations Carson City might be one of the first to go.
This is also on top of the news from last week, a confirmation that the Riverwood shopping center across the street is in trouble. Like it wasn't already obvious from the fact that all work stopped three months ago so they could "re-negotiate utility contracts." Now under pressure from county commissioners, Riverwood developers have admitted that they won't start working again until later this year, possibly as late as fall. And the Kohl's has been pushed back to "next year".
Meanwhile, there's a big patch of bare dirt on the hill with nobody watering it down to control dust. The neighbors to the east aren't too happy about this. And I'm sure with the dry summer we have coming up they'll be even less happy in a couple of months. That kind of acreage can really kick up a hell of a dust storm, especially when the winds come whipping down Clear Creek canyon. I don't know if the county has any power to at least force them to water down their property to control dust.
So that's lots of bad news, and it makes you wonder how much more is coming.