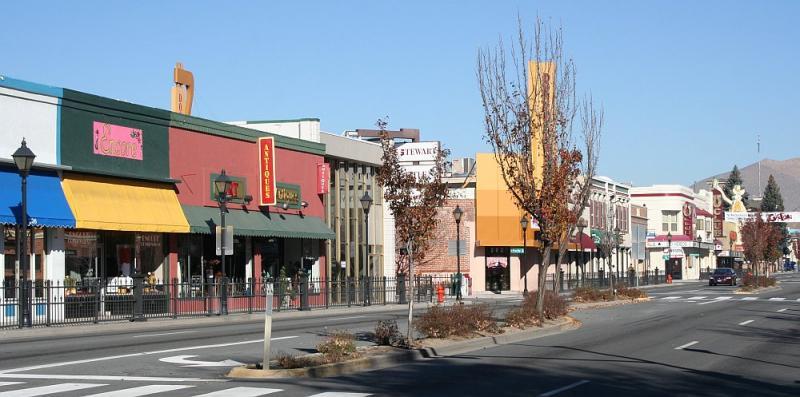 The Carson City downtown revitalization plan is still chugging along. The whole project is dedicated to making downtown a more attractive place to visit, both for tourists and for locals. In the past the planning has focused on Carson Street, and what to do after through traffic has been diverted to the new freeway. That included ideas to make Carson Street two lanes and making the sidewalks wider, making downtown more friendly to pedestrians and less friendly to cars. Also for the last couple of years attention has been paid to Curry Street, rebranding it as the "Curry Street Promenade" and scheduling events during the summer to bring people downtown. But now they're looking at what new construction should be in Carson City's future to entice people downtown.
The focus of the planning right now is on relocating the Carson City Library downtown, giving that organization the updated facilities it desperately needs while also making the library part of downtown, rather than the isolated island it is now. The Carson Nugget is working closely with the city on this, trying to create a public-private partnership that ends up benefiting everyone. Also involved is the Hop and Mae Adams Trust, established by the founders of the Nugget as a way to give back to the community. Both of the founders of the Nugget are deceased now, Hop in 2003 and Mae just a couple of weeks ago. She bequeathed much of her money into this trust that would be used to revitalize downtown Carson City, and that includes creating these partnerships between the casino and the town, and giving up much of the Nugget's vast sprawling parking lot to build a new civic center.
Over the years, as talk of reenvisioning Carson City has swirled around, I've always looked at the large Nugget parking lot as the obvious place for new development. Parking lots cover an astounding 8 blocks behind the Nugget, stretching from Musser to Robinson. Some of that is State parking for the Capitol and State Archive, but much of it is owned by the Nugget and is rarely full. Two years ago I wrote a huge post about the future of downtown, and pegged these parking lots as the ideal birthplace for Carson City's future.
The thing about good ideas is that everyone seems to have them at once, so now this week new plans have surfaced for how to use all that land. The parking that is there now would be sent to underground garages (I said above-ground garages), and all 8 blocks would be developed. The new library would be here, along with a large plaza, maybe a park, maybe a space for the ice rink, and also plenty of retail, office, and even residential space. The plan even has a website now, www.nevadasworkingcapital.com, with a lot of the ideas spelled out and even a bit of concept art. Some of the possibilities listed there:
A third-millennium knowledge and discovery library
A business & technology incubator center
A digital media lab
class A office space
commercial / retail space
residential, in-town housing
IMAX Theater
transit hub
public plaza
shared de-centralized parking
How much of this will actually end up downtown remains to be seen. The city isn't going to be building most of it themselves, what they're trying to do is plant seeds and get private developers excited about the possibilities downtown holds. You've got to get shopkeepers and restaurants to want to open up downtown, and to drive all this you have to get Carson City residents thinking of downtown as a place to go on the weekend and kill a few hours.
It's a lot of work to get there from here, but there are the beginnings of all of it to be seen. Downtown already has several good restaurants, like B'sghetti's, Firkin and Fox, the Basil, and Kim Lee's. Drive by Comma Coffee most nights, and you'll see people spilling out onto the sidewalk. And of course the Nugget is one of the most popular casinos in town, and the reason they're behind this partnership is because they know bringing more people to downtown will only benefit their business.
But there's a lot to overcome, starting with an economy where the city can barely pay the bills they have now, much less go on a building spree. There are already a lot of empty storefronts downtown as it is, and adding new space when you can't fill the space you have isn't a great idea. For every B'sghetti's you have someplace like CaiE's Oriental Cafe, where hype doesn't lead to customers and the business fails. Plus, let's face it, much of downtown Carson City is just ugly, and the facades clash with each other. Downtown is not an attractive place right now, except for a few pockets, and that's one of the biggest obstacles to these plans. Luckily the plans involve beautification projects.
So there's a lot up in the air right now, and where it will all land is anybody's guess. It seems too good to be true for all of it to come to be. And I think downtown Carson has too many problems that can't be overcome completely, and will never be the kind of downtown other cities have. A couple of months ago we found ourselves in downtown Concord, California, and in Todos Santos Plaza. This is a grassy public park that takes up an entire block right in the heart of downtown, ringed with a mix of historic and new buildings. The whole area was incredibly vibrant, with restaurants, stores, office space, lots of pedestrians and popular enough that there was no parking to be found. The park had a large playground, and kids were out playing well past their bedtime. Ours included. It's the kind of place that Carson really can never have, because it can't be planned, it has to grow organically. I don't think we have the population necessary to support it either. So downtown Carson has the potential to be a lot better than it is now, but there are limits to how great it can be.