There's been a lot of talk lately about the future of downtown Carson City. Most of this is being spurred on by the construction of the Carson City Freeway, which just had a ground-breaking ceremony for its second phase last Tuesday. When the freeway is finished in four, six, eight, or however many years, it's going to remove a lot of the "just passing through" traffic from downtown Carson, so there's an opportunity to make downtown more friendly for hanging out and strolling around. The mayor wants to go so far as to ban large trucks from Carson Street after the freeway is done. Putting aside for a moment how feasible that will actually be, a drastic step like that will go a long way towards making downtown better for walking, along with the plans to narrow the street and widen the sidewalks.
But none of these articles really talk about what downtown is going to look like after all these improvements. Sure, we keep hearing about what will happen to Carson Street, but what good is making a place pedestrian-friendly if there are no pedestrians? But the reason we only hear about changes that are planned for Carson Street is that, at least so far, nobody but the city has really come out with plans for downtown. And all the city can do is make small infrastructure changes, like narrow the street, change the zoning, and provide tax incentives. They can't actually build anything downtown, or open new shops and restaurants, or do anything that will actually bring people downtown. So the city's role in redevelopment ends up being pretty small compared to what is going to be required of private developers to actually make downtown a destination that people want to visit.
This article is a perfect representation of that. A panel from the Urban Land Institute recently reviewed Carson City's plans for downtown, and came back with many favorable comments. But one stood out to me in particular. "If you've got 60 or 70 people here and only one of them is a property owner, you've got a problem," one of the planners said. And he's exactly right. Developers have to get excited about downtown, as excited as the city is, or else all of this planning is going to go nowhere and downtown will be not much different than it is now, except with narrower streets. And that's something I haven't heard much about, what plans developers have for building downtown, what new ideas and plans are floating around in the private sector to make over downtown Carson City.
So I thought I would throw out a few ideas that I had, and try to brainstorm what the future of downtown could look like. Downtown right now has a lot of problems that are keeping people away, so let's see if we can fix that.
Narrowing Carson Street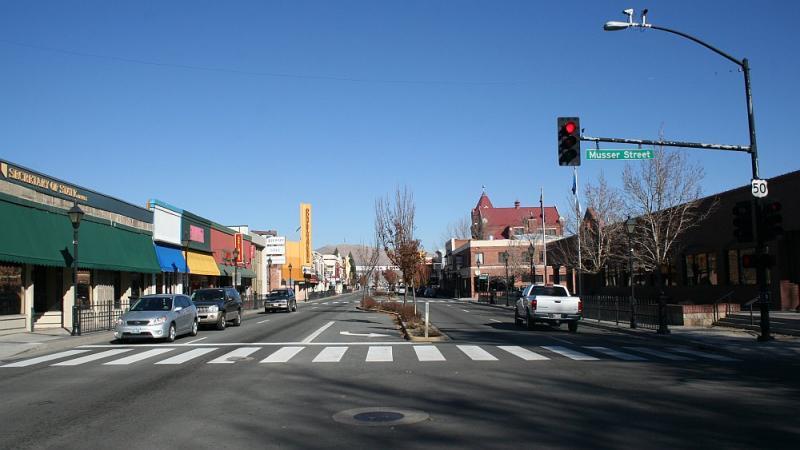 Let's tackle the big one first. The city right now plans to narrow Carson Street to two lanes, widen the sidewalks, and bring back curbside parking to downtown. This is a bold plan, and a really controversial one. There are plenty of vocal critics of it in the Nevada Appeal comments, to be sure. But I had a flash a few months ago, and suddenly the plan made a lot of sense. On the surface it looks like this would just cause huge traffic jams all the way through town, because not all of the traffic that goes through town now is going to be taking the freeway when it's open. There's still going to be a lot of traffic through downtown, and it's all going to be on Carson Street, right? So, huge bottlenecks.
But think about it. If there are always huge bottlenecks downtown, people are going to start finding ways around them. And that means finding alternate routes, like Stewart, Roop and Division, to get around the mess downtown. But, if everyone ends up taking these detours, then the traffic jams aren't going to be there, because nobody's taking Carson Street anymore. So, in effect, narrowing the street will actually discourage people from driving on it, which will reduce the traffic to where there aren't any bottlenecks. It will make sure that the only people driving on Carson Street through downtown are people who are going downtown, not just passing through on their way to somewhere else. The system will balance itself out.
Of course, this plan absolutely depends on there being good alternatives, easy detours that can funnel people around downtown. Stewart Street and Roop are both good for this, especially once the latter is widened. The problem is that it's not too easy to get on and off these streets. South Stewart Street makes a nice sweeping curve to meet Carson right now, and that's great. But if you're coming from the north it's a big pain to get onto Stewart, and the plan to extend Stewart so it meets Roop isn't going to make it any easier. And Roop is so far away from Carson Street, six blocks away, that it's a real pain to use as a detour. So I don't see any easy solution to this, without plowing a couple of massive connector roads through town to make it easy to get around downtown.
Capitol Roundabout / Flagpole
Since we're redoing Carson Street anyway, why not make it a little more special along the two-block stretch between Musser and Second Streets, right in front of the Capitol Building? Maybe take a cue from Sacramento and put in a roundabout right in front of the Capitol. With planters and benches and a flagpole. Something to let everyone know this is the very heart of Carson City. And, I feel kind of dirty even saying this, but maybe thin out some of the trees that surround the Capitol now, so you can actually see the thing from the street. Make the Capitol Plaza into more of a park than a forest.
Parking Garages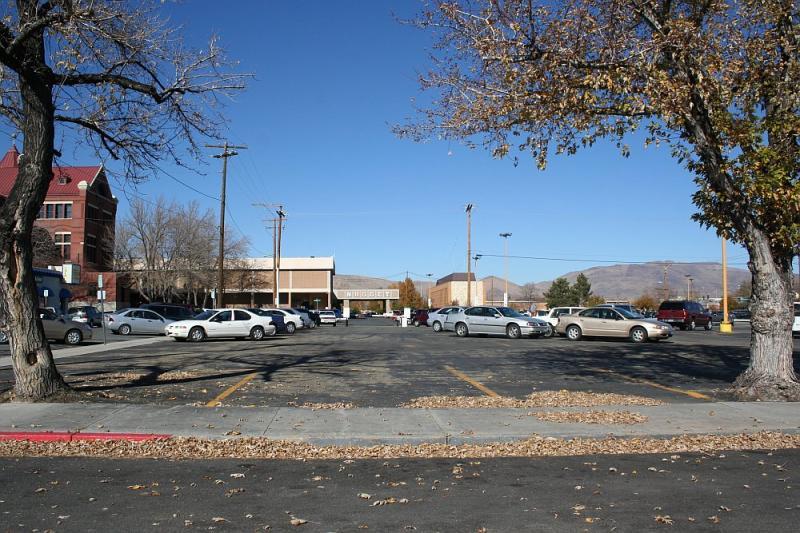 One of the problems with walking around downtown now is that there are so many parking lots. Don't get me wrong, I love all the parking lots because it means that no matter where you're going downtown, you can find a parking spot within a block or two of your destination. But having so many open lots scattered all over the place takes up a lot of space that could be given over to other uses. It also breaks downtown up into chunks, so when you're walking you don't feel like you're in one unified place, but a series of small places with some distance between them. Look at downtown from the air and see how many parking lots there are. The Nugget/State parking complex takes up eight entire blocks by itself!
So what's the solution? Parking garages, of course. Go vertical with the parking, so you can fit more cars on the same amount of land. And, you can also get away with putting small shops at street level, so when you're walking by the garage you don't even realize it. I'd say the Nugget could use a large parking garage, taking up the entire two blocks behind the casino and probably three stories tall. That would easily replace the six blocks they're using now, some of which is always empty anyway. Smaller garages could be put on the Nugget's West Lot (former home of the Arlington Hotel) and behind Doppelganger's on Proctor Street, where there is currently a large lot that serves the Telegraph Square area. These garages would both serve the large crowds that a redeveloped downtown is supposed to bring in, and fill in the holes that make walking around so unenjoyable now. The ground floor of the Nugget's west garage could for sure be lined with shops along its Carson Street frontage.
Telegraph Village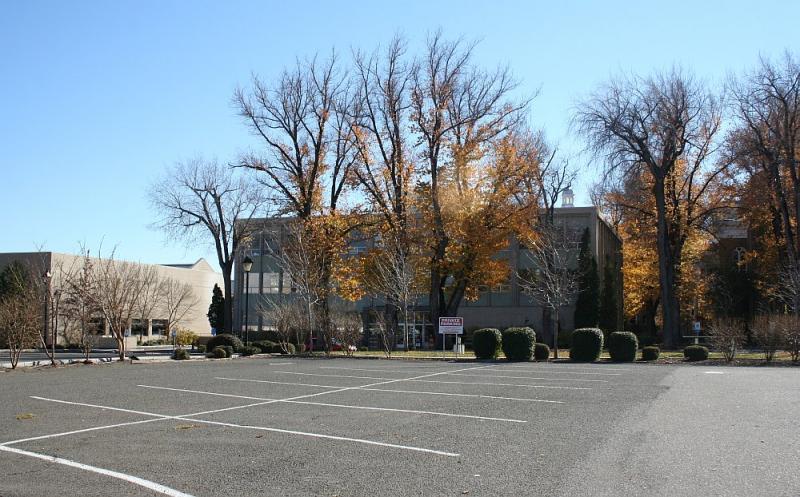 So now that we've cleared up some space by removing the parking lots, what do we put on it? Well, there is one thing that the city keeps coming back to in their plans. They want live/work units where you can have a retail operation on the ground floor of a building, and apartments or condos upstairs. And it's great that the city is planning on changing the zoning to allow this, but look at downtown as it stands now. Where would something like this go? The second floor of the Sweetland Building? Where else?
What we would need is new construction specifically designed for this use. And since we've just cleared up nearly six blocks just east of downtown, I think we just found a site for our project. Those six blocks, bounded by Musser and the Nugget, and Plaza and Stewart, would become home to Telegraph Village, a multi-use development right in the heart of downtown. I'm looking at Heavenly Village, up at Lake Tahoe, as the template for this. It would be made up of a series of three-story buildings, arranged with a few open courtyards between them. The ground floors of all these buildings would be made up of retail establishments that would bring in locals and tourists alike. A couple of restaurants, an ice cream parlor, a few gift shops. A real destination, where people could come and spend an hour or two. Maybe even put in an ice skating rink. This would all be on the ground floor of the complex. On the two upper floors would be apartments and condos, housing units that would let people live right downtown. Heavenly Village has timeshare units on their upper floors, but I don't think timeshares would fly in Carson City. It would have to be more permanent housing. The whole complex would be named Telegraph Village, because the main pedestrian entrance to the whole thing would be at the east end of Telegraph Street, right next to the Laxalt Building. The name would also echo Telegraph Square, which is already located on the west side of downtown.
The Urban Land Institute recommended building a village like this in Carson City, but their suggestion was to build it where the Carson Mall is now. I think that could be a fine idea, but it wouldn't be part of downtown. At least not the downtown core, which even if you're being generous only stretches south as far as Fifth Street. The Carson Mall is just too far to be comfortably walkable. That's a real hike to ask everyone to make. Plus the owner of the mall has said there is no way this is happening. I think the site along Telegraph Street is much better, being more centrally located. The project could also include parking, including possible underground parking, at the south end. This parking would not only serve residents and visitors, but also State employees who work in the Blasdel Building and the State Library, who currently have a surface lot on Musser Street that would be taken over by this project.
Telegraph Village would be a huge investment for a developer, but if enough of the right attractions were brought in it could be a huge draw, and could turn out to be financially workable.
City Library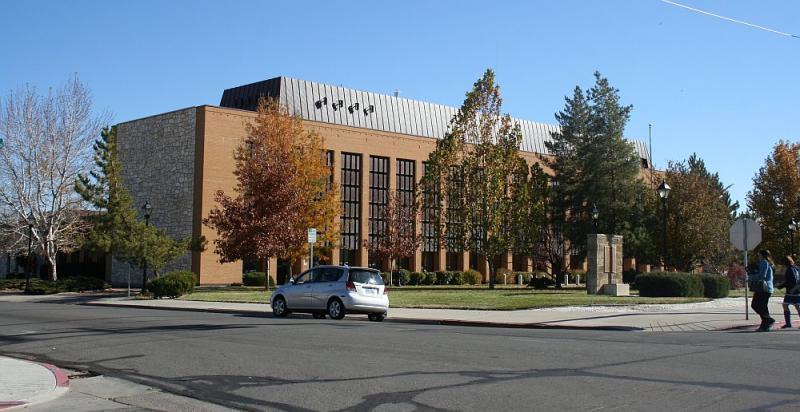 There is talk of the city acquiring the old Post Office and Federal Building, at Caroline and Plaza Streets, for a city library. I think this is a great idea. The library where it is now, at the end of Washington, is kind of out of the way, and they definitely don't have any room to expand. Moving into this building, which not only has lots of floor space but also is several stories tall, would give them plenty of room.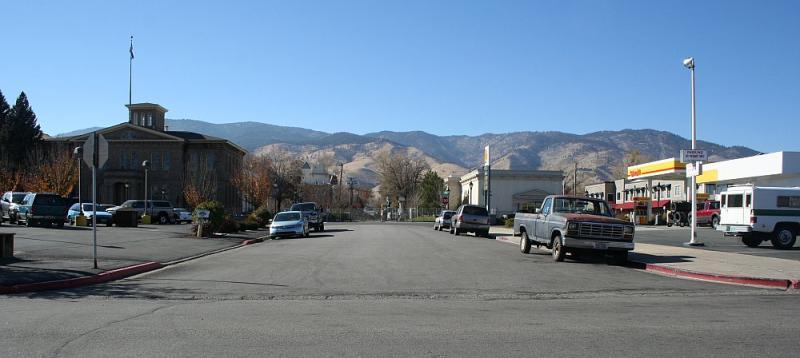 I'd also say it would be a good opportunity to eliminate the parking lot at Carson and Caroline, and the Texaco station across the street, and turn that into some kind of public space that would unify the Post Office and the State Museum. If Plaza Street was abandoned, that would create an area nearly four blocks in size, anchored by the historic train depot to the north and the Old Mint Coin building to the south.
Downtowner Motor Inn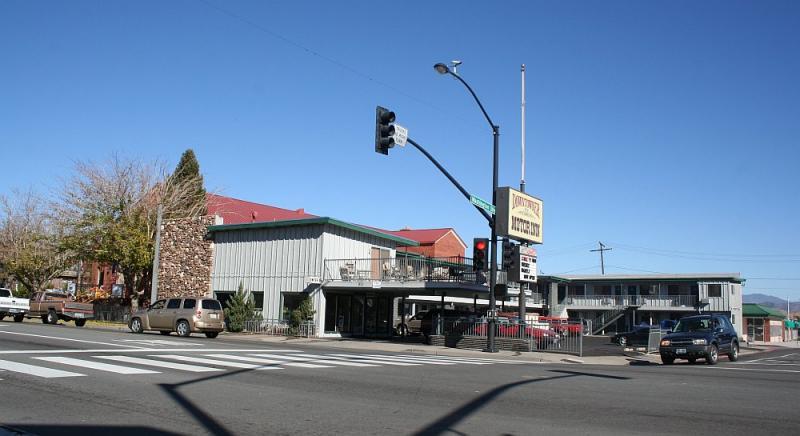 Across the street from the train depot is one of downtown's biggest eyesores, the Downtowner Motor Inn. This thing has to go, plain and simple. Not only is it ugly as sin, even after the renovations they just went through so they could reopen, but it also blocks the view of the Children's Museum next door, which is housed in the gorgeous old Civic Auditorium. That northeast corner of Carson and Washington needs to be opened up so the auditorium can be seen again. I know that one of the plans for downtown calls for abandoning a stretch of Washington Street to create an urban stream with drainage water from Ash Canyon. If that is done, the Downtowner Motel site could certainly become part of that park, an expanse of green between the auditorium and the train depot.
Cactus Jack's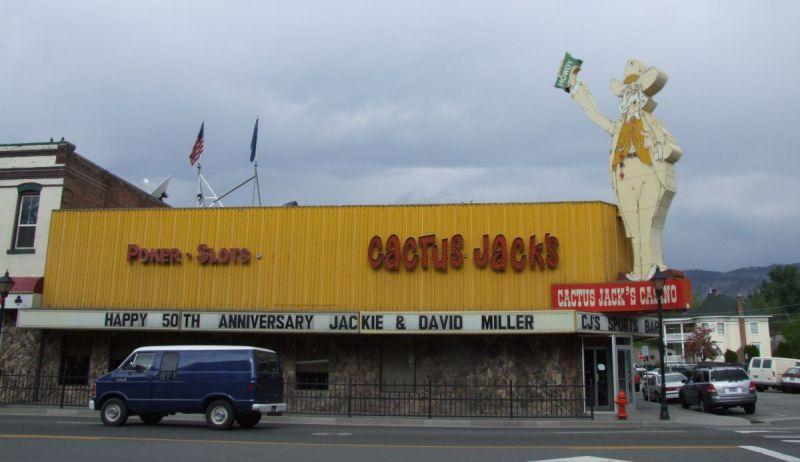 Cactus Jack's is always a thorn in my side. I have nothing against there being a casino on that corner, and I think the neon statue of the Senator rising above Carson Street is a city landmark. But the yellow facade, with the rock wall, has to go. Remodel, please. Shoot for an old west look, not a 1970's living room.
Citibank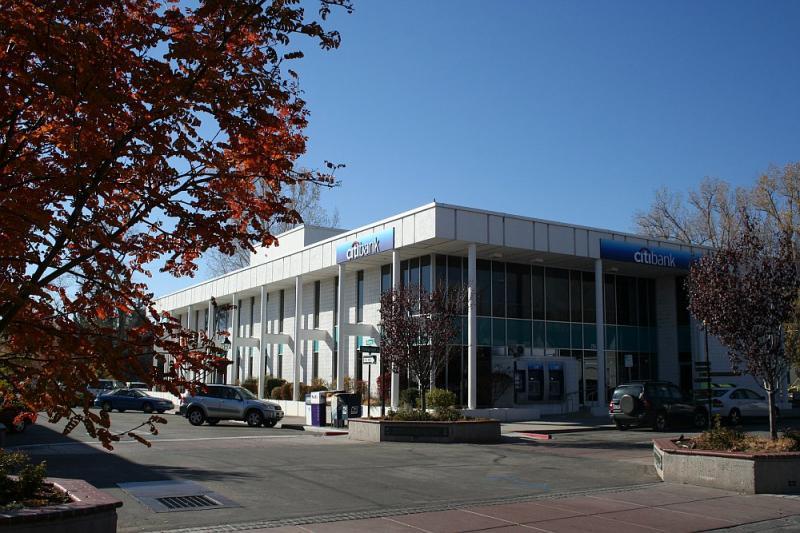 Telegraph Square is a pretty charming place. You have Mo and Sluggo's and the Old Globe Saloon on one corner, a gift shop and the back entrance to B'Sghetti's on another, and some charming old historic houses on the third. But on the fourth corner is this boxy 60's modern monstrosity, currently home to a Citibank branch. This building singlehandedly ruins the whole charm of Telegraph Square. Now, I'm not saying it needs to be torn down, but it for sure has to be remodeled to fit in with the rest of the neighborhood. Just south of this building is one of my proposed parking garage sites, too, so the design of this building could somehow tie into that.
Downtown Facades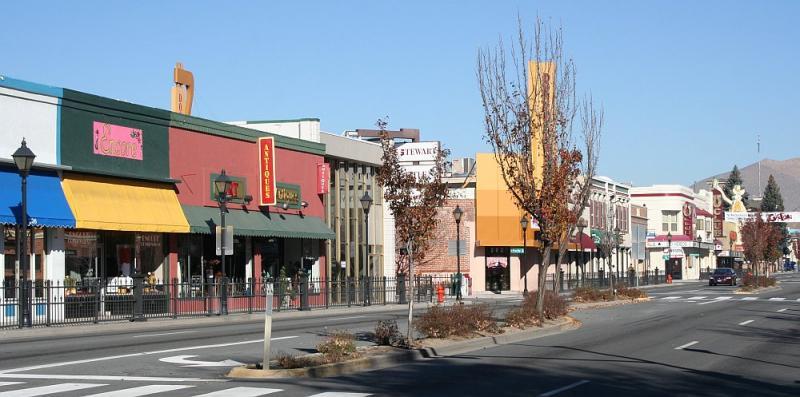 Cactus Jack's isn't the only building that doesn't really fit in to downtown. There are a lot of clashing styles along both sides of Carson Street, and it ends up not making downtown a very picturesque place. It's not the kind of place where you're inspired to whip out your camera. There is some beautification included in the street plan, but the buildings need work too. They don't need to all look the same, that's not what I'm saying, but they need to complement each other, and there's not a lot of that going on.
---
This is all just the tip of a very large iceberg here. There's a lot that needs to be done to downtown Carson to make it into a destination, a place that people will actually be drawn to. You want locals to be able to plan an evening around going downtown. You want out-of-towners to be so impressed that they make plans to come back, or that they tell their friends, or even just that they put pictures up on Flickr and say, "this was such a cool place." Downtown the way it stands now doesn't inspire a lot of that, and if it's going to remain viable and grow after the freeway is finished, it needs to.