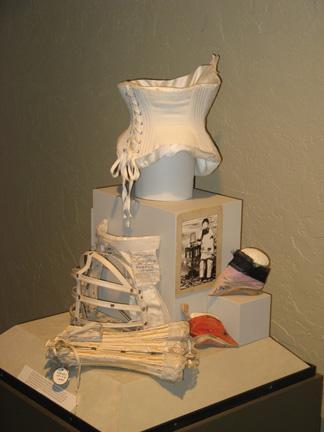 Learn about fashion's role in social status and see new textile acquisitions
The Nevada State Museum presents a gallery walk of the new Selections from the Collections exhibit focusing on historic fashions at 1:30 p.m. on Monday, March 3, 2008. The tour will be led by Jan Loverin, Curator of Clothing and Textiles at the Marjorie Russell Clothing and Textile Center.
Loverin explains, "This exhibition highlights objects that represent the ever-changing phenomenon of fashion. It is through fashion history that we are able to understand the social dynamics and cultural norms that shape society."
Space for the gallery walk is limited. To register, contact Deborah Stevenson at 775-687-4810, ext. 237. Admission is $5 for adults, $3 for seniors, and free for children under 18 and members.
According to Loverin, fashion is a characteristic of culture and "getting dressed" is uniquely human. It is truly an underestimated social force in society, dressing is a non-verbal communication tool primarily used for self-expression and identity. But it is also culturally coded with specific meanings meant to transform people from one role or social position into another. In this instance, clothing provides the means to fit in or belong to a social group, where association and status can be achieved through taste and selection. Current clothing design and technology has evolved into performance sportswear, sculpting and enhancing the body. In this realm, ornamentation is minimized and function is maximized.