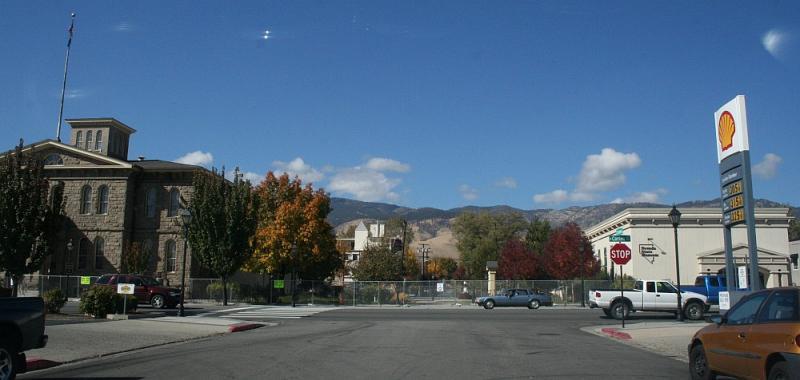 Big changes are about to start taking place at the Nevada State Museum, and they're going to be taking place right in the empty area in the middle of this photo. Right now that empty area is the plaza in between the Museum's main building, the old U.S. Mint, and the North Annex. The bricks in the plaza are actually laid out in the shape of Nevada, with different colors for different counties, and a bronze seal representing each county seat. But all of that is going to be going away, as a new steel-and-glass structure is built on the plaza to house the museum's entrance, gift shop, and a display area for large items. There will also be an elevator that will allow easy disabled access to both floors of the museum, as well as into the basement, where the mine walkthrough is located.
In all, it will be a pretty dramatic change to the look of the whole museum complex and the Old Mint. I haven't seen the conceptual drawings yet, but the new section is supposed to look like a mine headframe. Hopefully it will be done tastefully and not be a big glaring eyesore on Carson Street. Sounds like we'll have to wait 13 months to find out, as the new addition is scheduled to open late next year.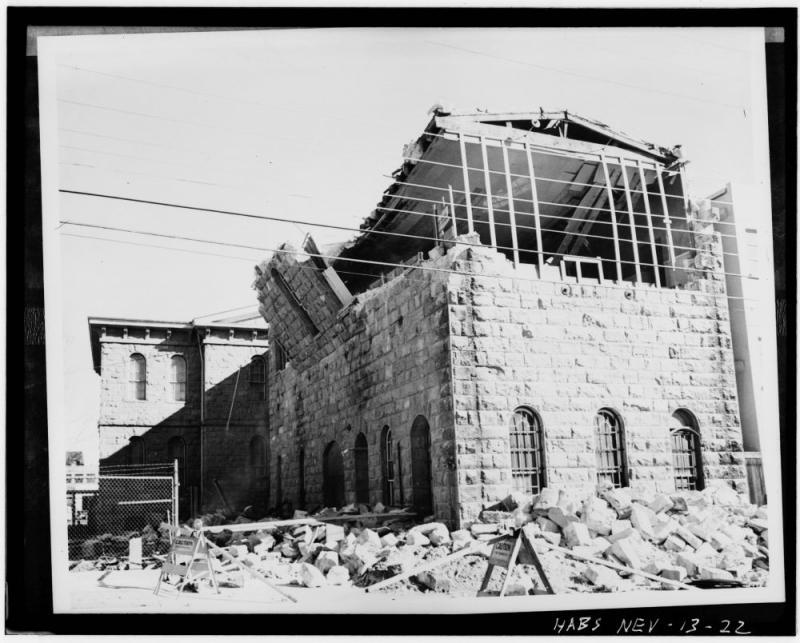 This isn't the first time the Old Mint building has been added onto. A stone annex was built in the back of the building some time in the late 1800s. That annex was torn down in the 1970s (pictured) and replaced by the new exhibit halls that are back there today. Also the North Annex used to be a bank, and it was acquired for use by the museum only a few years ago. And the plaza joining the two buildings, where the newest addition is going to go, was a road until recently. Caroline Street used to run all the way to Carson Street, but not too long ago that short stretch was abandoned and made over into the plaza. And now it's going to be made over again. I'll be keeping an eye on the construction progress.