Downtown Makeover, even though it's not strictly a blog, has been getting all the good scoops on Reno's redevelopment. His latest is to bring to light concept drawings of the new condo project planned for the riverfront, the Wingfield Towers.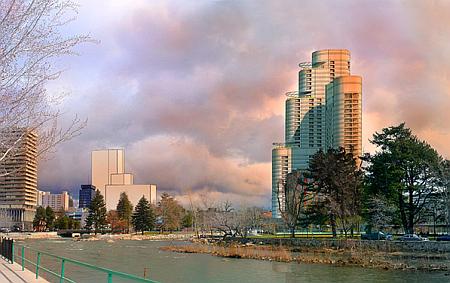 At his site he's posted 13 concept photos, as well as a high-res fly-through of the new building. There are actually two towers here, one at 28 stories and one at an overwhelming (for Nevada) 40 stories. They'll be connected by a skybridge at the 28th floor, and together would include 499 condos and over 40,000 square feet of retail space. The whole thing will cost around $200,000,000. It's situated on a plot of land at the corner of Arlington and Island Avenue, kind of wrapping itself around the Park Towers building which is already there. You can barely see it poking through the trees in this photo, looking very smothered and overshadowed.
Myrna the Minx is excited that this would actually give Reno a skyline, while I'm just flummoxed that anyone would want to build something like this in Reno. I guess this is what happens when the population hits 200,000.