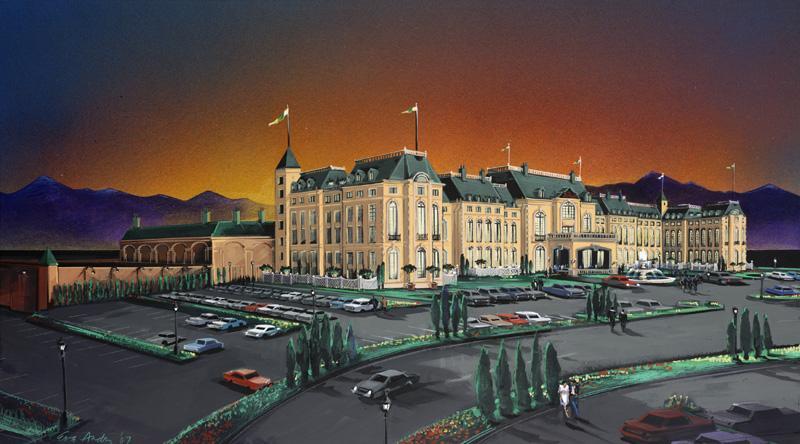 So the zoning change request for Jethro's Casino was approved on Tuesday, meaning most of the hurdles are cleared and they can start moving forward with phase one of the project. But it wasn't all good news for Jethro; the county denied some of his special variance requests, including the 200-foot tall oil derrick, the huge lighted sign that would have hung from it, and the 12-story hotel towers he hoped to build as phase two.
So we'll see now what Jethro's response will be. Will he be happy enough just that he's being allowed to get the thing built, finally, after fifteen years, or will he try to fight for some of these extras that were denied? The oil derrick isn't a killer for the project. It could still open and be successful without such a flashy beacon bringing people in. 200 feet? The Ormsby House is only 117, and you can see that from all over the Eagle Valley. I still have my doubts whether you could see the oil derrick from the Carson Valley, since it would be hidden on the opposite side of the hill, but at that height it just might be possible. Anybody have a red balloon and a 200-foot long string?
Now, denying the hotel towers is a bit more of a blow. I don't know what kind of market research Jethro did to show that those towers would bring in the people and always be full, but if there was a chance that they would be, the county turned down a lot of room tax revenue in exchange for aesthetics. I guess that's a trade-off they were willing to make, and one that Big George has to be happy about, but again: would that hotel tower have been visible from the Carson Valley? Where everyone is worried about ruining the views? Because that whole Topsy Lane area is kind of a "bonus" zone for Douglas County, a good place to put development that will be in the county, but not in the valley. Topsy Lane keeps the valley free of Wal*Marts and hotel towers, while still bringing in all the money that those ventures bring in. So I think that if you're going to let a developer go hog wild anywhere in Douglas County, Topsy Lane is the place to do it, while letting Carson City deal with the aesthetics.
So now Jethro's got the ball, and we'll see if he's willing to take these lumps and build a slightly smaller version of his dream, or if he'll keep on moving.