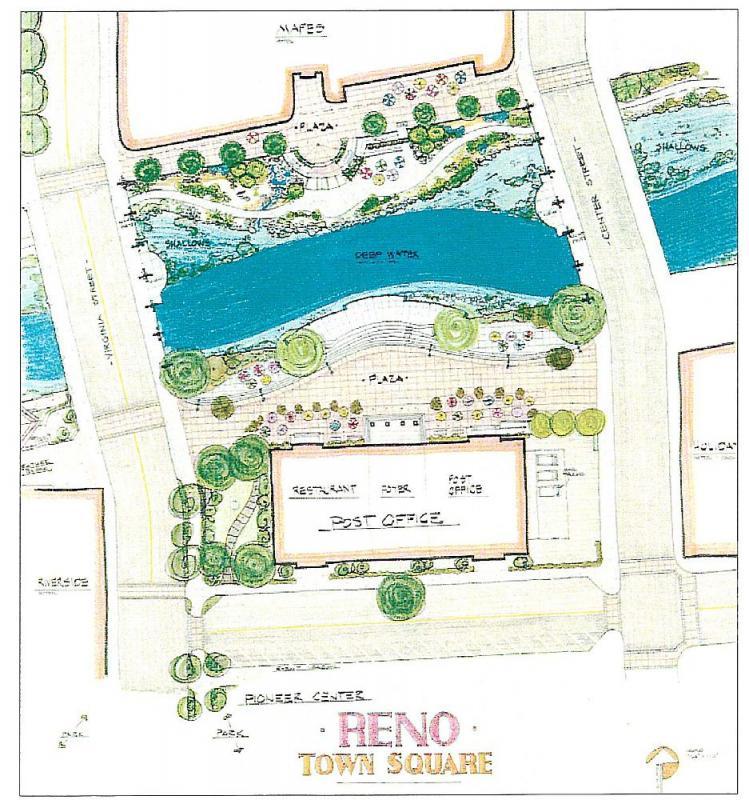 Abandoned plans for downtown Reno are nothing new. Just today I came across this drawing, plans for the "Reno Town Square" project, dated 1995. The Reno Town Square apparently would have been situated along the river, between Virginia and Center Streets. It would have involved filling in part of the river channel, closest to the Mapes, to create walking paths and shallow ponds. Also there would have been tree-lined public plazas on both sides of the river, with space for walking and sitting. Almost like an extension of the Riverwalk. The old Post Office itself would have been subdivided, and part of it set aside as restaurant space.
This was a pretty daring plan, especially for 1995. Most of the redevelopment we're familiar with today hadn't happened yet. The Holiday Casino had yet to be remodeled in to the Siena. The Mapes was still standing, boarded up. The Riverside Hotel was boarded up, and its western wing was still standing. The Regal Cinemas Century Riverside hadn't been built yet. I think the Riverwalk west of Virginia had been completed, though, and Wingfield Park was there, even if it hadn't yet had the mixed blessing of being decimated during the New Year's Flood, and subsequently remodeled. And it was before the Center Street Bridge was demolished and rebuilt.
Now that downtown Reno has been reborn, maybe it's time to dust off the Reno Town Square idea and give it another look. That block between Virginia and Center is still one of the ugliest stretches of the Truckee River, and it could use some sprucing up. This might be just the thing.