Here we go again. The little piece of land that sits at the corner of Hwy 395 and Clear Creek Road is making news again. A few years ago it got a lot of attention when a developer wanted to buy it, along with most of the Carson City Fairgrounds next door, to turn into a shopping center. That plan somehow got distorted so that everyone started believing that Fuji Park, next door to the fairgrounds, was going to be paved over as well, and that started a huge grassroots movement against the whole development. Raise your hands if you remember "Save Fuji Park".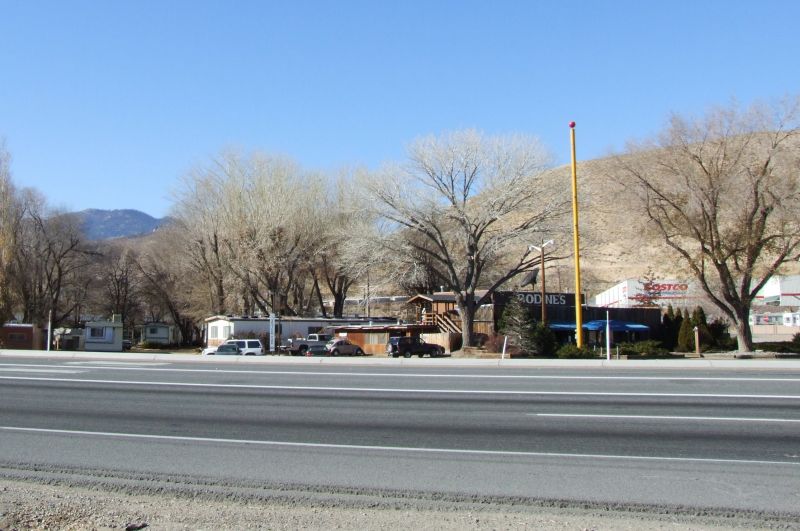 Bodines Restaurant and the trailer park next door. Both are facing demolition if this new plan goes through.
That plan was abandoned and the park was left alone. But now a new developer has come in, and wants to develop only the corner of the property, building a casino where Bodine's Restaurant now stands and leaving the fairgrounds where it is. He does want to invest money into "improving" the fairgrounds, though, which would involve building a brand-new arena in a slightly different spot and paving the fairground's parking lot. The parking lot, of course, could be used as an overflow lot when the casino's lot is full.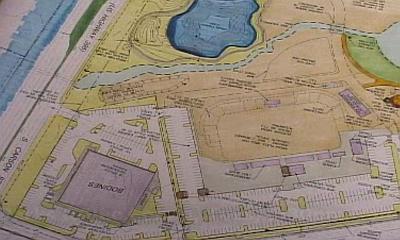 The plans involve a casino on the corner, a moved arena, and a lot of paved parking.
That's a little bit of a problem, though, since it seems the folks who use the fairgrounds now like it the way it is. According to this new plan, the grandstands at the relocated arena would be facing south, so spectators would have to sit facing directly into the wind and sun. Right now they're a little bit sheltered by facing east. Plus there's the fact that horses are able to walk a lot better on dirt than they are on pavement. But beyond the practical problems, there's the whole issue of a California developer coming in and telling longtime residents what to do with their park. It looks like a situation where the developer is building a Western-themed casino, and loves having the added bonus of having a real-life rodeo arena next door. But the fairgrounds we have now is too dumpy for them, because they don't really want it to be an authentic rodeo arena. They want to do the whole Las Vegas thing of creating a simulacrum of a rodeo arena, something that looks good for the tourists but doesn't have all that vulgar dirt and horse crap. I mean, this will be right next door to their shiny new multi-million dollar casino. Can't have the patrons getting dirty. The problem is, this is Carson City, not Las Vegas. We still have things here that are authentic. We still have people here who own and ride horses because they enjoy it, not because it's a "Western theme" and the tourists want to see horses. And if being authentic means the parking lot has to be dirt, and the grandstands have to face away from the sun, then that's the way it has to be.
And plus there's the fact that I've still never been to eat at Bodine's. They can't tear it down until I've been there at least once. I mean, come on.