Nevada Day weekend is almost here again. It starts on Friday with a day off for all state workers, and lucky employees of patriotic businesses. It lasts until Sunday, although most of the fun stuff is going to be happening on Saturday in the capital.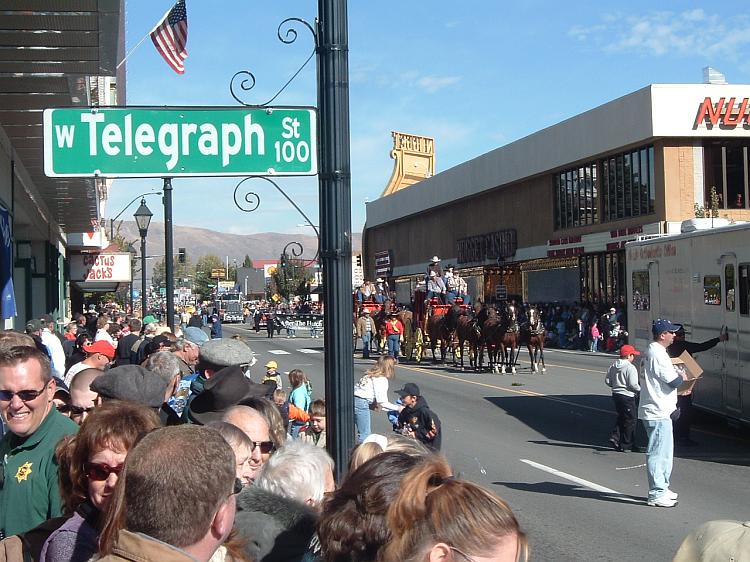 See pictures from last year's Nevada Day parade
Nevada Day is the celebration of Nevada statehood, which happened on October 31, 1864. For the longest time Nevada Day was actually celebrated on the 31st each year, with the parade and everything happening then no matter what day of the week it was. But a few years ago the legislature noticed the nation-wide trend towards three day weekends, so they decided to do the same to Nevada Day. And that's why Nevada Day is now observed on the last Saturday in October, and the Friday before is always a state holiday. Three day weekend! Here's a partial list of the offices that will be closed on Friday:
State offices
Carson City offices
Carson City Sanitary Landfill
All Carson City, Storey, Lyon and Douglas County Schools
Western Nevada Community College, all campuses
Carson City Sheriff's Department (front desk)
Carson City Senior Center
Carson City and Douglas County Libraries
The post office will be open, since it's a federal agency, not state. And you'll still be able to get married; the Marriage Bureau will be one office that stays open through the weekend. The Nevada State Museum will also be open, with free admission on Saturday.
But the centerpiece of Nevada Day, of course, is the parade. At 10am on Saturday the parade travels down Carson Street, starting at William Street and heading south to Stewart and the Carson Mall. This year there are 200 entries, so the parade will probably run a couple of hours, at least. Make sure to get to Carson Street early; the good spots fill up early, and we've been having a warm autumn so it might get hot out there if you get stuck standing in the wrong place. Or it might rain, like some of the forecasts are saying. Either way, bring an umbrella, or find a nice shady spot.
There are plenty of other events happening on Saturday, both before and after the parade. Here's a rundown of the big ones:
Nevada Day Carnival: The carnival will come to town all weekend, starting Thursday and running through Sunday. It will be at Mills Park, with food, midway games, and carnival rides.
Pancake Breakfast: 7:30 am, at the Governor's Mansion. Pancakes, ham, scrambled eggs, and orange juice. Hosted by the Republican Women's Club.
Hot Air Balloons: Launch at 8:00 am over Carson Street.
Nevada Day Classic Run/Walk: A 2-mile walk, a 2-mile run, and an 8K run. Begins between 8:15 and 8:35 at the corner of Curry and Telegraph Streets.
Nevada Day Parade: 10:00 am, on Carson Street.
Nevada Day Beard Contest: On the steps of the State Capitol, immediately after the parade.
Rock Drilling Contest: In the days of the Comstock, miners had to drill holes for dynamite. Now they drill for cash prizes. The contest begins at 11:05 am at the Carson Nugget's west parking lot, at the corner of Carson and Robinson Streets.
Nevada Day Chili Feed: Free chili on the second floor ballroom of the Carson Nugget, from noon to 2:00 pm.
Governor's Mansion Tour: Open house at the Governor's Mansion from 2:00 to 4:00 pm. The mansion is at the corner of Mountain and Robinson Streets.
Fireworks: Fireworks will be launched at 7:30pm on Saturday night, at the Silver Oak Golf Course in northwest Carson City. To get there, drive north on Carson Street to College Parkway and turn left. The golf course will also be hosting a Basque feast all afternoon.
1864 Grand Ball: You have to put on a good tuxedo (or, better yet, a Civil War costume) and drive up to Virginia City for this one. The Grand Ball will be held at Piper's Opera House from 7:30 to 11:30 pm. Tickets are $50 and go towards the Piper's restoration fund.
And that's not all that's happening this weekend! There will also be a steam-up at the railroad museum on Sunday, among other activities. Check out www.nevadaday.com for a more complete list.
And then, after all this has died down, Halloween will be celebrated on Monday, October 31st. The governor will be personally handing out candy at the Governor's Mansion, but get there early because the line is long!