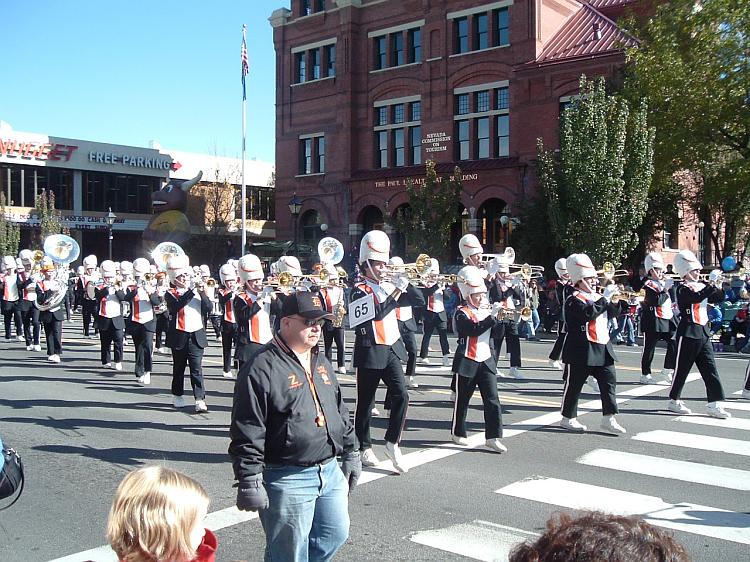 Are you ready for Nevada Day? Being the capital city, Carson is going to be full of things to see and do this Saturday. The big thing, of course, is the parade. But there's plenty more going on around town. Check it out:
7:00-9:30 am: Nevada Day Pancake Breakfast, in the Larry Ruvo Stateroom at the Governor's Mansion. 884-3011
7:30 am: Hot air balloons, launched from along the parade route.
8:15 am: the Nevada Day Classic 8k run begins at the corner of Telegraph and Curry Streets. 883-3361
10:00-12:00 pm: The Nevada Day parade runs along Carson Street from Hwy 50 to Stewart Street. The parade will kick off with a fly-over by a C-130 cargo plane, and at the front of the pack will be historic V&T locomotive #22, The Inyo.
11:00 am: Rock Drilling Contest in the Nugget's west parking lot. 882-2600
Noon: Nevada Day beard contest on the Capitol front steps.
12:00-2:00 pm: Nevada Day chili feed, upstairs in the Carson Nugget. 684-5600
Noon: The Carnival in Mills Park opens. Also open Thursday, Friday and Sunday.
2:00-4:00 pm: Guided tours of the Governor's mansion. 687-3000
7:00-10:00: Mad Hatter Ball at the Brewery Arts Center. 883-9351
7:30-11:30 pm: 1864 Grand Ball at Piper's Opera House in Virginia City. Formal or period dress required. 847-0433
9:15 pm: Fireworks at Silver Oak Golf Course. Silver Oak is at the north end of town, behind the Albertson's on College Parkway.
Nevada Day's official (and absolutely horrible) website is at www.nevadaday.com. They have a full lineup of every entry in the parade. The Nevada Appeal also has an in-depth program describing everything that's happening on Saturday.
If any of you readers out there are going to be at the parade, or any of the other events, don't be afraid to come back to Around Carson and post pictures and stories. We all want to hear what you did on Nevada Day! Don't let me down.
And if you're lucky enough to work somewhere that gives you the Friday holiday off, enjoy your three-day weekend.