One of the first times I took pictures of a building specifically to preserve its memory was this little place in Minden. The whole time I lived, worked, and went to school in Minden (almost 20 years by that point) I had never given it any notice. I drove past it hundreds of times but never even registered that it was there. It wasn't until I saw a notice in the newspaper that its demolition was imminent that I got curious enough to check it out. I had just gotten my first digital camera 6 months before, so I decided to put the high quality and large storage capacity to good use and document this little building before it was too late. It's a good thing I did because the demolition started just a couple of weeks later, and now the building is just a memory. A memory that's been preserved here thanks to my "new" camera.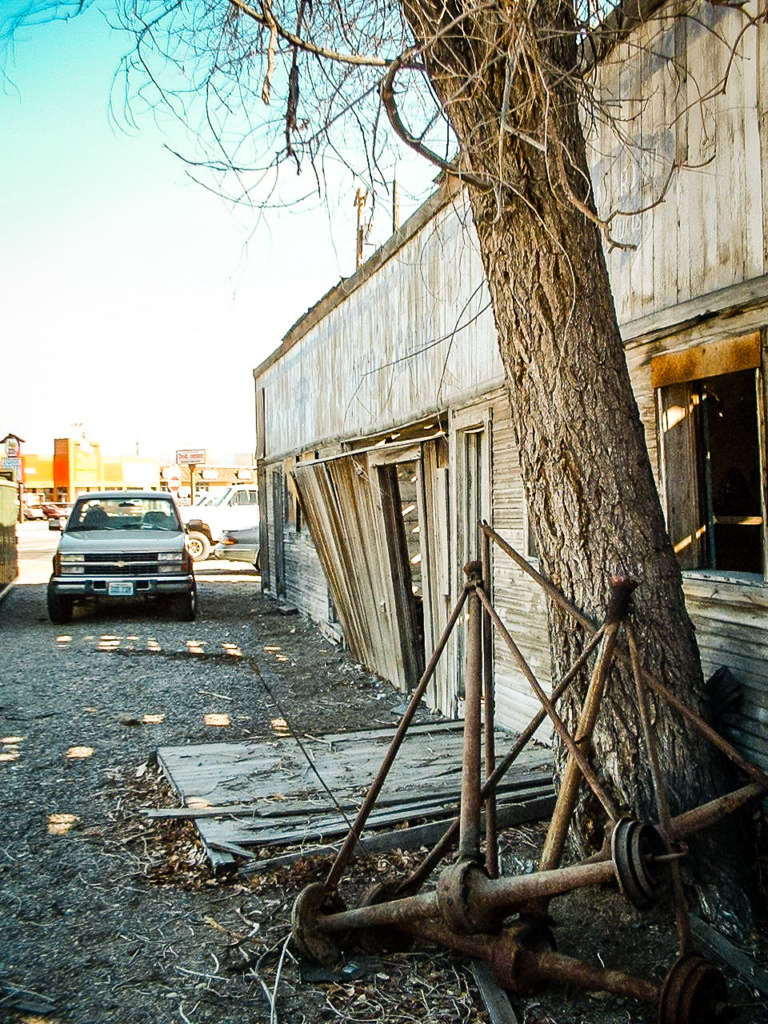 This is the Minden Auto Camp. It was located on a plot of land right off downtown, where Esmeralda meets Hwy 395. It was in the southeast corner of the lot, right next to Second Street. Wynne Maule in Minden: Story of a Unique Town says that it was built in 1909, simultaneous with the old Livery Stable that it shared land with. It started out as a shed for the livery stable, but as time went on and cars replaced horses, it was converted into an auto camp. Just like the livery stable was converted into an automotive repair shop.
This wasn't exactly a "camp" as that word is normally used. This was actually more of a motor court, or as we call them today, a motel. Looking at the building you can see where there are four rooms, each with its own private garage – an amenity no motel would give you today. Cars were rare enough back then that few hotels had parking areas for their visitors. Especially not covered parking. So a place like this was designed to give both the autos and their owners a safe place to rest for the night before getting back to travelling the next day.
One of the most remarkable things I found when I explored the Auto Camp was that the last visitor was still there! Tucked away inside the garage.
The Auto Camp was quite small, only four units, and doesn't seem to have been very luxurious. A sign on the building advertised hot and cold showers, but the rooms scarcely seemed large enough for a bed. I have no details on when it was active, what year the last guest stayed here. In the later years it was owned by the C.O.D. Garage, same as the old livery stable, and apparently was used as storage for oil barrels and car parts. Looking at the state of decay, I would venture that it had been abandoned for decades, slowly rotting away in plain sight.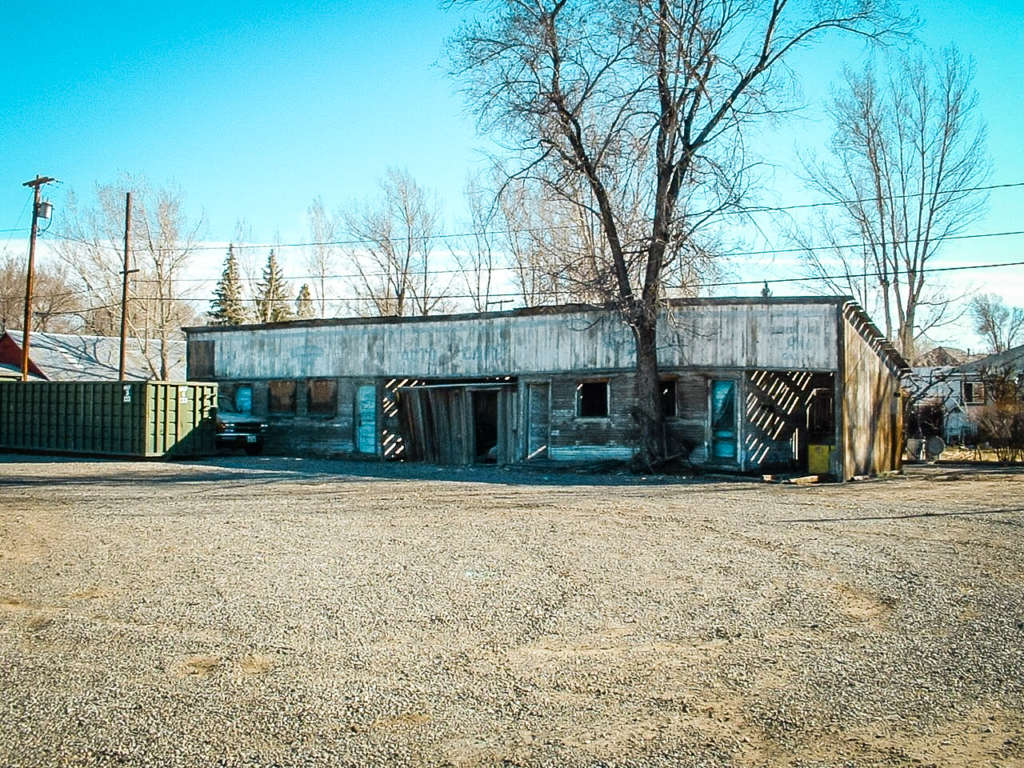 As I said, the Auto Camp was demolished in March 2003. The large livery stable next door was torn down at the same time, and got more attention since it was a more prominent building. I mourn them both, but for some reason this little motel speaks to me. I would love to see what it was like at its heyday, know what it was like to roll up, park in the garage, and stay the night in the tiny town of Minden. The railroad station was right across the highway, so you would be able to watch the trains come and go through your window. And the downtown core was one block away.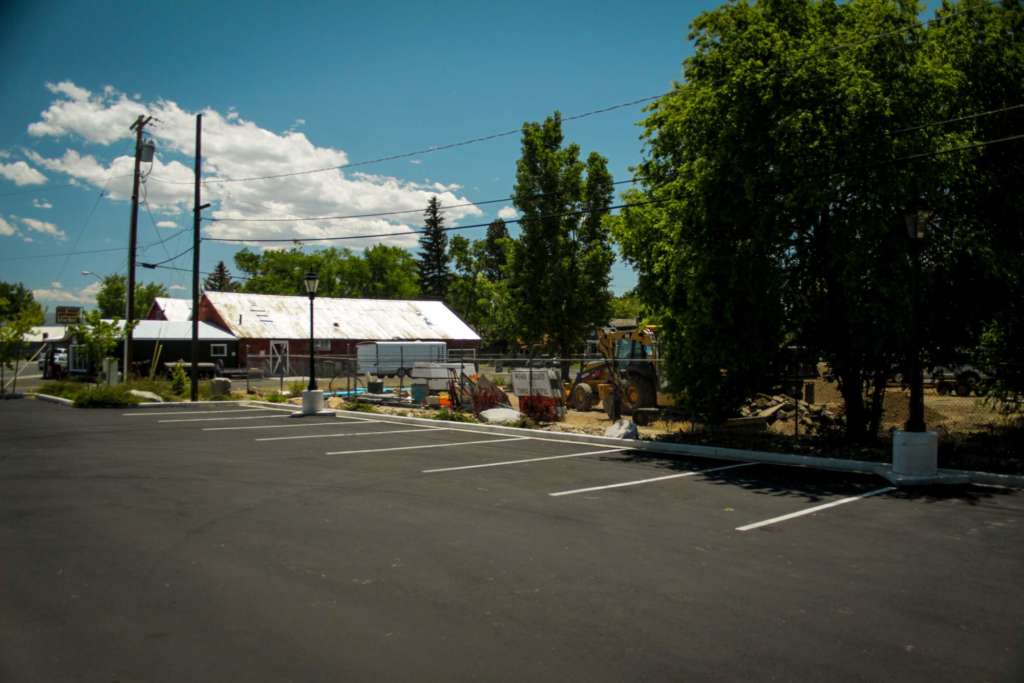 For a decade after the demolition, this land stayed an empty dirt lot. Around 2013, when the C.O.D. Casino was opened in the old C.O.D. Garage building across the street, crews came in to pave this land and turn it into a proper parking lot. Today you can once again park where the old Auto Camp was, though it's not nearly as interesting as it used to be.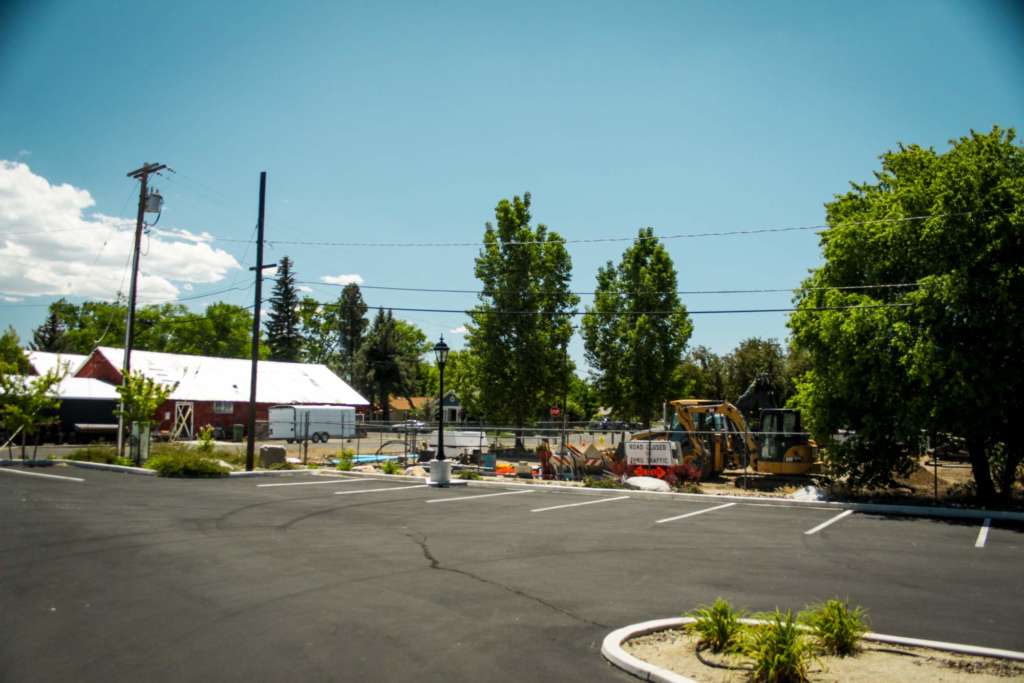 More goodies below: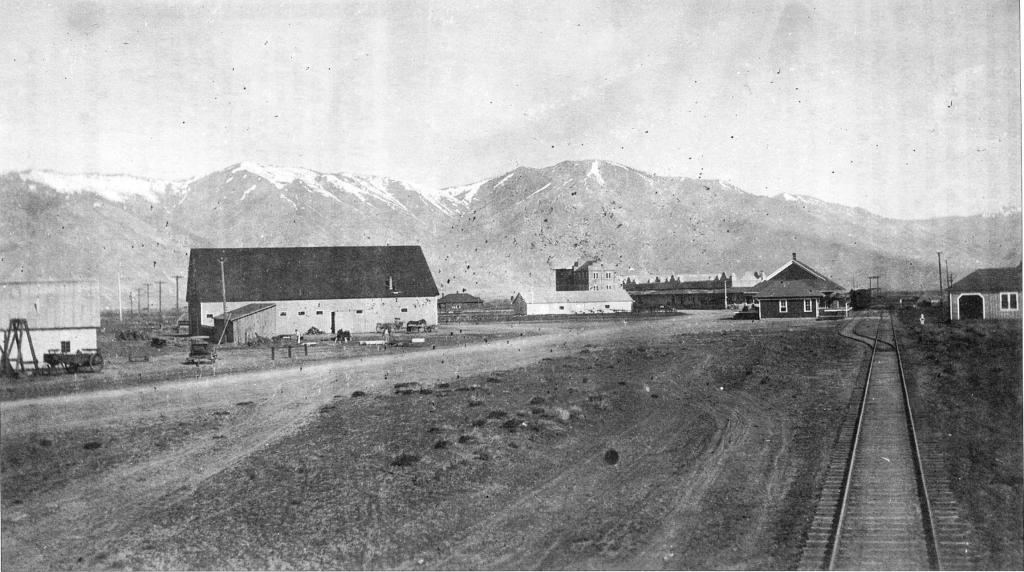 Historic photos of the Auto Camp are scarce. It appears in this overview of the town, taken around 1910. It is located on the near side of the large livery stable, on the left side of the photo. At this point the stable actually housed horses and the camp building was a storage shed.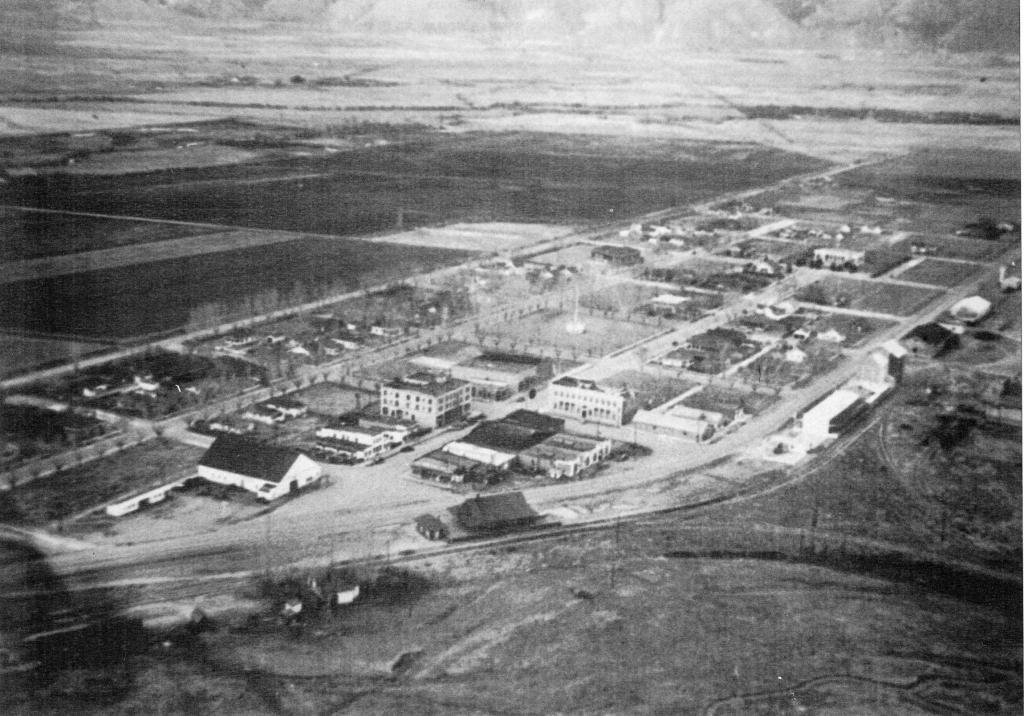 This aerial photo was taken in 1940, and the Auto Camp gleams white in the lower left corner. Few details can be seen, though the outlines of the garage openings are evident.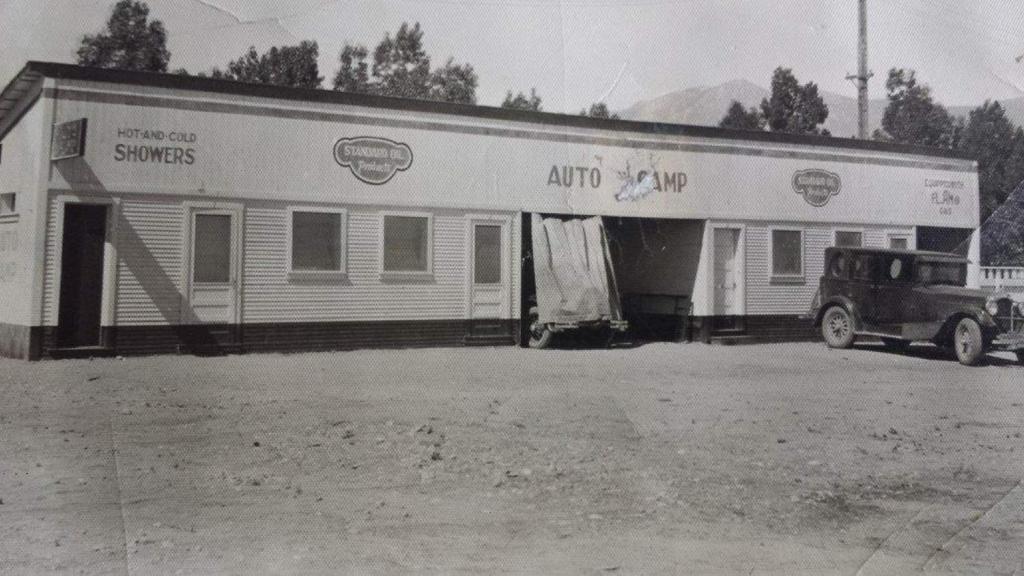 Thanks to Michael Fischer for sending this in on Facebook! A closeup view of the Auto Camp while it was open. From the cars it seems to be the 1930s. This shows everything while it was in its prime, including the two-tone paint job that used to be on the building, and the painted signs that still existed when it was torn down (see below).
A photo of the last days of the Auto Camp. The lot had been fenced off, and work had already started on the livery stable next door.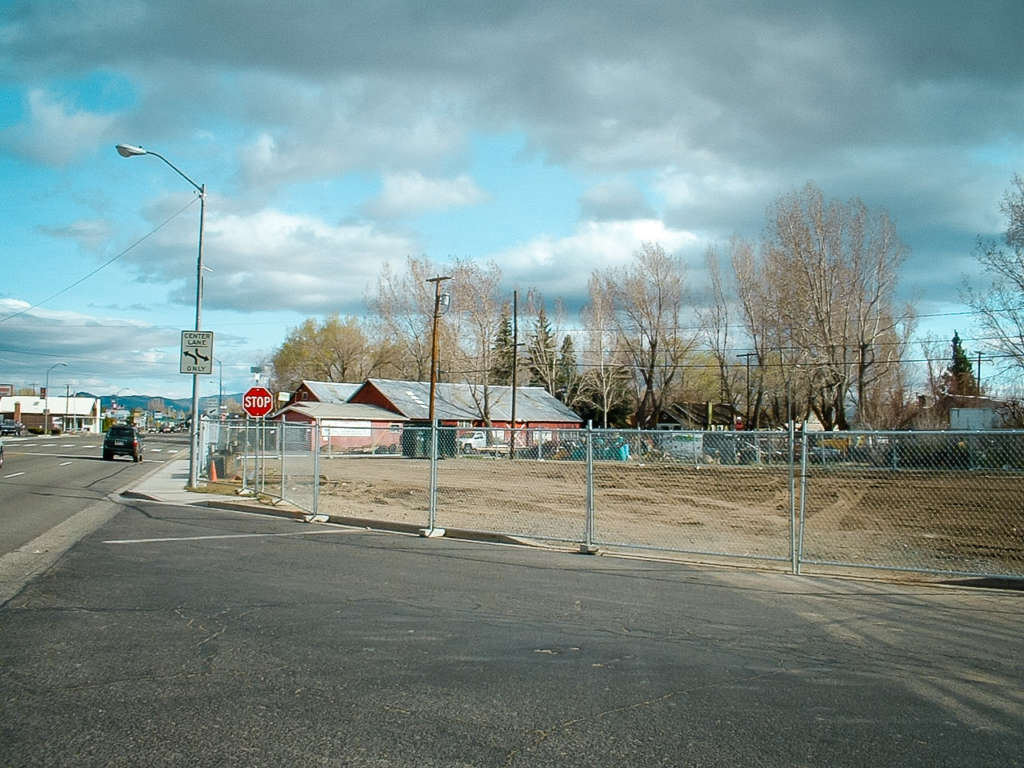 The week after the demolition, the earth was freshly scarred.
Paving the parking lot in 2013.
I will finish this post with more closeups and interior photos that I took in March 2003.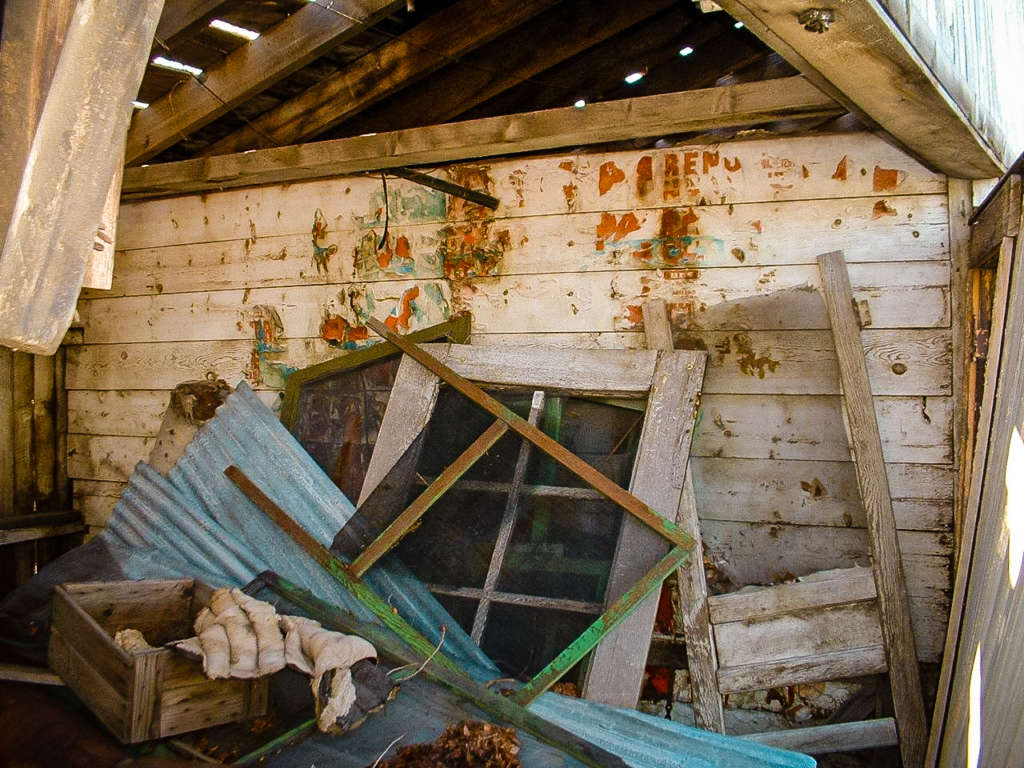 Hot and Cold Showers

Standard Oil
Auto Camp sign, painted twice in two different sizes. Probably at two different times.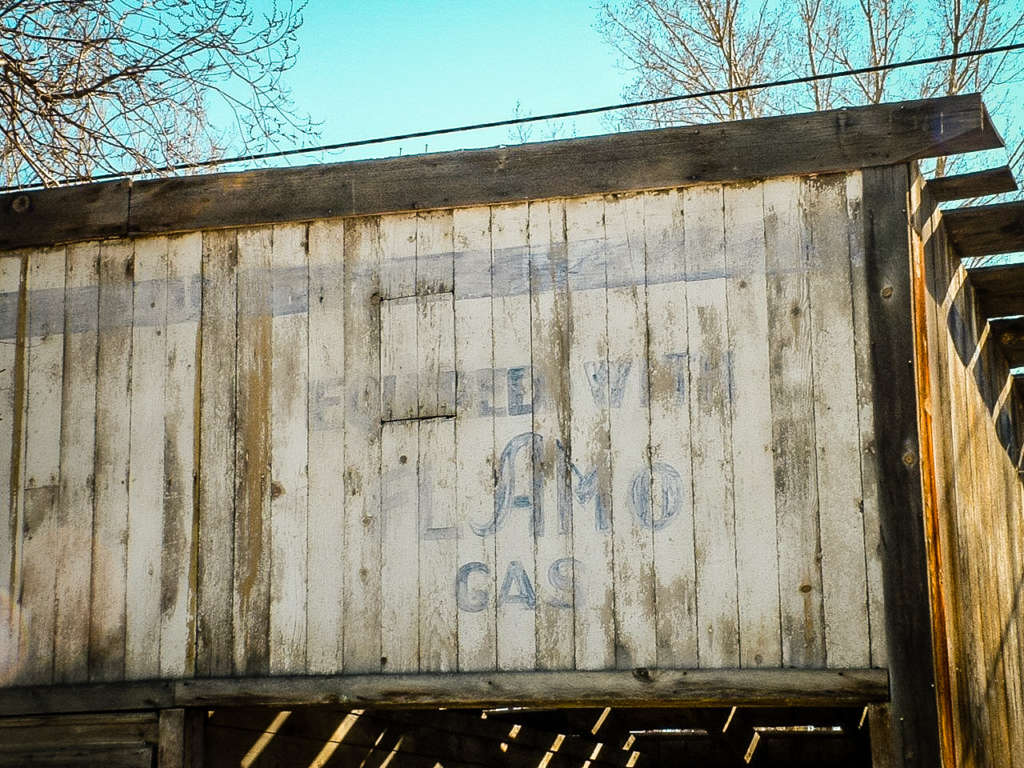 Equipped with Flamo Gas