For years I've been fascinated by the holdout house on Stewart Street. Stewart used to be a quiet residential neighborhood. 60 years ago the train tracks ran down the middle of the street. After they were pulled up there was not much going on in this part of town, just a few scattered houses. As the 50s gave way to the 70s and 80s, the residential areas of town spread out and the downtown core pushed itself to Stewart Street. At some point Stewart went from being a dirt path to a 4-lane road, and other changes took place around it. Motels and banks sprung up along the street, the Nugget's parking lot expanded until it covered 8 city blocks, and one by one the houses along Stewart were all torn down or relocated. All but one.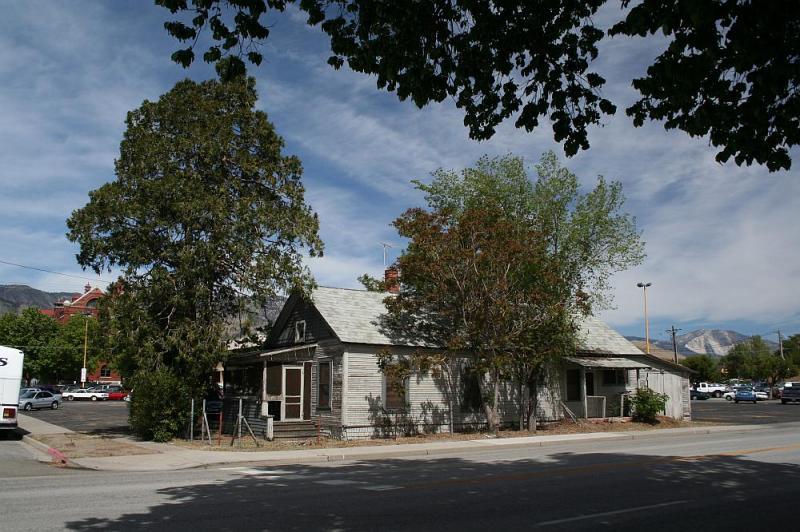 This house, at the corner of Stewart and Telegraph, still remains to this day. The asphalt of the Nugget parking lot reaches right up to the property line, and a dilapidated wire fence rings parts of the yard. It was obviously a holdout, someone who didn't want to sell when all of his neighbors did, and stubbornly clung to this little piece of land even as the city encroached around it. I can't imagine the quality of life in this little house would have been very high, surround by a busy road on one side and a parking lot on the other, with just a couple of trees and a dead yard. But someone stuck with it.
It looks like things might be changing, though. The house is now boarded up, and I caught a work crew yesterday cutting down the large tree in the front yard. This whole parking lot is destined to become part of the City Center Project one day, and while huge projects having to work around a holdout house are not uncommon (see Edith Macefield), it didn't seem very likely that it would happen here. And now that the house is boarded up, it seems almost certain that it will be coming down. The only question left is whether it will happen this month, or whether the house will stick around until ground is broken on the City Center. Either way, it looks like this little place is doomed. Another memory of old Carson being erased.