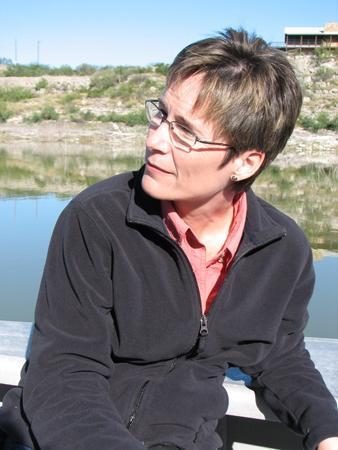 Rock Art as Narrative Presentation coming to State Museum January 20
Carson City, Nev. – Renowned archaeologist and rock art scholar, Dr. Carolyn Boyd, is coming all the way from Texas to give a special presentation at the Nevada State Museum at 1:00 pm on Wednesday, January 20, 2010, thanks to a generous grant from the Bureau of Land Management.
Dr. Boyd will discuss Rock Art as Narrative, based upon her research in the Lower Pecos Canyonlands of southwest Texas and northern Mexico. Boyd's program is part of the Winter Tour Guide Training at the Nevada State Museum, but is open to the public at the regular admission fee. Dr. Boyd will also be available for informal discussions at the opening reception of Rock Art Perspectives: Pictographs and Petroglyphs, Thursday, January 21 from 5:00 – 7:30 pm. For more information, contact Deborah Stevenson at 775/687-4810 ext. 237.
Rock art is a common term used to describe images painted on stone (pictographs) or those that have been chipped, abraded, or carved into stone (petroglyphs). Far from being idle doodling of ancient peoples, these rock art panels served as pictorial narratives detailing prescriptions for rituals and a constellation of myths and histories that are still practiced today in parts of Mesoamerica and the American Southwest.
In Rock Art as Narrative, Boyd will demonstrate the narrative quality of the imagery through a "reading" of the White Shaman rock art panel. This renowned panel not only delineates the ritual hunt for sacred peyote; but documents a ritual reenactment of the first pilgrimage that led to the birth of gods, the establishment of the seasons, and the creation of the cosmos.
Dr. Carolyn Boyd is the Executive Director and co-founder of SHUMLA, an archeological research and educational nonprofit corporation formed to connect people of all ages with the land and their cultural heritage. She serves as Adjunct Professor at Texas State University and as a Research Fellow at the Center for Arts and Symbolism of the Ancient Americas in San Marcos, Texas and the Texas Archeological Research Laboratory in Austin.
Dr. Boyd received her doctorate in archeology from Texas A&M University based on her analysis of the 4,000 year-old rock art of the Lower Pecos Canyonlands of southwest Texas and northern Mexico. Her background as an artist has provided her with a unique perspective to recognize these paintings as planned compositions, not random accumulations of images over time. Her expanded dissertation, Rock Art of the Lower Pecos, was published in 2003 and is considered an important contribution on rock art interpretation.
The Nevada State Museum actively engages people in understanding and celebrating Nevada's natural and cultural heritage. Exhibits highlight the state's history, geology, plants and animals, Native American cultural heritage, Historic Carson City Mint, a replica walk-through mine, and ghost town. Current changing exhibits include Rock Art Perspectives: Petroglyphs and Pictographs, Slot Machines: The Fey Collection and The Art of Nature: Images from the Wildlands of Nevada. Due to mandatory state budget restrictions, the museum is closed Sunday – Tuesday, and open from 8:30 am to 4:30 pm, Wednesday – Saturday. Please enter through the Dema Guinn Concourse. Admission: $6 for adults, $4 for seniors, and free for members and children under 18. For information, call (775) 687-4810.