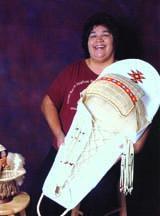 The Nevada State Museum celebrates Paiute cultural heritage as master basket weaver Elaine Smokey demonstrates her art from 1:00 � 4:00 p.m. on Saturday, July 21, 2007. Elaine will bring raw materials to demonstrate both willow work and horsehair basketry techniques.
A member of the Walker River Paiute Tribe, currently living in Schurz, Nevada, Elaine is highly skilled in the art of making cradleboards, "boat" baskets for newborns, round baskets, cone baskets, winnowing trays and rattles. Her demonstration complements the exhibit: Interwoven 2007: Visions of the Great Basin Basketmakers, currently on display at the Nevada State Museum.
The program is co-sponsored by the Nevada Arts Council's Folklife Program. For more information, call Deborah Stevenson at 775-687-4810, ext. 237.