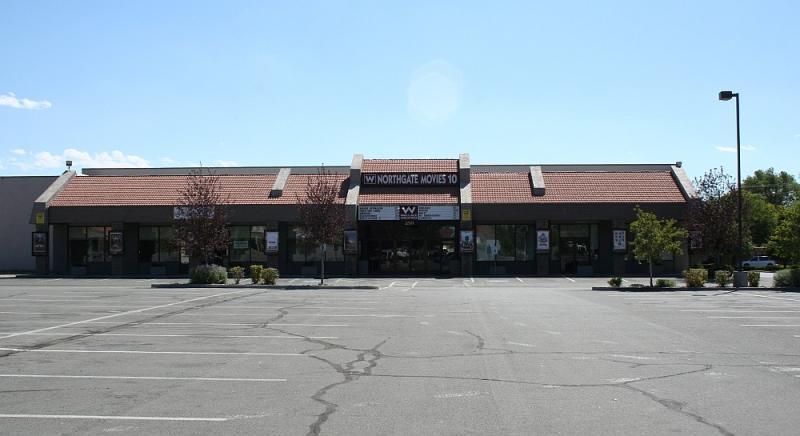 Thanks to David from Fernley for pointing out this story at the RGJ, (with a small mention in the Nevada Appeal (and more on Saturday)). The Hollywood Theaters, formerly the Northgate Movies 10, has closed for good. This movie theater used to be the best in town, then it was the only one in town, although no one would call it the "best" anymore, and then the Galaxy Theater opened which siphoned away practically all of their customers overnight. So they regrouped and opened as a dollar theater, and even that didn't work because now they're out of business.
Oh well. If I think back, if I remember back to when this was actually a good theater, then this is a little sad. Back in the day when the Cinema 50 was still open, and the Frontier Theaters on Winnie Lane. The Northgate Theaters actually was a nice place back then. And it wasn't then Northgate 10, it was the Northgate 4. Only four big theaters. Then around 1997 they expanded. They built six more screens into the place, in theaters as small as closets. And they put stadium seating in the four original theaters, so I didn't have to feel guilty anymore about blocking the people behind me with my head.
Then it all went to crap. Kids and gangbangers took over. Cleaning and maintenance took a back seat. People went there because it was the only theater in town, but they didn't enjoy it. Then the Galaxy Theaters opened at the Casino Fandango, just last summer, and everyone stopped going to Northgate. Even people who lived right across the street from Northgate wouldn't go there. Even kids who could pay a dollar to feel up their girlfriend in a dark room wouldn't go there. So now it's closed.
Good riddance. Burn it.