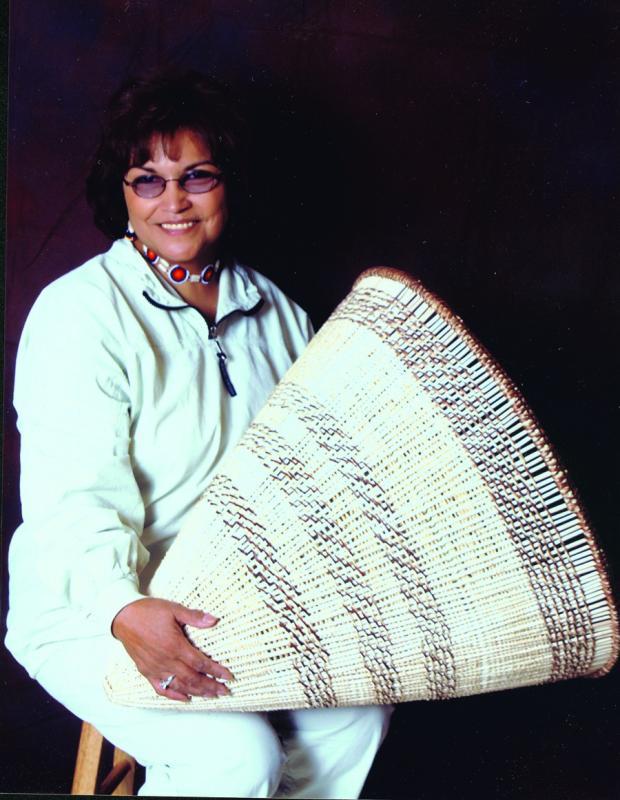 The Nevada State Museum presents an afternoon of cultural enrichment as master basket weaver Sue Coleman demonstrates her art from 1:00 p.m. to 4:00 p.m. on Saturday, June 30, 2007. Carson City resident Sue Coleman is a member of the Washo nation, part of the Dresslerville reservation. She will demonstrate the art of twining in willow, a method of basket weaving popular in the Great Basin since prehistoric times.
Sue learned basket weaving from her mother, Theresa Smokey Jackson, in the late 1980s. Together they gathered willow, which they stripped, cleaned and made into thread. Her first basket was the bicoos, Washo for cradleboard. Over the years, she has challenged herself with round baskets, burden baskets, seed beaters and winnowing trays, in addition to cradleboards, in a variety of styles.
Sue is inspired by her ancestors, such as her great-great grandmother, Sara Mayo, known for her famous "territorial" basket. "Baskets are important to the native people," Coleman explains. "Traditionally, baskets were used to gather, prepare, cook, and store native foods, for rearing children, for gift giving and ceremonies. Weaving almost died in our tribe and even now, there are only a handful of weavers left. I am continuing my mother's dream and now mine, to keep the baskets alive."
For more information about this program, contact Deborah Stevenson at 775-687-4810, ext. 237 or visit www.NevadaCulture.org.