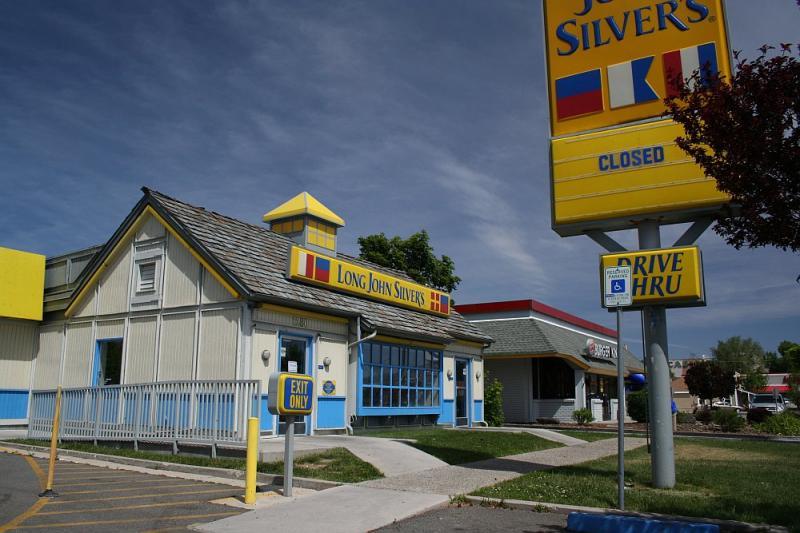 The Nevada Appeal has dug down to find out the reason Long John Silver's restaurant closed last month. Apparently the city wanted them to install a $30,000 grease interceptor, to stop grease from draining into the city sewer system, and the restaurant wanted the building's owner to pay for it. But the city's codes say tenants have to pay for those kinds of improvements, and the franchise owners refused to do it. Instead they just shuttered their doors. I guess that's one cost of doing business that they weren't willing to pay.
And that wasn't their first run-in with the city's health code, according to the article. Floor grout is one problem specifically mentioned, but I found the following health inspection report from last August:
Long John Silvers No. 5217, 1280 S. Carson St., 91.
-1 Food is stored in containers which are inadequately labeled or unlabeled, specifically prepared coleslaw.
-2 Fish was stored in the freezer without a cover.
-2 Ice not dispensed by employees using scoops, tongs or other approved utensils. Dispensing utensils must be stored on a clean surface or in the ice with the handle extending out of the ice.
-1 Non-food-contact surfaces are subject to splash or food debris, specifically the edges of the shelves under the counter, and are difficult to clean. The edge laminate is missing and porous wood is exposed.
-1 Non-food contact surfaces are not clean; specifically, the supports and wheels of the fryer have accumulated grease and debris.
-1 Floors are not clean; specifically, the floor under equipment has a build-up of dust and debris.
-1 Mop bucket with dirty mop water found in a food-preparation area.
The comments on the article are generally of the "good riddance" variety. So, I don't think Carson City is sad to see them go.