The Carson Times this week had a few articles you should check out:
The cover story is on the I-580 freeway and the Galena Creek Bridge. The thrust of the article is that folks in Carson City can't wait for this strech of the freeway, which will bypass Pleasant Valley and Steamboat and shave probably ten to fifteen minutes off the drive to Reno, to open. We're getting impatient down here! The bridge project got stalled when the contractor pulled out due to safety concerns, but NDOT is accepting bids and assures us the road will be open by 2010. Just in time for Phase 2 of the Carson City Freeway to be open, providing a nice smooth drive all the way from Reno to the Douglas County line.
The other story, which is actually close to me professionally, is about the Carson River Aquatic Trail that my company, RCI, is working on along with a few other agencies. This project is all about making the Carson River friendlier to boaters and kayakers by removing obstacles in the water and building nice landing areas to get your boat in and out of the water. If you're a water rat at all, you'll probably get excited about the idea of the Carson River being tamed a tiny bit and made more like the new Truckee Whitewater Park in downtown Reno (which RCI was also involved with). Now the Carson River is littered with rusted cars and other debris, and it can be tough to actually get your boat to the water's edge. This plan is all about making the trip a little easier and safer, so more people can enjoy the smooth waters along the Empire Ranch Golf Course and the rapids in Brunswick Canyon. RCI is going to be putting the full proposal online sometime in the near future (which, it's up to me to do that, so I better get cracking), but for now I'll tease you with a couple of images.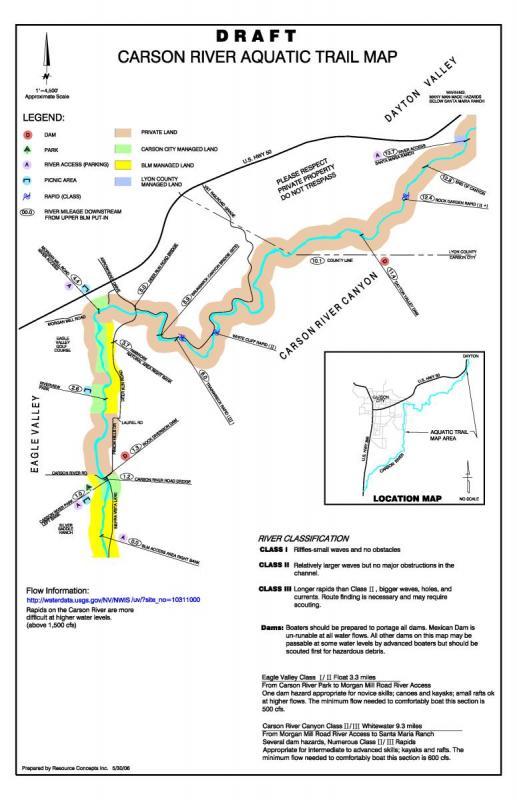 A map of the Carson River and specific places that will be improved. A larger version can be found here.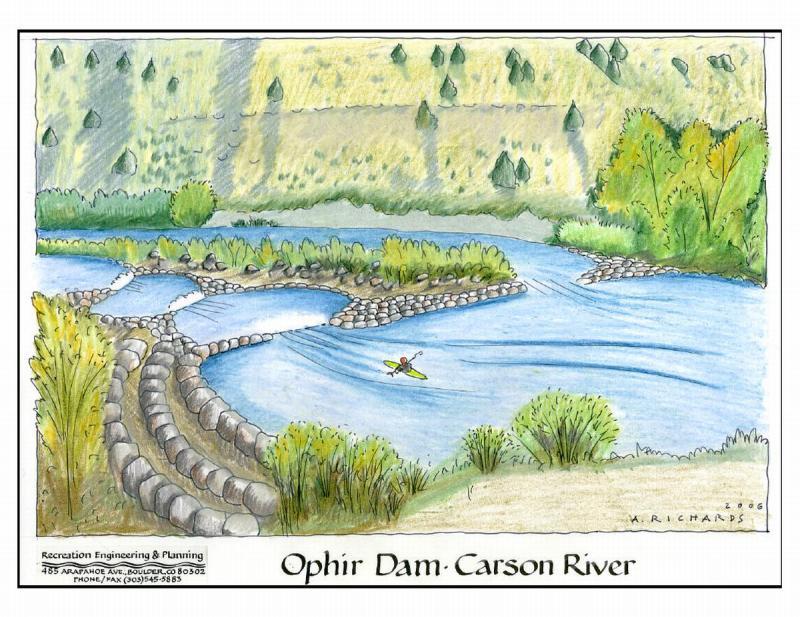 An artist's representation of the Ophir Dam after the work is done.
And then, just for fun, the Carson Times has a "way things were" editorial from Sue Morrow about all the old restaurants that used to be in Carson but are now long-gone. Most of these are from way before my time, and I've been here 21 years!