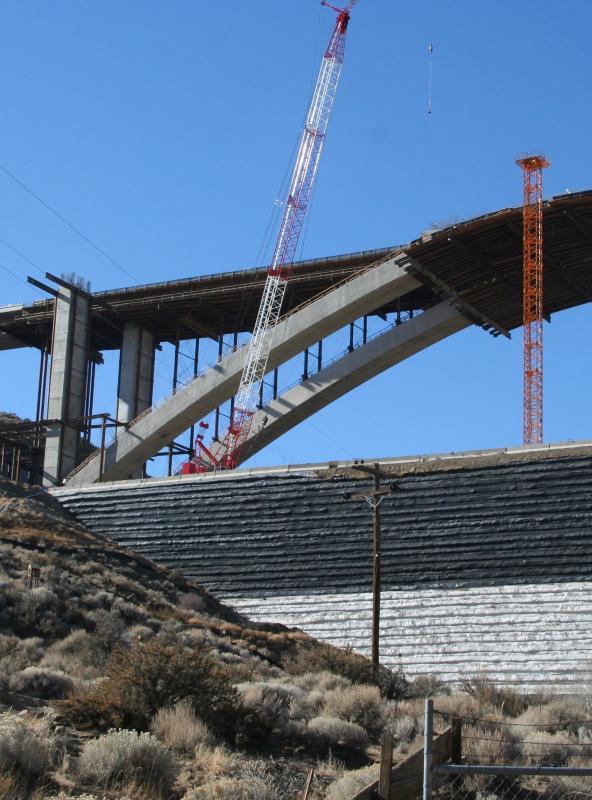 Accusations of shoddy workmanship are coming forward on the I-580 freeway project. A construction worker who was responsible for building bridges on the new freeway extension between Reno and the Washoe Valley says he was ordered to fill cracks in a bridge with stucco because it was cheaper than concrete. He kept quiet because he was afraid for his job, but now that he's been laid off he feels free to come forward.
The bridge in question is not the giant Galena Creek Bridge that can be seen from Hwy 395 in Pleasant Valley (and seen above). That bridge has been taking shape for years now, and is the most visible icon of the project. But the new freeway is going to be 8 miles long all together, and includes many little bridges over smaller ravines. The bridge that supposedly had the shoddy work done is the Galena Forest Bridge, which is hidden from view from the highway but is just as vital to the project. The Galena Forest Bridge will carry the freeway over the Steamboat geothermal fields, where the ground is unstable and riddled with crevasses that allow boiling hot water to come to the surface.
The accusations are serious and worth investigating, which NDOT is doing now. The last thing this project needs is more delays. Although you do have to wonder why the guy waited until after he was laid off, if there was a real risk of collapse. I guess knowing there are a dozen guys waiting to get your job helps keep your mouth shut. I also wonder if it's really as easy to sneak things by the inspectors as just waiting until they go to lunch. There's something fishy on both sides of the story, and we'll have to give it time to unravel.