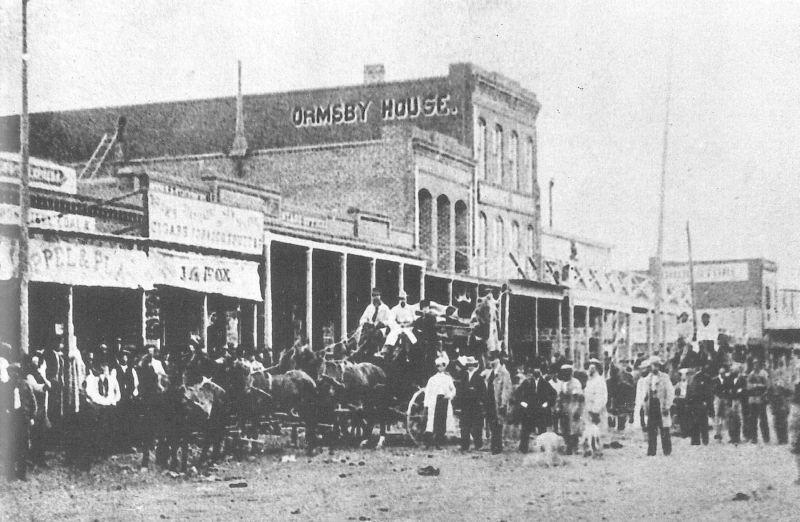 1863
Everyone in town knows of the Ormsby House. Even if a good percentage of Carson's residents moved here after it was closed, they've still been eagerly watching the renovation work going on at this hulking hotel at the center of town. But probably few people know where it got its name, or that it is in fact the second Ormsby House to grace Carson Street. So just who was this "Ormsby" anyway?
Major William Ormsby was one of the first residents of the Eagle Valley, back when there was little here besides a trading post. Pictured here is his hotel, the first Ormsby House, in 1863. It was located at the corner of Second and Carson Streets, just a block north of Carson's other big hotel, the St. Charles. At this point the hotel had been open about three years, and there's some kind of big event going on; it looks like the whole town turned out to have their picture taken next to the stagecoach. But one person who I know for a fact is not in this photo is William Ormsby himself. Why? Because he was long dead by the time this picture was taken.
Ormsby arrived in the Eagle Valley around 1857-58, the same time that Abe Curry was looking at the valley and deciding that it would be a good place for a town. So when Curry laid out the streets and set aside a "central plaza" for a future state capitol to be built, William Ormsby was one of the first to buy a plot of land from him. He must have shared Curry's vision that Carson City would one day become the capital of something, because the land that Ormsby chose was right across the street from the plaza. At that time the plaza, and indeed most of the town, was little more than a vast expanse of sagebrush. But William Ormsby took a risk and planned to build a hotel on his land, betting that Carson City would soon become big and all those newcomers and visitors would need someplace to stay. His risk paid off in 1859 when the Comstock Lode was discovered in Virginia City, and miners from all over the country rushed to the area. The Ormsby House opened in early 1860, at the corner of Carson and Second Streets, to immediate success.
Major Ormsby took another risk in May of 1860 when he organized an army of over 100 volunteers to go looking for Paiutes. An outpost east of Dayton had been attacked by Indians, and five white men killed. This news reached Carson City quickly (although the fine details, such as the attack being a retaliation for the white men abducting and raping a couple of young squaws, took a little longer to arrive). This, combined with news of large numbers of Paiutes gathering up by Pyramid Lake, was enough to convince the pioneers that they had an Indian uprising on their hands. So a bunch of concerned citizens got together and rode north to teach the Paiutes a lesson. They didn't expect much of a fight; they thought they would go out, kill a few Indians, bring home some ponies, and overall have a rather good time. When they got to Pyramid Lake, however, they realized that they had underestimated the Paiutes. In the first battle of what would later be called the Paiute War, the volunteer army was ambushed and slaughtered. Only one quarter of the men made it back to Carson City, Major Ormsby not among them. This risk had proved to be his last.
After Ormsby's death, the hotel remained a success. In 1864 when Nevada became a state, Carson City became the capital, just as Abe Curry had foreseen. But when it came to naming counties for this new state, it was William Ormsby, not Abe Curry, who was honored. The land where the Major had spent the last few years of his life became known as Ormsby County.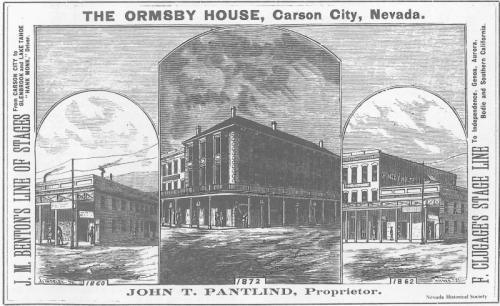 An 1872 ad for the Ormsby House, touting the expansions it had gone through in just 12 short years.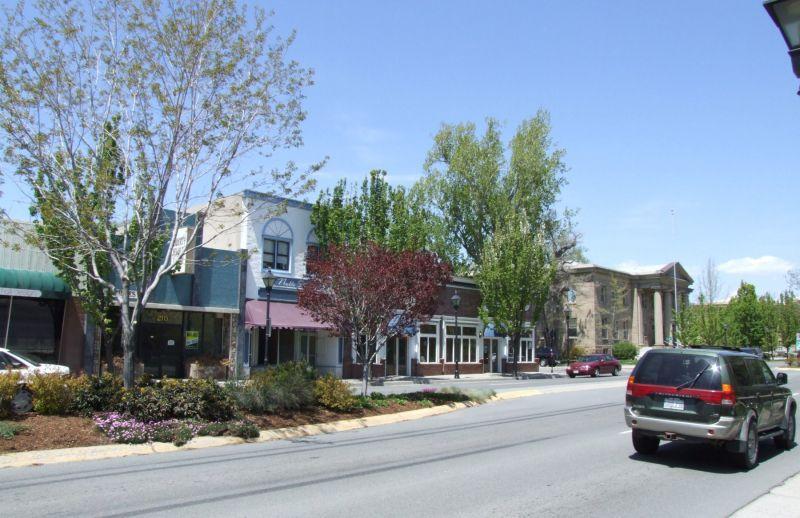 2006
The Ormsby House remained popular throughout the 1800s, but by the end of the century it had been renamed the Park Hotel. During the early 1900s business declined, and when the hotel was bought by the Laxalt family in 1932, it was little more than a flophouse. It was demolished soon after. A real estate office now occupies the site.
The legacy of the Ormsby House didn't die there, though. In 1972 the Laxalt family resurrected the name for their new hotel, which they built just a few blocks south at Fifth and Carson. At ten stories it was the largest hotel, and tallest building, in town. This is the Ormsby House that everyone knows. But it too only had a couple of good decades before business dropped off. It closed in 2000 for a complete top-to-bottom remodel, and as of this writing, six years later, work is still continuing.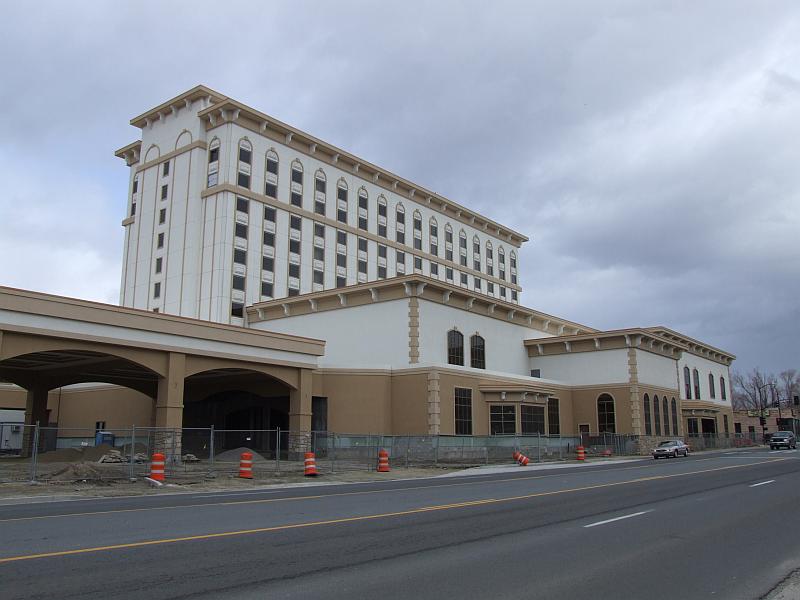 Besides the hotel, a few other things were named for William Ormsby. There is an Ormsby Boulevard in west Carson City, past the middle school. And the Ormsby-Rosser House on Minnesota Street was built for his widow, Margaret, a few years after his death. Ormsby County lasted until 1969, when it was absorbed by Carson City and the county and city governments consolidated. But it's still the hotel that carries the Ormsby name most prominently, making sure we still remember it nearly 150 years after his death. Even if we don't remember Ormsby himself.