Becky Bosshart is once again on a roll over at the Nevada Appeal. I know I sound like a broken record every time I say this, but Becky's consistently my favorite reporter over there. Because while all the other reporters get all the stories about death and economics and corruption and all the other stuff that puts me to sleep, Becky is hard at work writing about the V&T and historic houses and other stuff that makes me excited about getting the paper every day. Without those in-depth feature articles, I probably would have canceled my subscription a long time ago. After all, who wants to read the actual news every day?
And Becky pulled a double-header this weekend, writing two articles for Sunday's paper. The first one is a feature on another in a long line of renovations going on in Virginia City, the house at 58 North B St. I went up to Virginia City to shoot some photos a couple of years ago, and this house attracted my lens not just because it was run down and falling apart, but also because it was for sale. "Who would buy this house?" I asked myself (secretly wishing that I could, and that I had the money to fix it up). Well, Becky went out and did the research, and found out just who bought it, and how the renovations are coming along.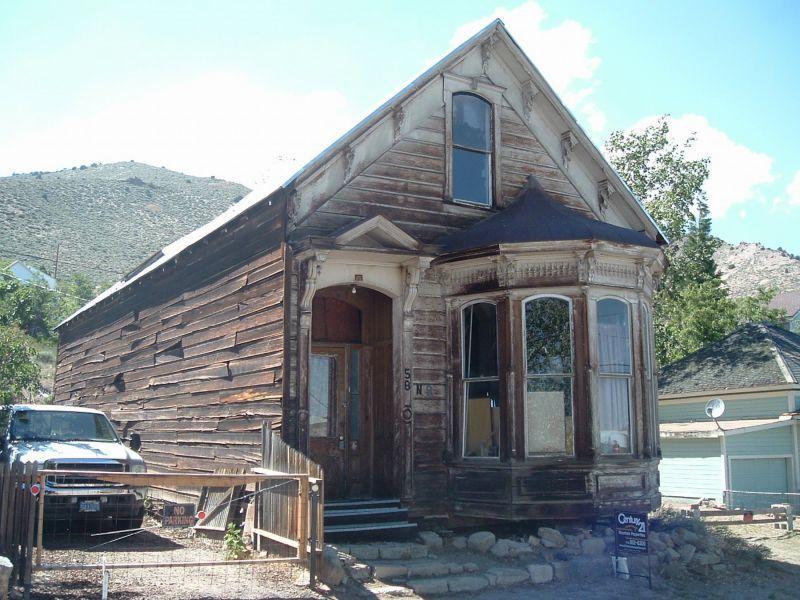 The house at 58 North B in June 2004, when it was still for sale. Click through to see what it looks like today.
The house was built on the rubble of one that had burned in the Great Fire of 1875, and its first resident seems to have been Henry Piper, the brother of John Piper who owned Piper's Opera House. The new owners are Chris and Carolyn Eichin, a Bay-Area couple who are not just fixing it up to be a home, but also to be a bed and breakfast. It's a cool story by itself, and HGTV's If Walls Could Talk filmed a segment about the house that should be airing soon.
But this house is also an important link in Virginia City's overarching story of redevelopment. It seems like the whole town is finally coming back from the brink of death, where it had been for several decades. It's been a major tourist destination since the 60s, but it seems that really only in the last 10 years has the serious money been flowing in to take advantage of those tourists. New hotels are being built, and run-down buildings being turned into restaurants and bed & breakfasts. There's money to be made in Virginia City, it turns out, and out-of-town investors are finally realizing it. Hopefully there are a lot of small, personal stories like this one, and the Cafe Del Rio, in VC's future. I guess the downside of redevelopment would be if the big corporations get involved and start doing projects that don't have this personal touch. That would destroy a lot of the charm that the tourists are visiting for, and kind of be self-defeating in the long run.
The second of Becky's articles is just as interesting, and the history goes back just as far. It's the story of that mysterious mansion that you see along Hwy 395 between Steamboat and Pleasant Valley, when you're driving to and from Reno. That house has been there as long as I've been making the drive, and it always seems so out of place in this little grassy alcove right next to the highway. It always looks like it's on the verge of tipping over, with a weed-covered front yard and peeling paint. Kind of how it would look if I owned it, probably.
But it also is finally getting the care and attention it needs, from a former NBA player-turned real estate investor, of all people. David Wood played ball for 16 years, but now he's settled down and putting his time into fixing up the old mansion. The house was originally built in 1875 and was located about ten miles north of its current location. It used to be where the Atlantis Hotel is now, but back then it was all farmland with nothing but wagon roads and the tracks of the V&T. In 1887 the house and land was bought by rancher John Sparks, who named it the "Alamo Ranch". Sparks later went on to become governor of Nevada, and is one of the few Nevada governors to die in office. He actually died in this very house.
A few owners and several decades later, Reno had grown from a tiny railroad depot on the banks of the Truckee to a huge city that was in danger of filling the whole valley. The land the house sat on was a good spot for commercial development (even though it stayed vacant for another 20 years before becoming a parking lot) so the house was moved in 1978 to Steamboat Valley, where it sits today.
I think it's a good thing to collect all these stories about these different houses, otherwise they risk getting buried in a library somewhere, or lost as the houses change owners. These stories need to come out, and it's good to see that at least one reporter at the paper is interested in telling them.
These stories also need to be on the internet where anyone can find them, and that's the burden I've taken on. Now if we could get Becky Bosshart to start blogging…