In the 1990's, Max Baer Jr., best known as Jethro from The Beverly Hillbillies TV show, got the idea to build a hotel/casino themed around the Beverly Hillbillies franchise. He identified a plot of land in Reno, Nevada, and tried to get things going, but after years of being in the works, the project never got off the ground and kind of sputtered out.
On August 15, 2003, Max Baer Jr. was back. He announced that he and his partners had purchased a building in Carson City, Nevada, to relaunch the project. The building they chose was formerly a Wal*Mart department store that had been abandoned. Throughout the fall and winter of 2003/2004, the old 120,000 square foot building on the south side of town will be transformed into Jethro's Beverly Hillbillies Casino, with a hotel soon to be added in the back. And I'll be on hand to document the work. I drive by the site every day, and I'm already documenting the other big casino project in Carson City, the Ormsby House. So, of course, it's a natural that I'll be keeping track of this one. They haven't started construction yet, so here's a picture of how the Wal*Mart building looks now. To the left of the photo, the building is attached to a little strip mall and a JC Penney.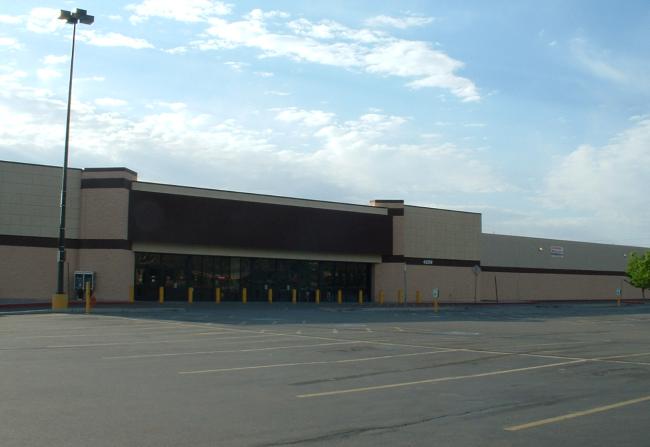 Keep in mind that I'm not planning on being kind to this effort. This casino belongs in Las Vegas. It has no business being in Carson City. We have a distinct lack of laughingstocks here in the capitol city, and we rather like it that way. Jethro's casino, if it really gets built, is just going to make us the punchline of a lot of jokes. That's my story, and I'm sticking to it. But, if the project really ends up going through, I won't have any choice but to just sit back and enjoy the absurdity of it all. This site will be my outlet.
Status Updates
Developments on the road to Jethro's
January 8, 2010
Jethro's land in Douglas County was foreclosed, so this project is well and truly dead. Last I heard he wants to renovate a closed casino in Sparks, NV. Who knows if it will ever happen.
May 5, 2007
Jethro has sold the Old Wal-Mart in Carson City in favor of building his casino in Douglas County. It's the end of an era. But the project is still alive, so keep checking here for updates.
May 5, 2007
Still looking at Douglas County.
September 1, 2005
Jethro is actively looking at sites elsewhere in Carson City and Douglas County to build his casino, in case the stalemate at the old Wal*Mart site isn't broken by next spring.
August 18, 2005
It sounds like Jethro may be wavering in his determination to build on the old Wal*Mart site no matter what. Now he's saying that if things aren't resolved by next year, he'll find another site. Either way, "I'm going to put a shovel in the ground by June of next year," he says.
April 8, 2005
Carson City government is considering adding the former Wal*Mart building to the city's redevelopment district, saying it meets the criteria in that it's been vacant for years and "has the appearance of physical and economic distress." The story is here. Also lingering underneath all this talk about redevelopment are hints that the city may plan to use eminent domain to take the property. The mayor says it's a possibility, but the city's redevelopment managers says that's getting too far ahead. But you know they're letting all this talk of eminent domain slip to scare Jethro a little bit, and hopefully get him to break his end of the standoff. We'll have to see if it works or backfires.
April 6, 2005
Jethro is still holding strong, even turning down an offer from Wal*Mart to buy the building back, for more money, to build a Sam's Club. Glenbrook and JC Penney are holding strong as well, vowing to never give in.
For the last couple of months Jethro has had a new sign posted on the building:
August 3, 2004
The matter finally went to court, and the judge ruled in favor of Glenbrook. Jethro cannot build the casino without Glenbrook's permission. They insist they will never give their permission, and Jethro vows to continue the fight as long as it takes. "I can wait in perpetuity," he says.
January 2, 2004
Jethro is still trying to get his plan approved. JC Penney and the owner of the strip mall (Glenbrook Co.) don't want a casino to go into the old Wal*Mart building, and they say there are covenants and restrictions that prohibit using that space for entertainment purposes. Jethro says the restrictions don't apply to him. Glenbrook Co. says that when he bought the building, the restrictions were part of the package. The matter is going to court in January.
News Articles
Here are links to articles in local papers about the project.
Old Wal-Mart sold for $8.5M — Nevada Appeal, May 16, 2007
Jethro's casino takes first steps in Douglas — Nevada Appeal, May 4, 2007
'Hillbillies' star eyeing other properties in area for casino — Nevada Appeal, September 1, 2005
Baer's determination to build goes beyond Carson City — Nevada Appeal, August 14, 2005
The Beverly Hillbillies Casino saga — Nevada Appeal, April 24, 2005
City seeks to annex old Wal-Mart into redevelopment — Nevada Appeal, April 8, 2005
Old Wal-Mart still a site of contention — Nevada Appeal, April 6, 2005
Judge: Baer casino violates shopping center rules — Nevada Appeal, August 3, 2004
Baer makes his case before Rotary Club — Nevada Appeal, December 31, 2003
Jethro's Casino fate expected soon — Nevada Appeal, November 7, 2003
Plans for Beverly Hillbillies casino taking shape — Nevada Appeal, September 5, 2003
Businesses mixed about sharing Southgate Mall with casino — Nevada Appeal, August 20, 2003
'Beverly Hillbillies' casino plan resurfaces in Carson City — Reno Gazette Journal, August 16, 2003
Plans for Beverly Hillbillies Mansion & Casino revealed — Nevada Appeal, August 16, 2003
New 'Beverly Hillbillies' casino proposed in Nevada — Reno Gazette Journal, August 15, 2003