They said the road would be done by Nevada Day.
They did hedge their bets a little, by saying they might have to come back in November to finish some crosswalks and landscaping, but the sidewalks and road itself would be ready for the Nevada Day parade.
They delivered on their promise, and there wasn't even any reason to hedge. The downtown Carson project is now finished; even the crosswalks and landscaping came in on time. On Friday, the Nevada Day holiday, city officials braved the rain to cut the ribbon on our new downtown, and for the rest of the day the sidewalks were full of people and the streets full of cars as everyone took in the first actual day of not having to dodge road cones and construction crews.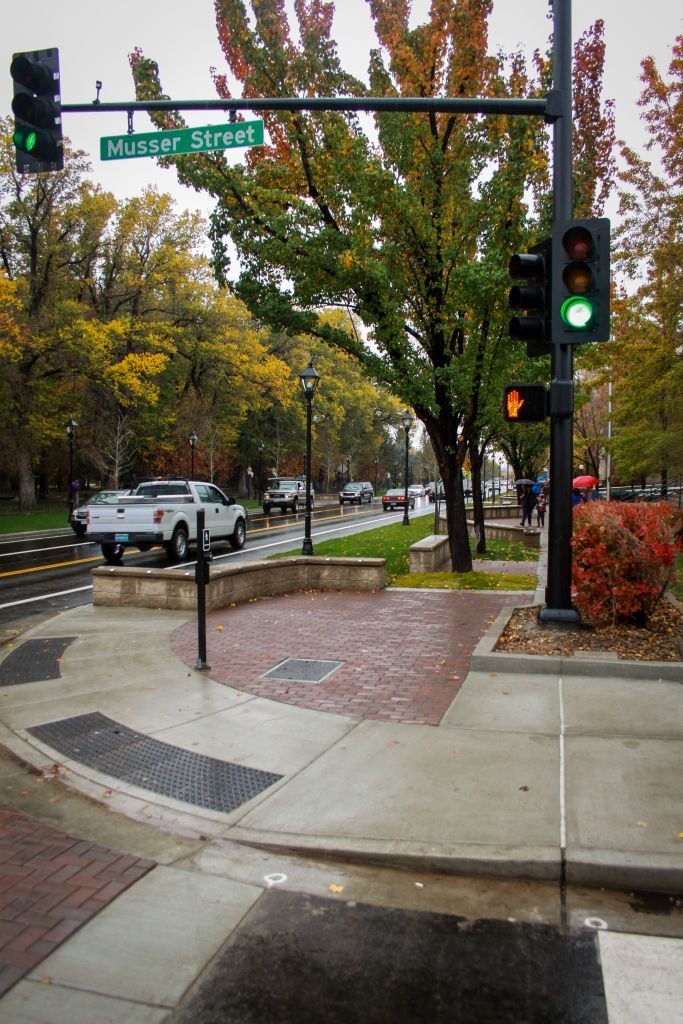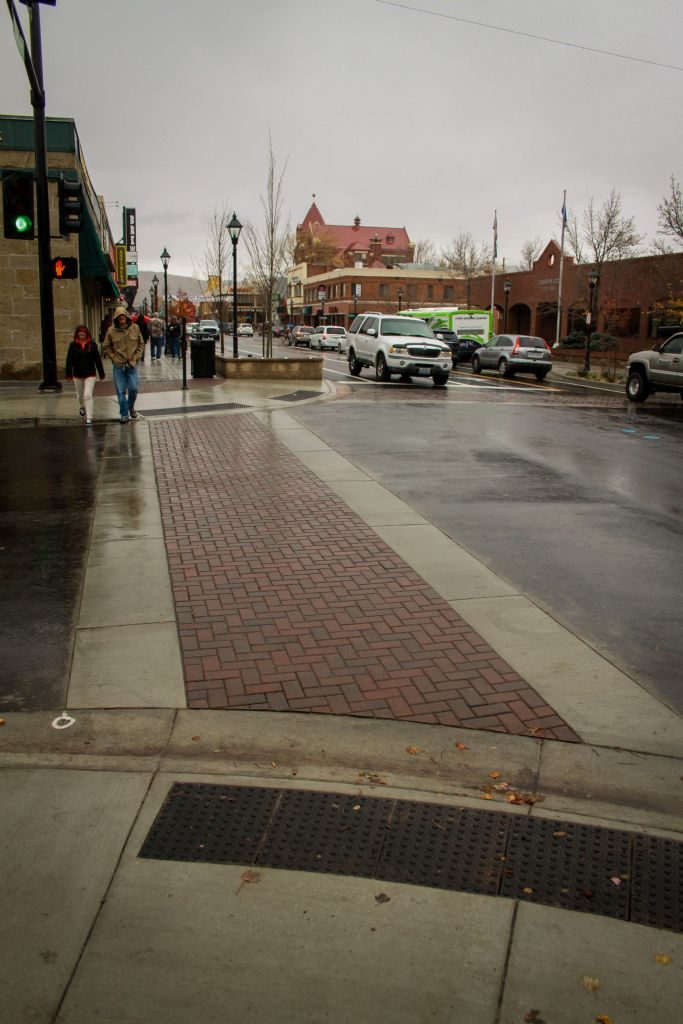 This is the new downtown we have been waiting for for 10 years. One of the negative things that critics predicted did come true, the traffic was kind of backed up through downtown with only one lane in each direction. But I think there was probably extra traffic with people wanting to drive through downtown and see the new road without cones. Plus, the new traffic was predicted by nearly everybody; another thing predicted is that people will learn over time to take side streets instead of Carson Street, reducing the traffic until it balances out at a reasonable level.
Aside from the cars, though, the sidewalks were also pretty busy. But unlike how downtown was before, now there is plenty of room for several people to share the sidewalk. You used to have to walk single file through most of downtown because of skinny sidewalks.
The extra grass and landscaping makes a huge difference here between Second and Musser.
The new crosswalks got a good cleaning in the rain. Hopefully this will wash away the dust and dirt that was leftover after construction.
Cars were parking in the new parking spots all up and down Carson Street.
New signs are up advertising the Bob McFadden Plaza.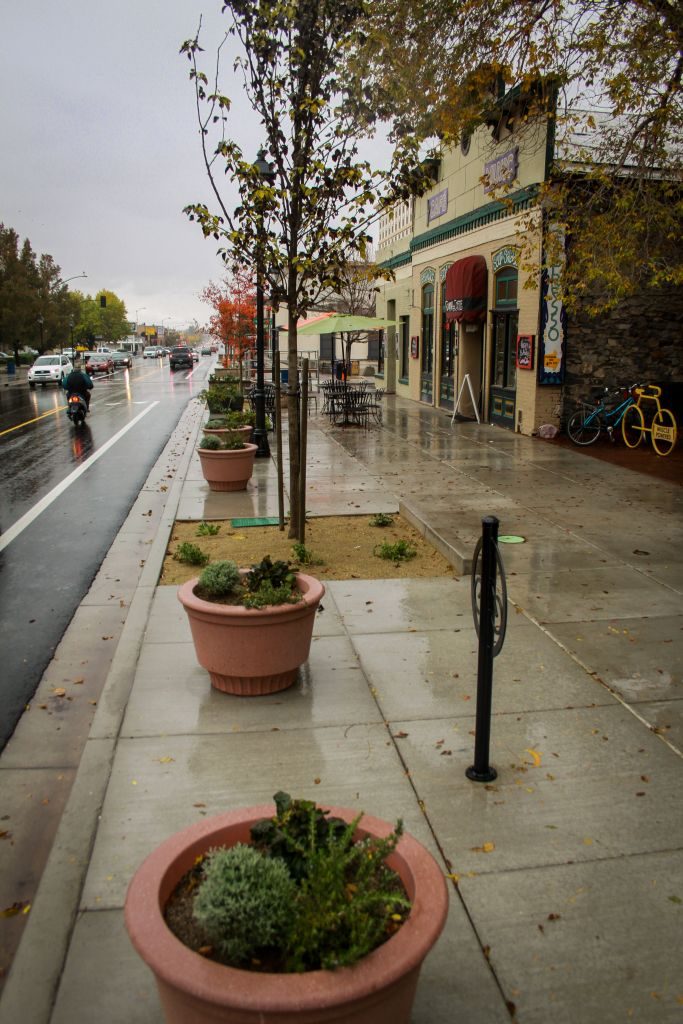 Comma Coffee finally has true sidewalk dining, not just a couple of tables pressed up again the curb.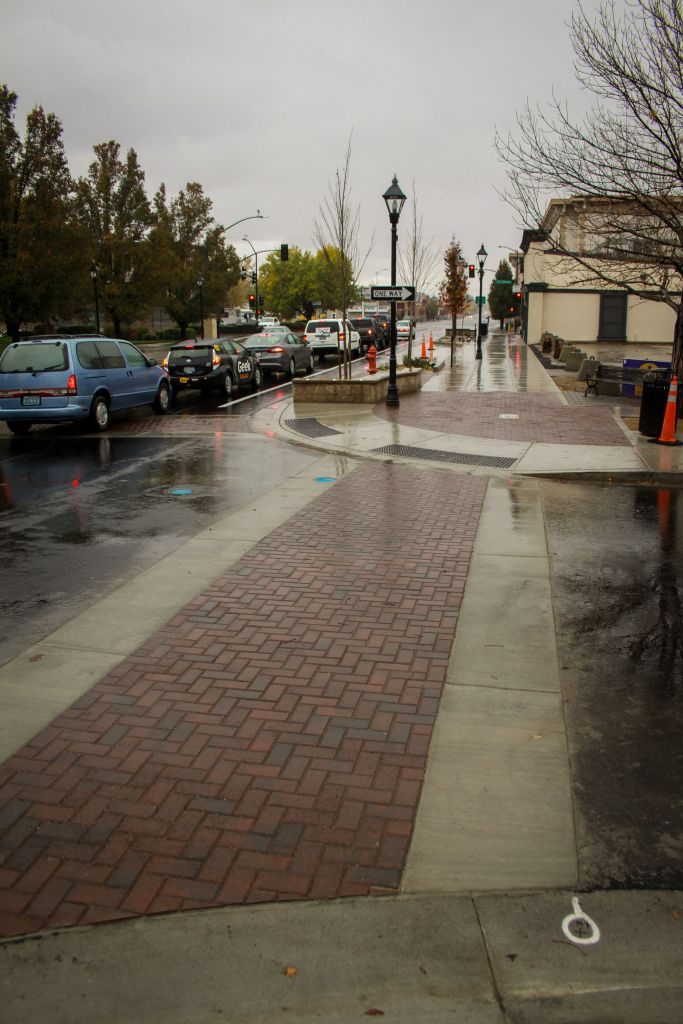 Bicycles were braving the rain to enjoy the new bike lanes.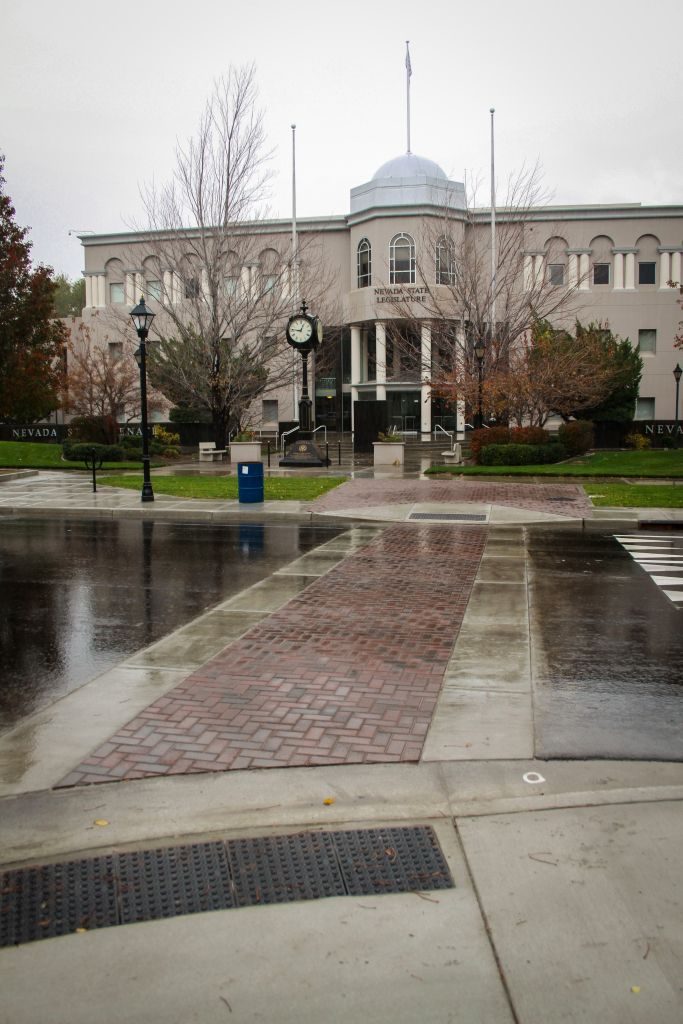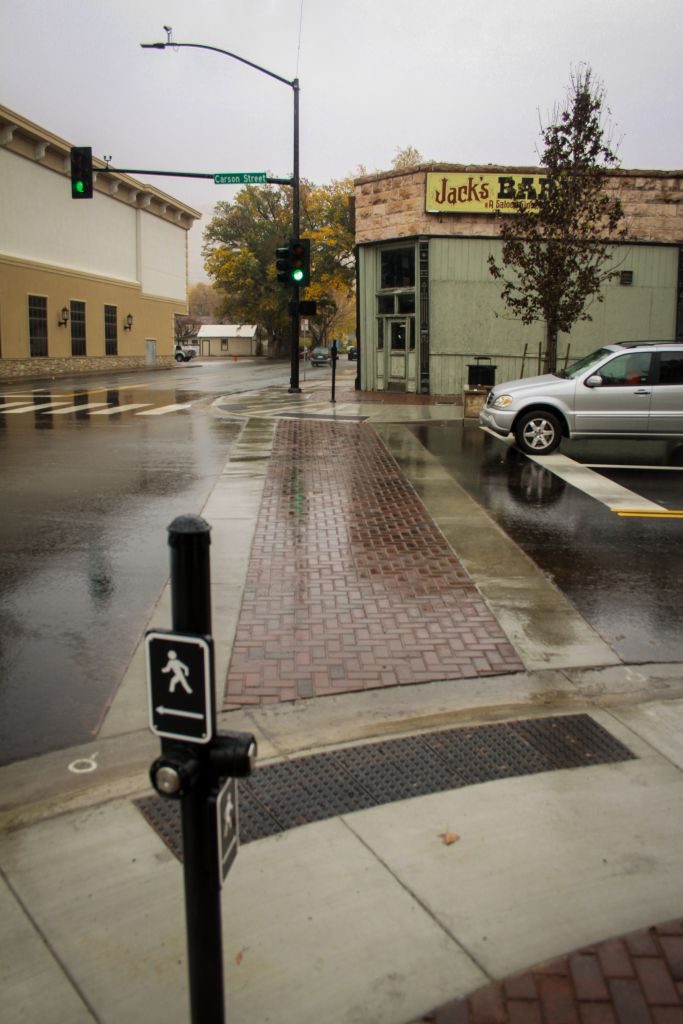 New crosswalk poles are installed at all the stoplights.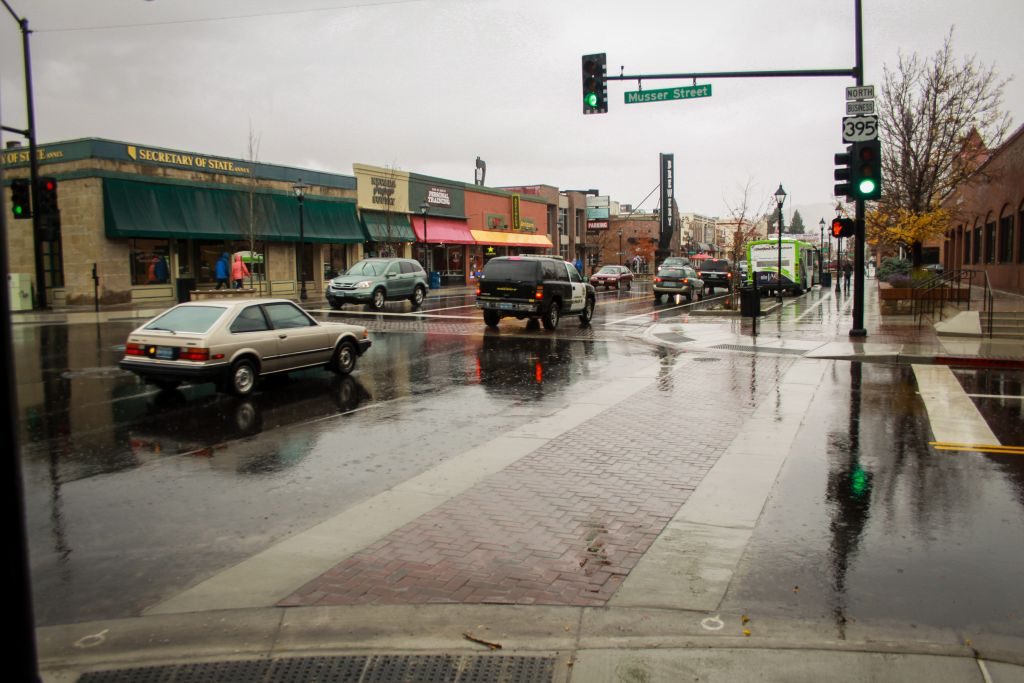 Between Musser and Proctor there are pullouts for bus stops. Here they are being used for that purpose.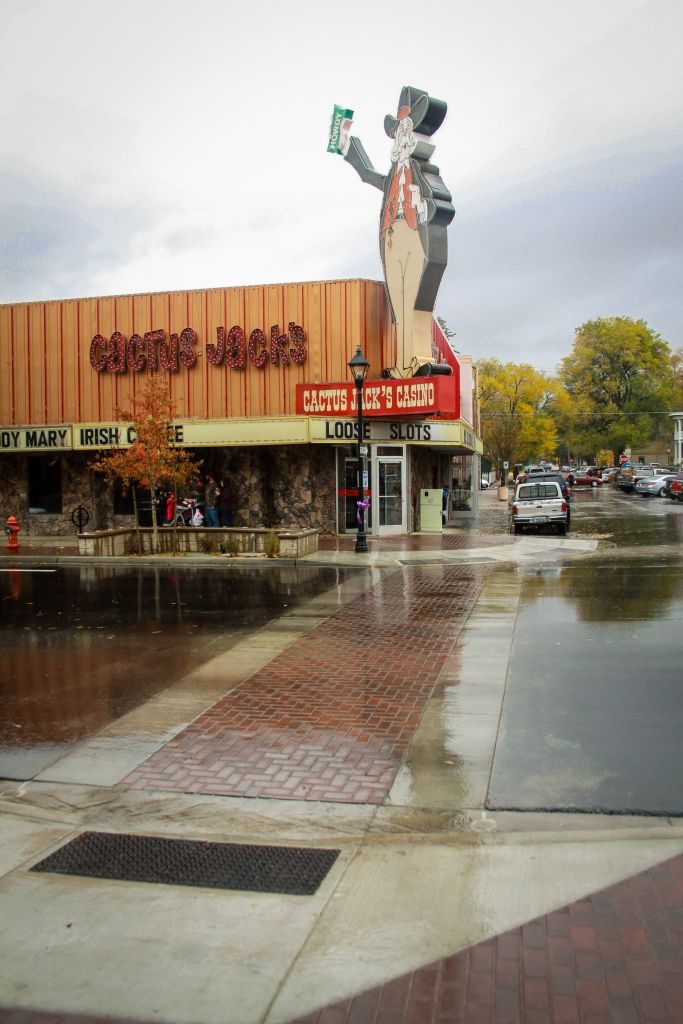 The Batmobile was parked in front of the Nugget.
Many people were out walking in spite of the rain, even though many of the opening day events downtown were scaled back due to weather.
The finished product ended up looking pretty great, made better by the rain and fall colors.