News Carson City has covered a few interesting stories over the last week, so I want to mash them all up into one post here:
Big new addition to Nevada State Museum: The new concourse between the old U.S. Mint and the museum's North Building is nearly finished, and a grand opening ceremony has been set. On May 14th at 5pm it will open to the public for a three-hour reception and be "officially" unveiled.
Some beautiful trees are gone: The tree removal effort that was first mentioned a month ago has been carried out, and several of the big cottonwoods near Fifth and Curry Streets and been chopped down and torn out. News Carson City has video, and I have a couple of pictures from Sunday of the limb cutting being done.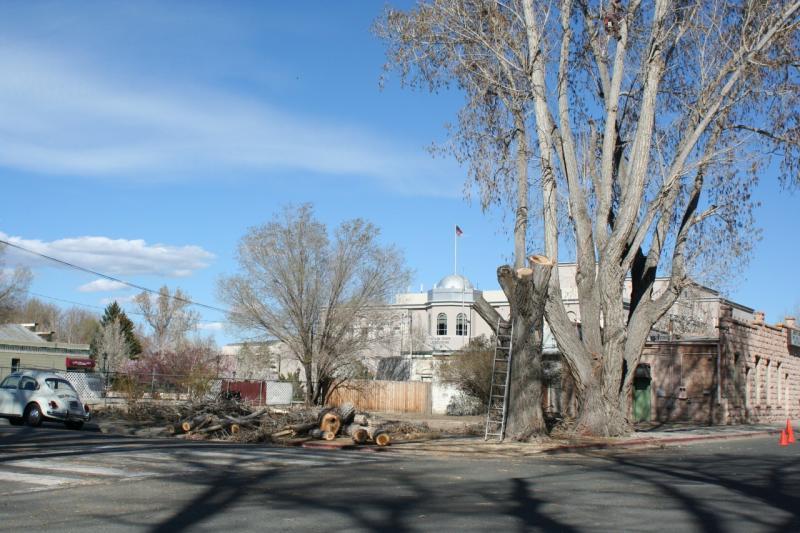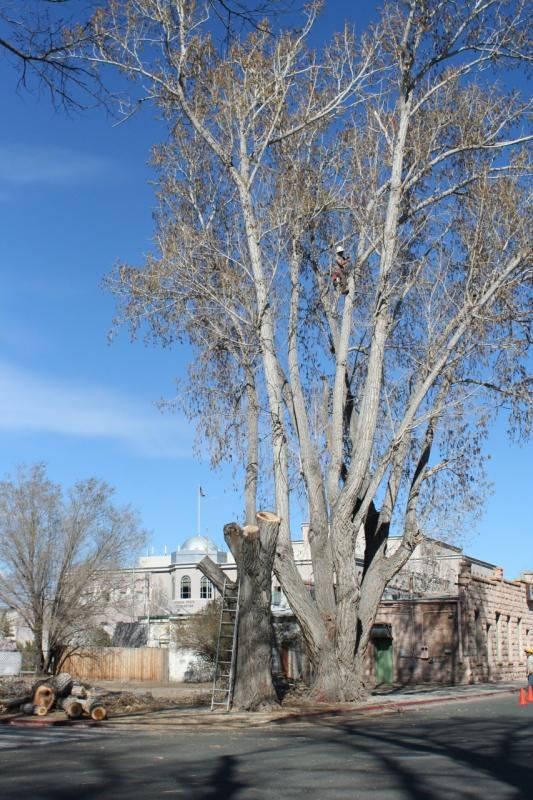 Roop Street next on the construction schedule after Stewart Extension: Looks like Roop is the next major street to be closed down for widening and repaving, much like Fairview was reworked last year. All of this is in service of giving people alternatives to taking Carson Street, in anticipation of when the CC Freeway is 100% done, and the city puts in motion their plans to reduce Carson Street to two lanes through downtown. If there are other major arterials ready to accept the traffic, like Roop and Stewart, the narrowing and traffic-calming measures downtown will go smoother.

Renovation of CC's first apartment building: Dave actually went out and did the homework on the construction I wrote about last month. The garage demolition and other renovation work going on at the north Nevada Street building is intended to convert the space into accounting offices, another one of those adaptive reuse projects that is so common in Carson City. One snag seems to be that the firm is expecting $53,000 worth of redevelopment money to be coming in, and the city needs to decide if they really need it or not.