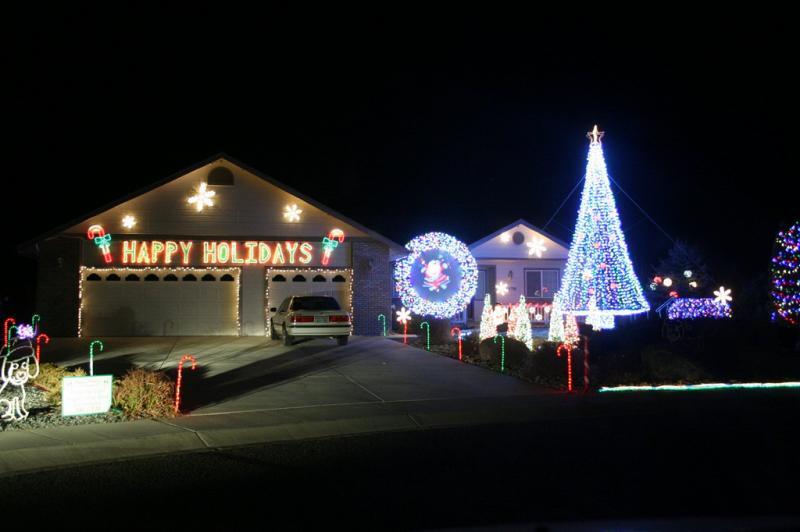 The Kremer Lights are back, and better than ever! Long-time readers may remember me writing about this light display in the Carson Valley back in 2005 and 2006. The Kremer family has put together one of the best Christmas light displays in the region. Not only is it an elaborate display, with a steel mega tree, several smaller trees, candy canes, cartoon dogs, and new this year an eight-foot wreath, but it's also all animated and set to music. They have a 20-minute show that runs continuously all night, and the lights dance and flash, choreographed in time with the music. And while this kind of thing is easy to do technically (with Light-O-Rama equipment), there is an artistry at work in the Kremer display that is sometimes lacking in other similar shows.
Here's a sample of one song from the 2005 show to give you a taste.
He took 2007 off, but promised to be back in 2008 with a new surprises. And he sure is. This year the new big thing is a video screen, right in the center of the giant wreath. For each of the songs in the show, he has created a music video that plays on the screen while the lights are dancing all around. Sometimes the video is a big part of the show, sometime it just fades into the background. But it's a fantastic addition to something that was already incredible.
Luckily the Kremers live on a cul-de-sac, so when the show is running their whole street turns into a drive-in movie theater. Cars are lined up side-by-side all the way across the street, sometimes two or three rows deep, to watch. Their neighbors probably have a nightmare trying to get out of their driveway, and backing out of there when you're ready to leave can be tricky without hitting anything, but having so many other cars there enhances the feeling that you're in a theater, with an audience, watching a performance. That's not something you usually get just looking at Christmas lights.
Now, the crowds are usually bad enough as it is, but I urge everyone reading this to set aside one night this month to drive out to Stephanie Way, in the Carson Valley, and see the lights. The house is in the Johnson Lane area, and the address is 1176 Chaparral Court. You can find directions here, or just look at the embedded map below.
View Larger Map
Their official website is www.nevadachristmas.com, where you can find hours, videos, and more information on how it works. Plus you can read the interview I did with Wayne Kremer in 2006. They're also again this year collecting food and money for the Carson Valley Community Food Closet, so if you come bring a can or two of non-perishable food or a few bucks for the mailbox. The lights run until New Year's, so you better get out there and watch them!