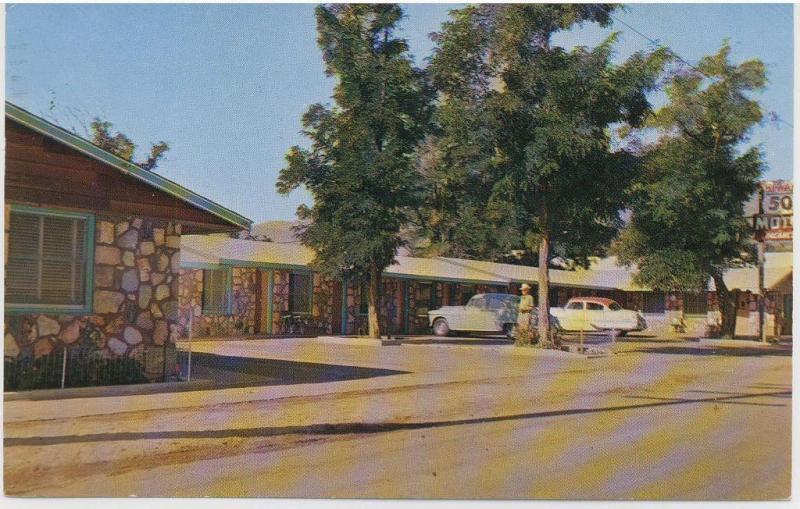 1962
This is the Hi-Way 50 Motel located, where else, on Highway 50. Specifically it was on East William Street, in the 200 block on the south side, at the corner of Plaza and William. It was one of a couple dozen sleepy motels near downtown Carson. Most of them could be found on Carson Street, but this one was just a block off, on Highway 50. The old V&T Shops were located just behind the motel, and the Nugget was just a leisurely 5-block stroll along Plaza.
The motel doesn't seem to be doing brisk business. Just two cars in the parking lot, and one guy in a hat, probably making his way to his room. The photo was taken about 10am. Let's give them the benefit of the doubt and say everyone else had already checked out for the day.
The back of the card reads: "HI-WAY 50 MOTEL. Junction of 50 and 395 in Carson City, Nevada. Walking distance to Museum, Restaurant and clubs, one or two rooms family units, Air foam mattresses for comfort. Shady parking. Your Hosts, Harold and Velma Jensen."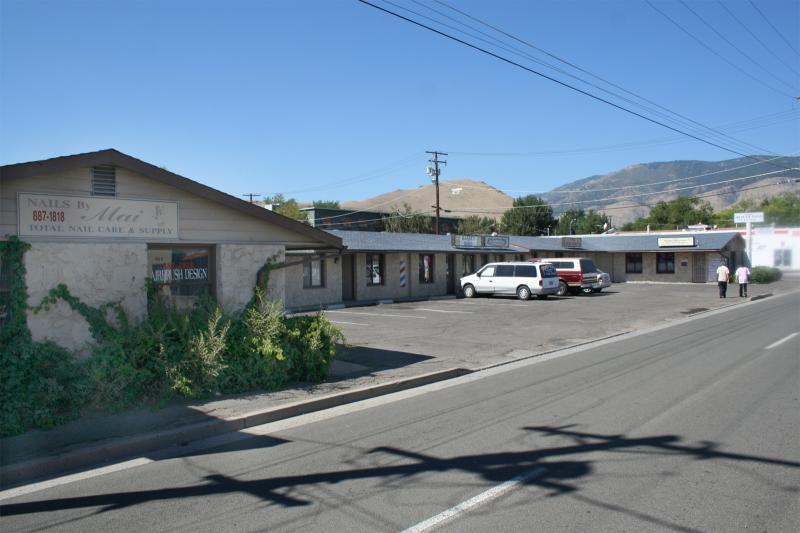 2008
So many of the old motels along Carson Street have fallen so the land could be used for other development. Only a few have survived to the new millennium, and they've all seen expansions and remodels that have kept them being used as places of lodging. The Hi-Way 50 Motel stopped taking guests years ago, but amazingly it's still standing. Here at the corner of William and Plaza, just one block off of Carson Street, is an easy to ignore little strip mail, holding a nail salon, a barber shop, and a small natural foods store. A close look, though, shows that this is unmistakeably the Hi-Way 50 Motel, living a quiet second life in the bustle of downtown Carson.
The old motel hasn't seen very many changes. It got a coat of fresh paint over everything, camouflaging the multi-colored stone walls under a dull beige uniformity and swapping the teal trim for brown. The space-hogging trees were removed as well, so one or two more cars could fit in the parking lot. And the excellent motel sign, featuring a highway shield, was removed. But really it's the same place, even though the neighborhood has changed dramatically. The V&T Shops behind it have been torn down. A Jack In The Box was built right next door. And Highway 50 has gone from a lonely road to a major thoroughfare, one of the busiest streets in town. Most people passing by probably don't look twice, let alone once, at the old motel sitting here. I certainly didn't, not until I found the old postcard and did some detective work to track it down. But this place has probably been here longer than all of us.
UPDATE: This motel was demolished April 7, 2023, to make way for an apartment complex.