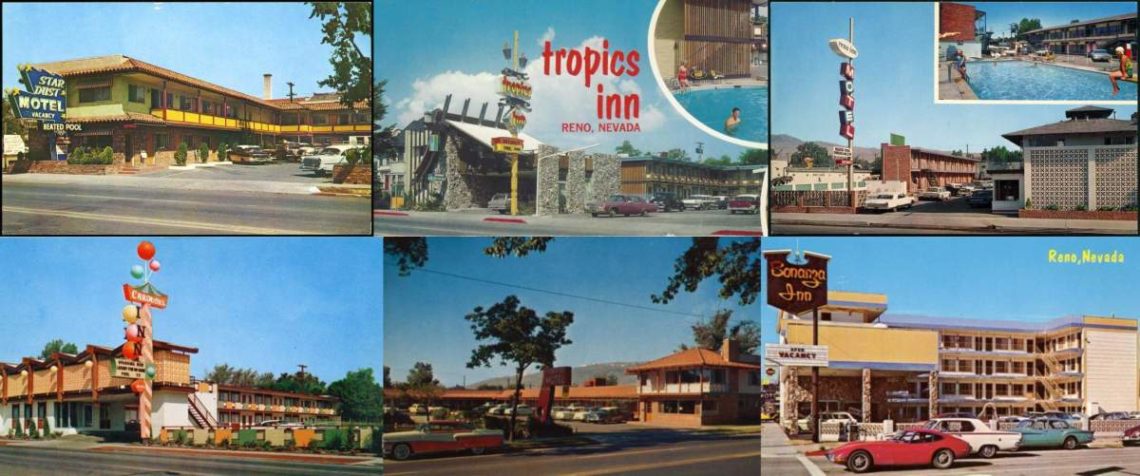 We're all familiar with the big hotel/casinos in Reno. But over Reno's history, the big places were far outnumbered by smaller motels situated along the highways and the outskirts of downtown. Reno used to have dozens of motels, catering to tourists and travelers who weren't interested in the glitzy casinos, and were looking for something a little more low-key. Some of the motels were right in the shadow of the larger casinos, boasting a short walk to all the action. Others were located way out of town with a more peaceful atmosphere. They were a major part of Reno in the mid 20th century.
But times change, and so did motel culture. The big hotels got bigger and offered discounts to pull people away from locally owned motels. The budget motels were aging and finding it harder to compete for tourist dollars, so they started offering weekly rooms to locals. For some people a low cost motel room was the only thing keeping them from homelessness. The motels started to get a bad reputation that kept travelers away, and most places didn't have the budget for repairs or maintenance, which made them even more run down and only worsened their reputation. One by one the motels were forgotten. Some of them are still holding on, providing low cost housing that Reno desperately needs. Some of them have found a second life and been fixed up, catering to people who have nostalgia for that old motel experience. Many of them have just been demolished, replaced with newer apartments, or with other kinds of businesses, or in the greatest indignity, replaced with nothing but an empty lot.
But one remnant that was left behind from these motels were the postcards. More than any other business, motel advertising seemed to thrive on providing guests with postcards to send back to family. Many of these postcards are still floating around out there, outliving the motels they once advertised. These postcards give us a view back to how things used to be, before Reno grew so much. Let's take a look at them and see what remains of the motels they advertised.
Part 1 – 4th Street
We'll start by looking at 4th Street in Reno. The recent history of 4th Street is kind of what got me interested in taking this close look at Reno motels. And what also made me realize I better stop procrastinating and get my camera out there. If I had done this series 5 years ago, it would be very different than it is now. Many of the motels on 4th Street were still around 5 years ago. Aging, run down, supporting a low income clientele, but still around. Nowadays revisiting these hotels basically means taking a tour of Reno's parking lots.
4th Street used to be Highway 40, the main road through Reno. Most travelers headed either east or west would have passed by here, so it had the largest concentration of motels in town. They lined both sides of the street in the mid 20th century. As the decades went on, some of them were demolished, but most of them held on, serving as low income housing. Until Jacobs Entertainment came along. This development company, longtime owners of the Gold Dust West casino on 4th Street, started buying up land and buildings along 4th Street, just a couple at first, but then with an accelerated pace until they nearly owned entire blocks in the neighborhood. And then the demolitions started. Calling them "slums", one by one Jacobs evicted the residents of these motels and flattened them to the ground. Within 5 years this part of Reno has been changed from a community with history on every corner to a sea of empty land. Their plans for the land have been vague, but seem to center around turning West 4th Street into a new tourist district called the Neon Line. So far, little has materialized from this promise.
So that was the situation I was faced with starting this project. I have a handful of motel postcards; the subjects of most of them have recently been reduced to rubble. This post will be a memorial service. But, not all of them are gone. Some have escaped the wrecking ball–for now. A couple have even been remodeled and found new life! Let's take a journey down 4th Street and see what remains of these motels. And you can follow along with the map below.

Town Aire/Carriage Inn
---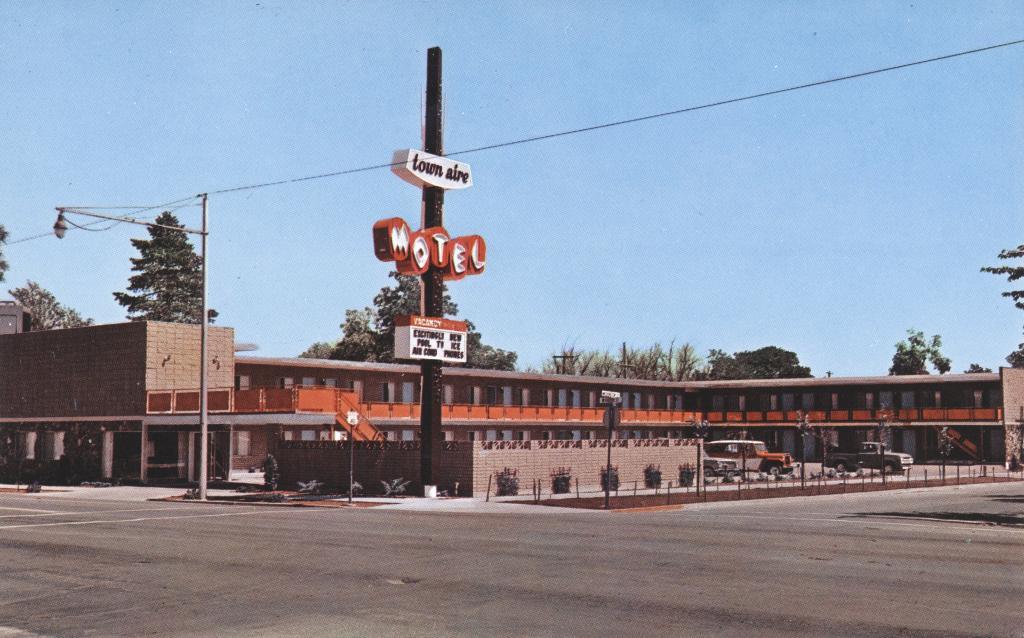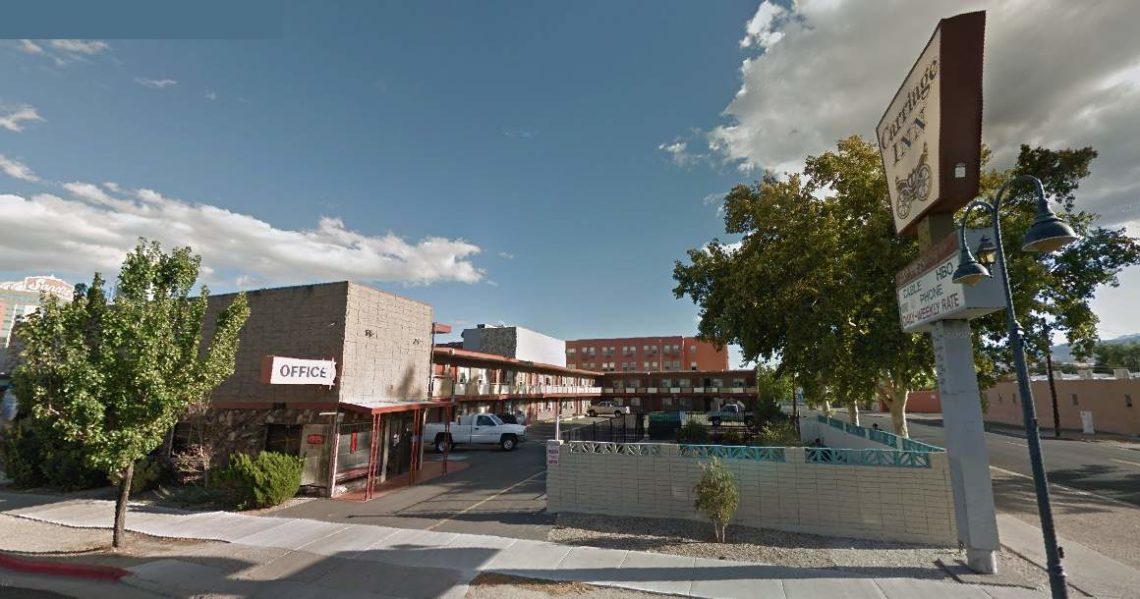 One of the first motels demolished in this latest wave was the Carriage Inn, at 4th and Washington. Formerly the Town Aire, this motel was torn down in September of 2017. Now this corner is part of the "Glow Plaza", an event space which has a couple of the old motel neon signs on display. The polar bear is Burning Man art, one of many pieces that have been installed along this street. I also threw in a Google Street View showing what it looked like more recently, before demolition.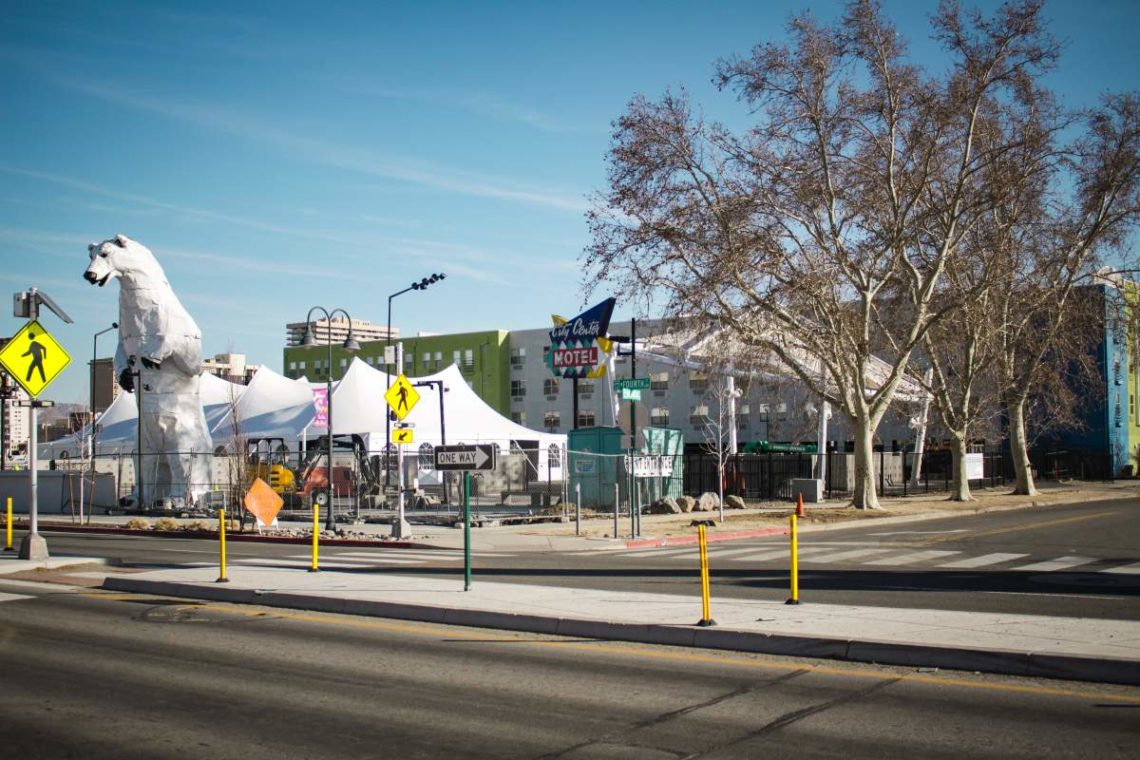 Donner Inn
---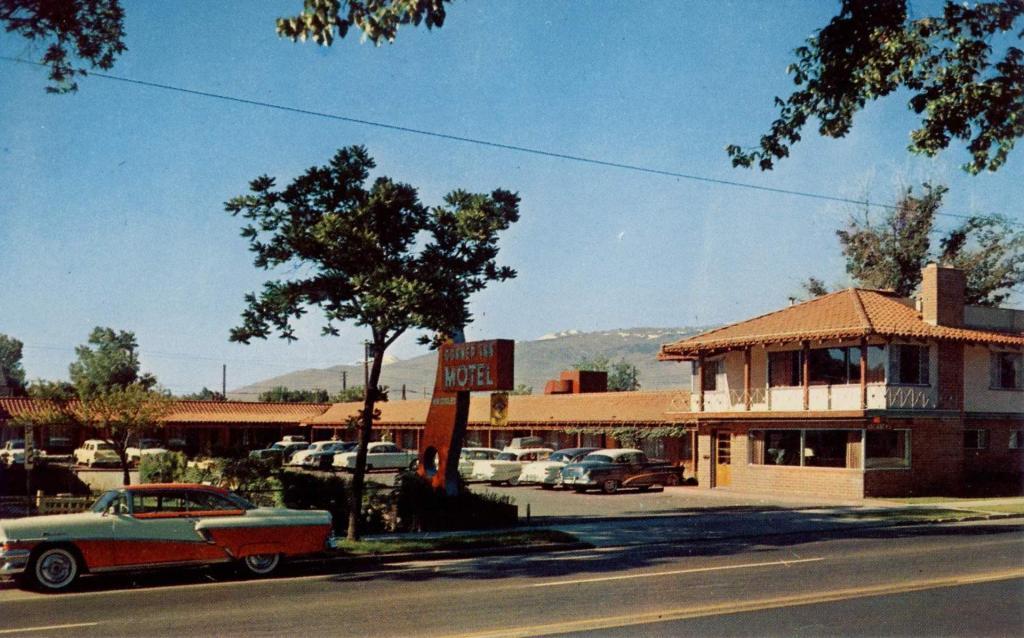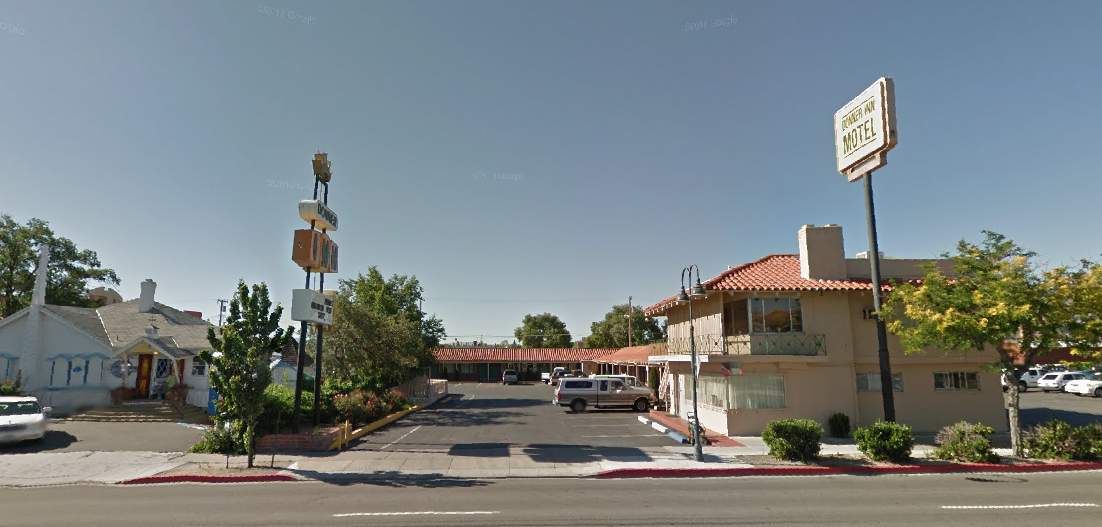 The Donner Inn was at 720 West 4th St. It was also torn down in September of 2017. This motel wrapped around the Chapel of the Bells wedding chapel next door. The chapel itself is still standing, but closed. Plans for the chapel are unclear, but a quick look around the neighborhood shows that preservation isn't a huge priority here.
There's also some Burning Man art on this lot, but nothing else.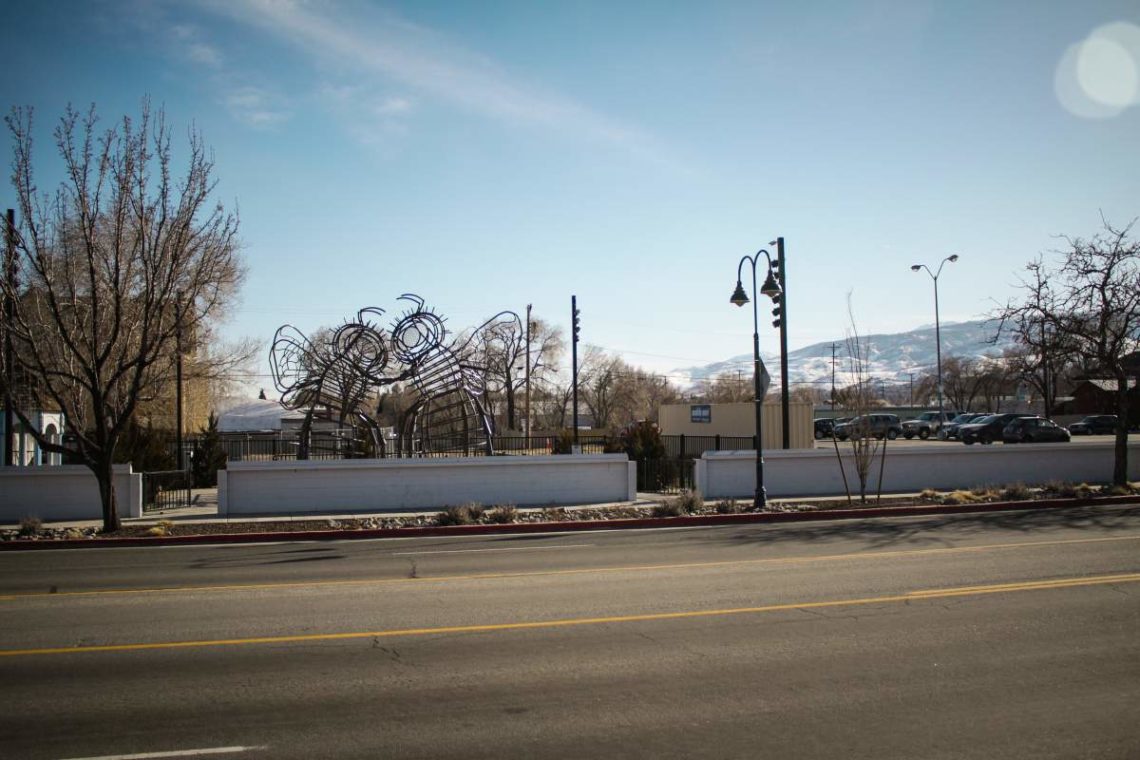 Reno Inn
---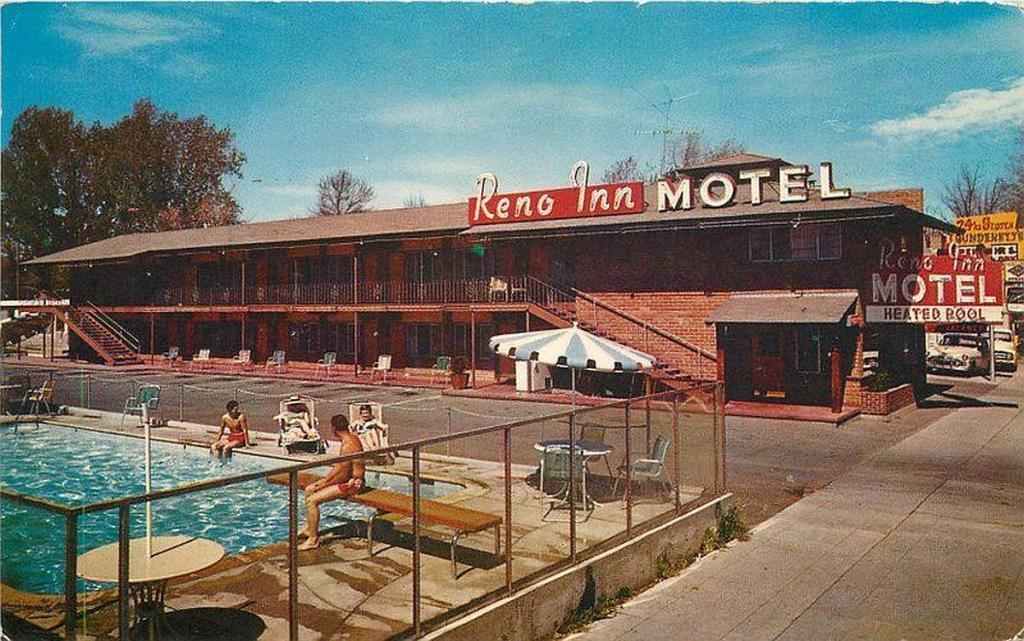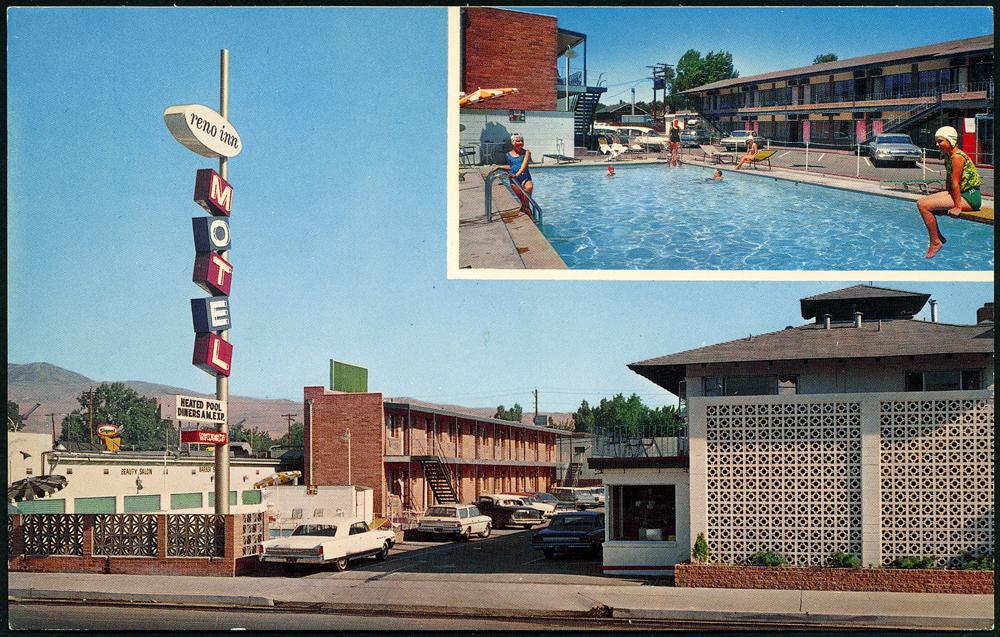 Not every motel on 4th Street was demolished in the last decade. For this one we're going way back. The Reno Inn was at 735 West 4th St., right across the street from the Donner Inn. But this one didn't even make it to the 21st century. It was demolished in the 80s or 90s to make more parking for the Gold Dust West casino.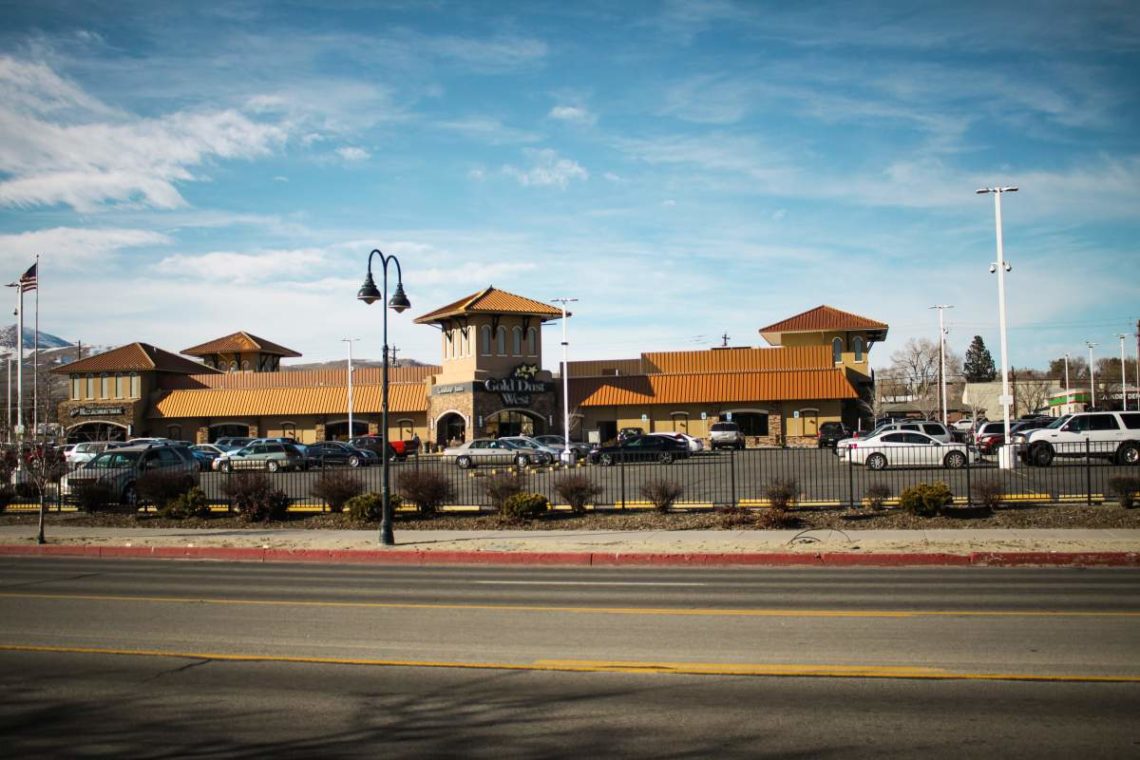 Travelodge/Desert Rose Inn
---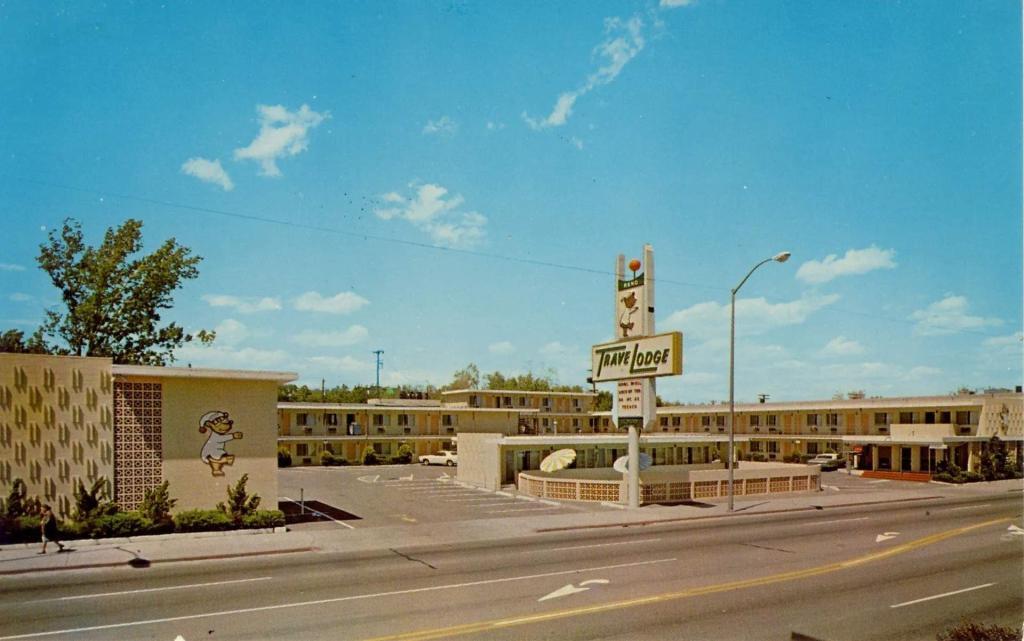 This Travelodge, complete with Sleepy Bear mural, was located at 655 West 4th Street. Across the street from the Carriage Inn. This motel is one of the few survivors along 4th Street. It still exists as the Desert Rose Inn. Though it's hard to tell how much longer it may last. This is a big parcel right in the heart of Jacobs territory. I'm honestly surprised it's lasted this long.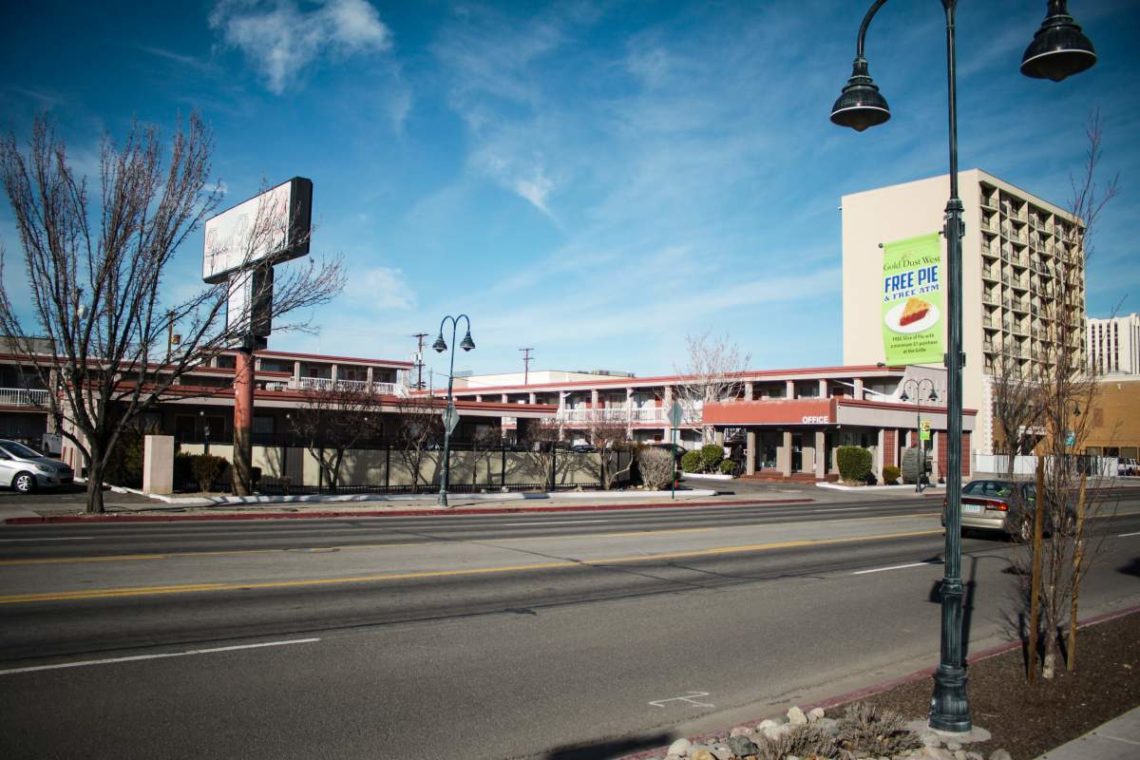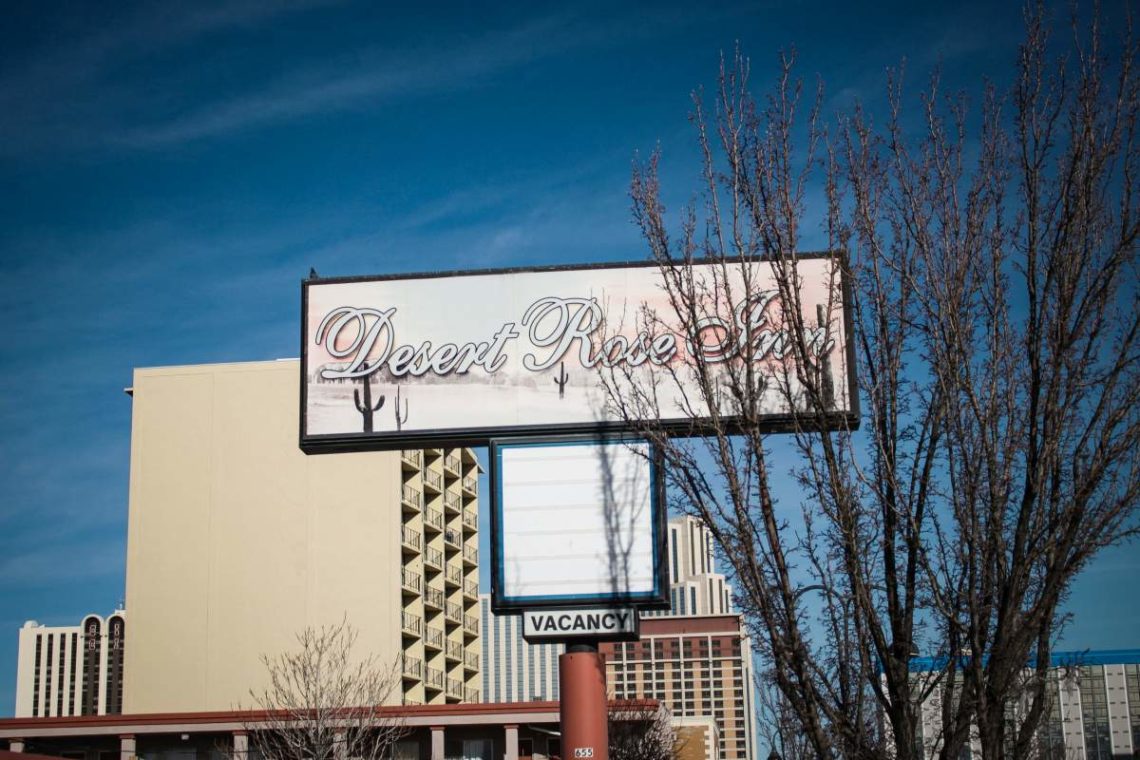 Carousel Inn
---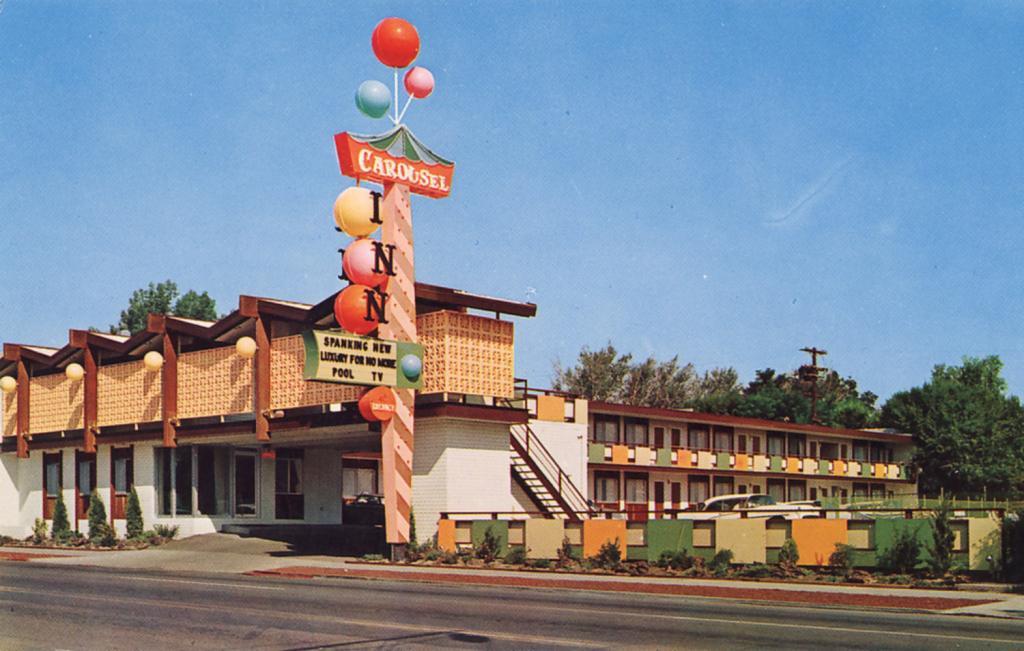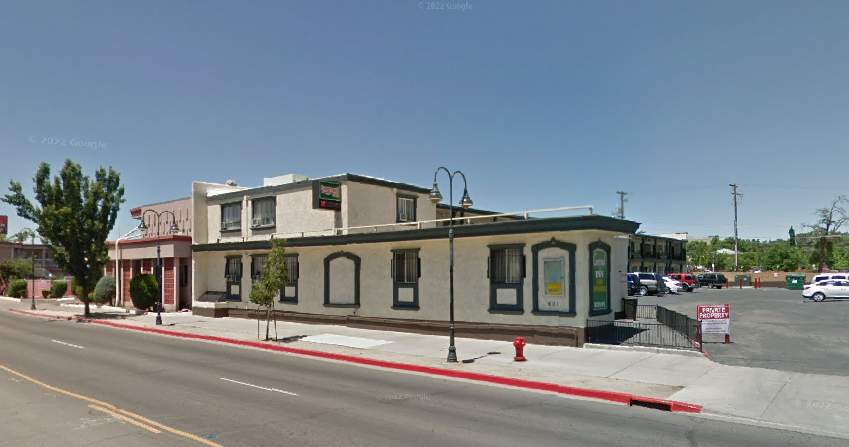 Next door to the Travelodge was the Carousel Inn, at 601 West 4th Street. This one had a pretty festive sign, latching onto the circus theme even before Circus Circus had moved to town. Later it was remodeled and known as the Courtyard Inn. In 2019 Jacobs announced that they were going to be remodeling and modernizing this motel, renaming it to the Loft 601 Apartments. This was one of the rare properties that Jacobs felt was worth saving, and they committed to spending $5 million on the renovation. Well, not to spoil the ending of the story, but by 2022 they had changed their mind. Just another empty lot now. Seems that's how most of these stories end.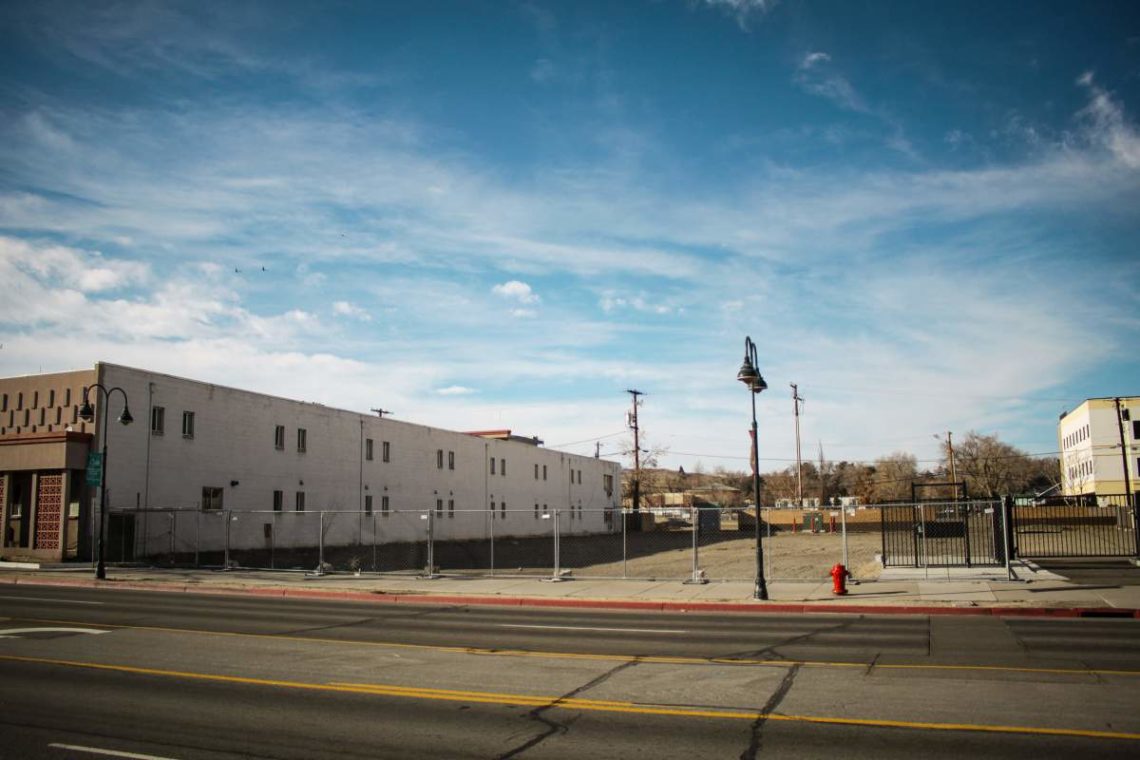 Tropics Inn/Crest Inn
---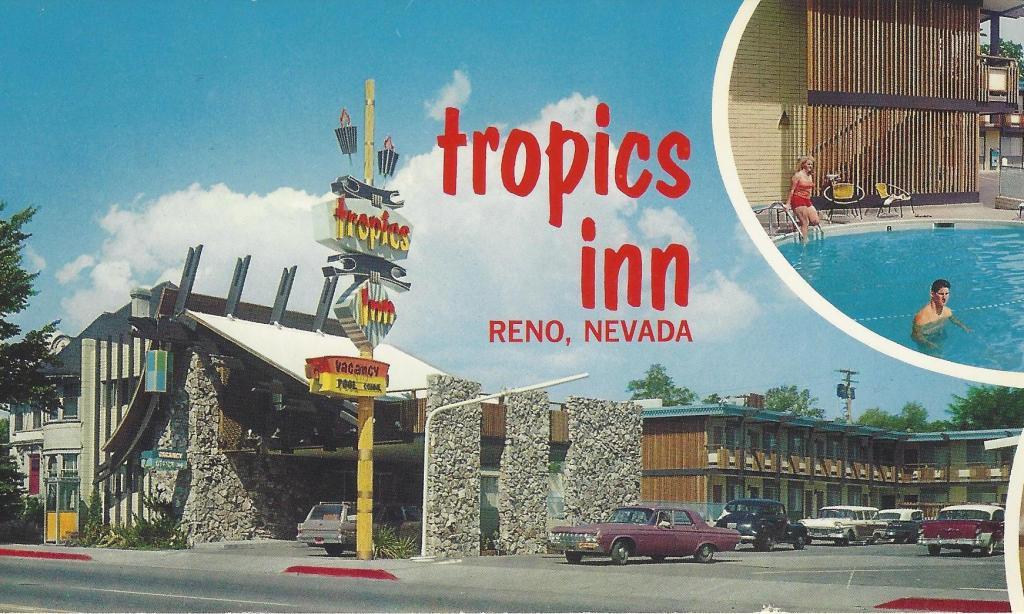 The Tropics Inn at 525 West 4th Street had a funky Tiki vibe to it. Tiki motels were big in Southern California, but there weren't many of them in Reno. It was renamed the Crest Inn, but didn't seem like it changed much other than a coat of paint. There is something special about this motel, though. The Crest Inn was chosen for a renovation instead of demolition, just like the Courtyard Inn. But for this one, they actually did it! It now is called Renova Flats, fully remodeled and cleaned up. It lost a lot of its architectural charm; it looks like they stripped out the Tiki elements. But this one remains pretty unique as one of the few survivors of the 4th Street bloodbath.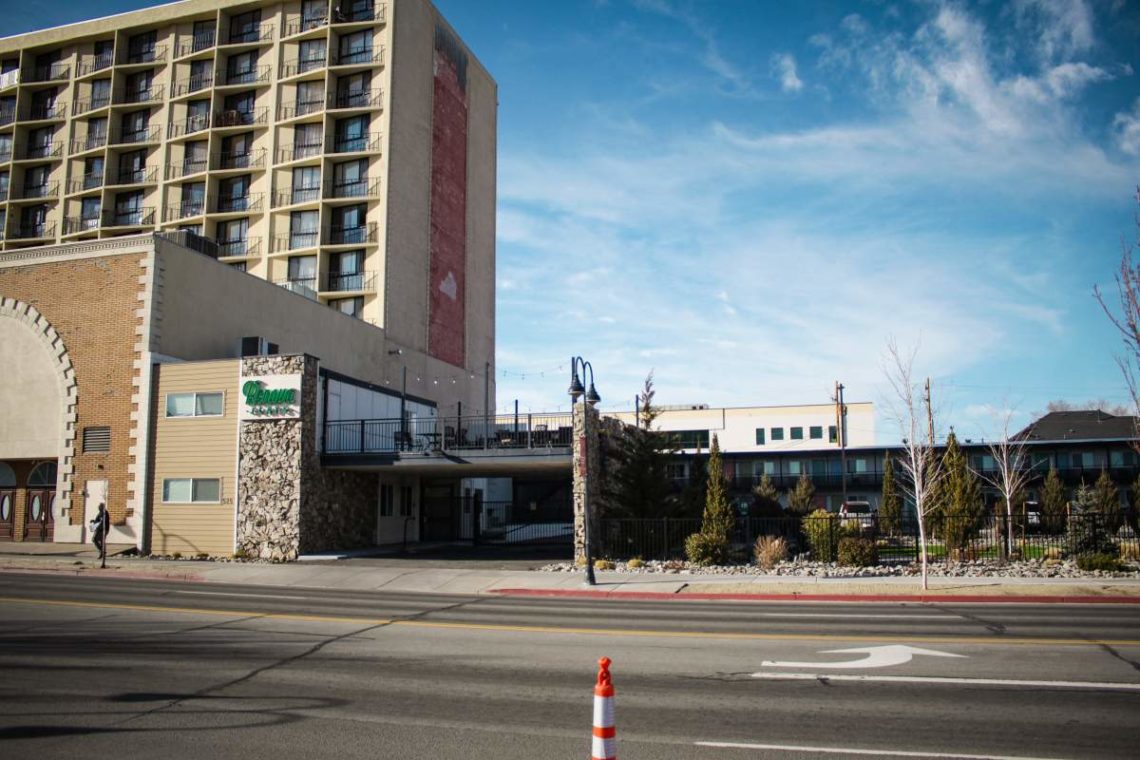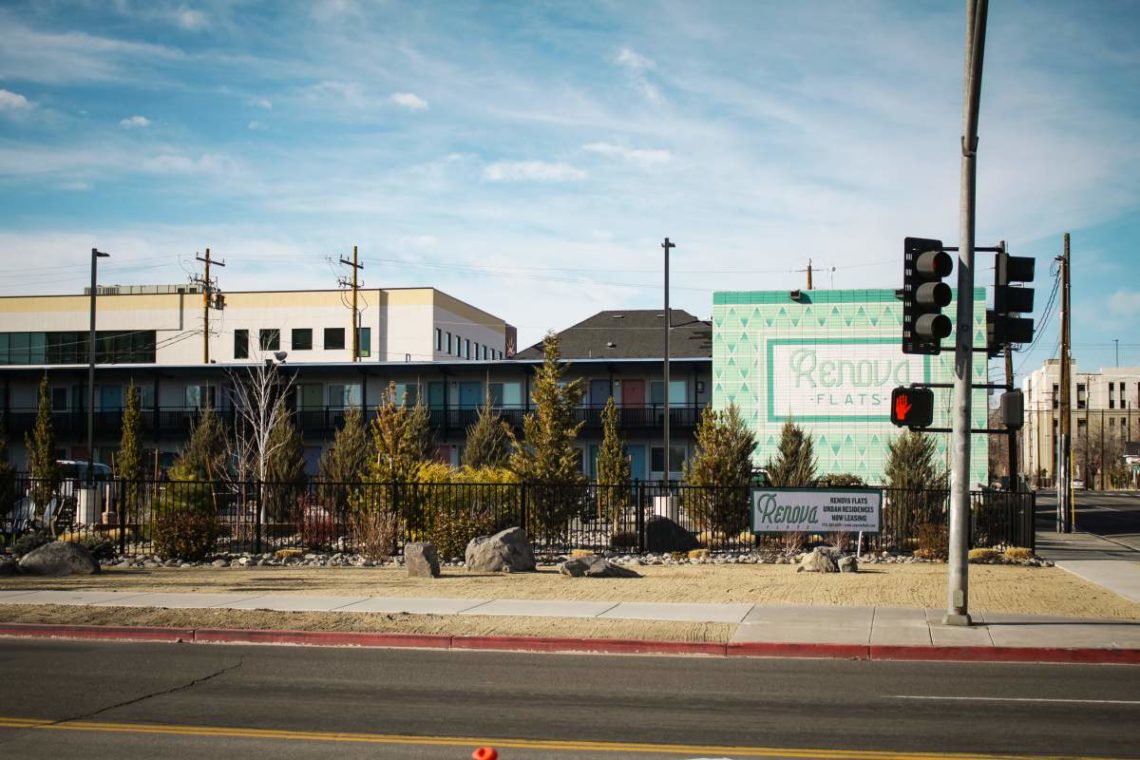 Rancho Sierra Motel
---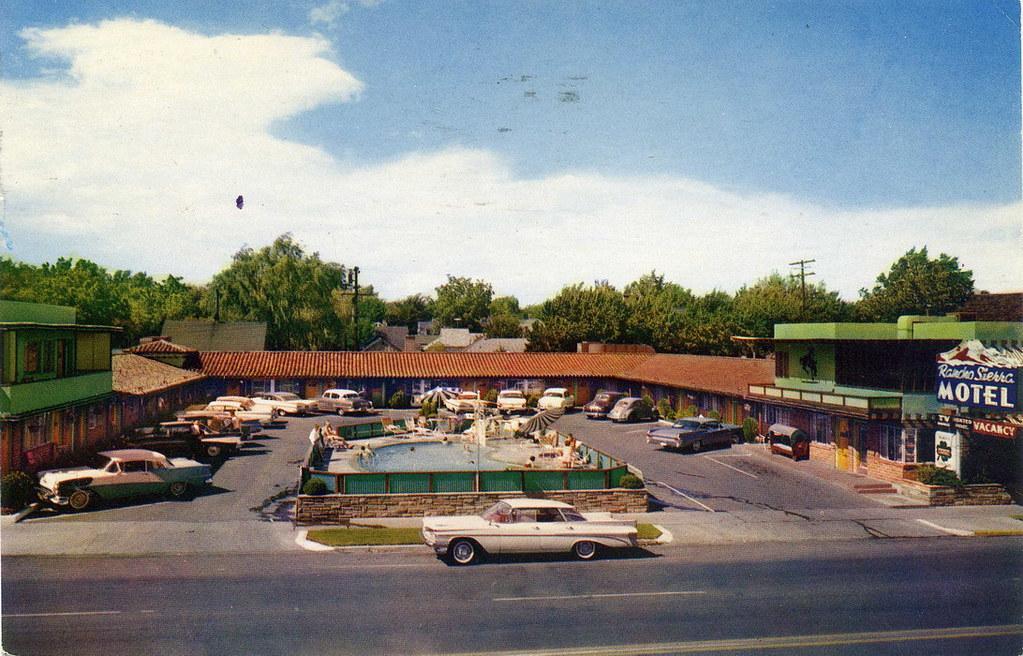 The Rancho Sierra Motel is another one that has survived. No remodel here, though. It still looks the same as it did during its heyday, give or take a coat of green paint. Which has me a bit worried for it, honestly. A few years ago 4th Street was lined with motels that seemed frozen in time, hardly changed over the decades. They're all gone now. How much longer can the Rancho Sierra hold out?
In the third picture below, you can see that the Rancho Sierra name is also on a separate motel building next door. I've been trying to research if this was always part of the Rancho Sierra, or if it used to be something else and it was absorbed by its neighbor. So far I haven't turned up anything.
UPDATE: In April 2023, a demolition permit was issued for the Rancho Sierra. It might not have much time left.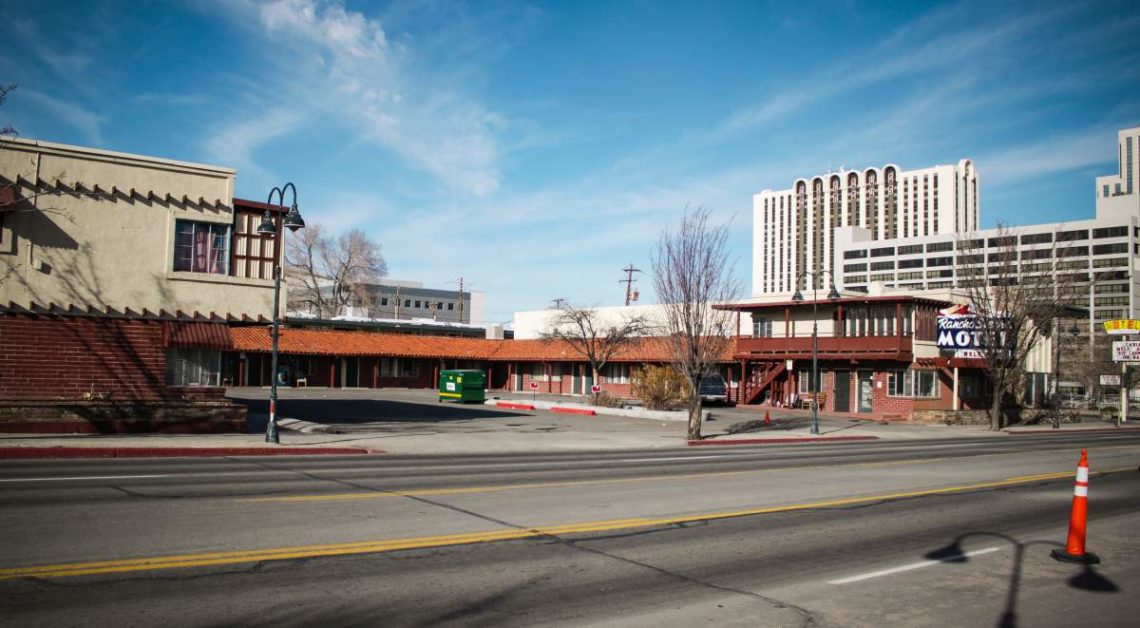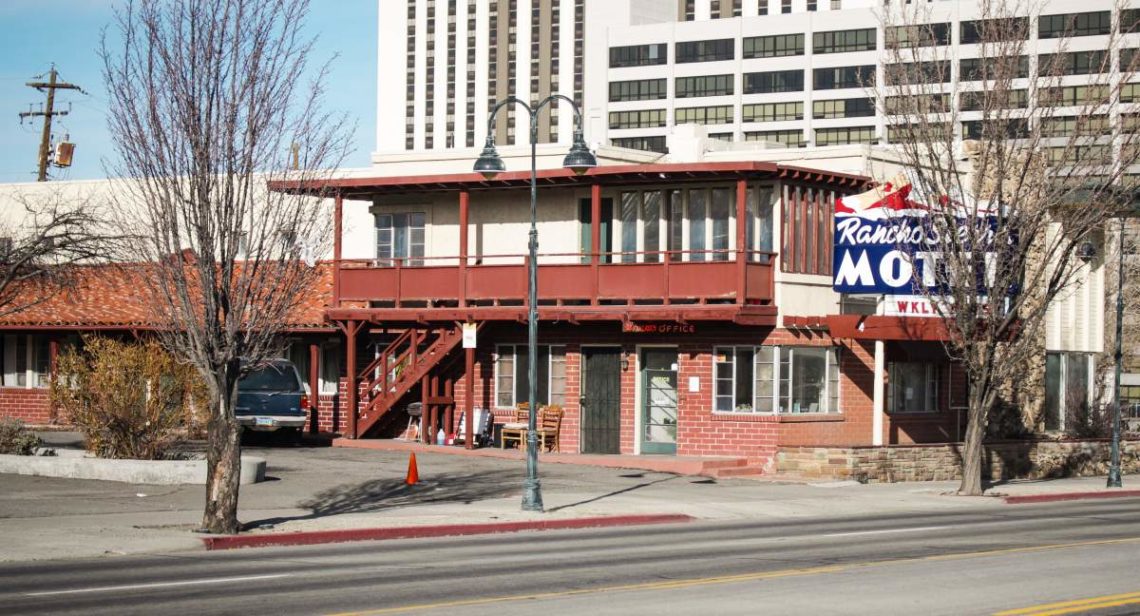 Casino Motel
---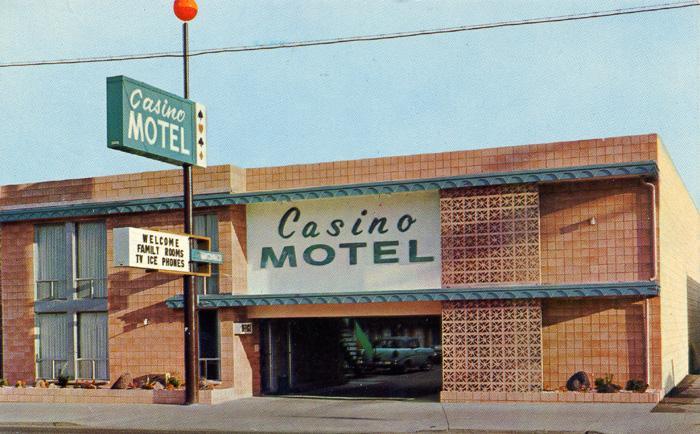 The Casino Motel was at 390 West 4th Street. A little nondescript, just a square box made of bricks. Even the name was generic. I doubt there was a casino inside. And it was torn down a long time ago. This one was removed when the Sands Regency Hotel built their north tower, probably sometime in the 1980s. Now the Sands Regency takes up this space, and itself is undergoing a heavy remodel. The Sands is also owned by, guess who, Jacobs Entertainment.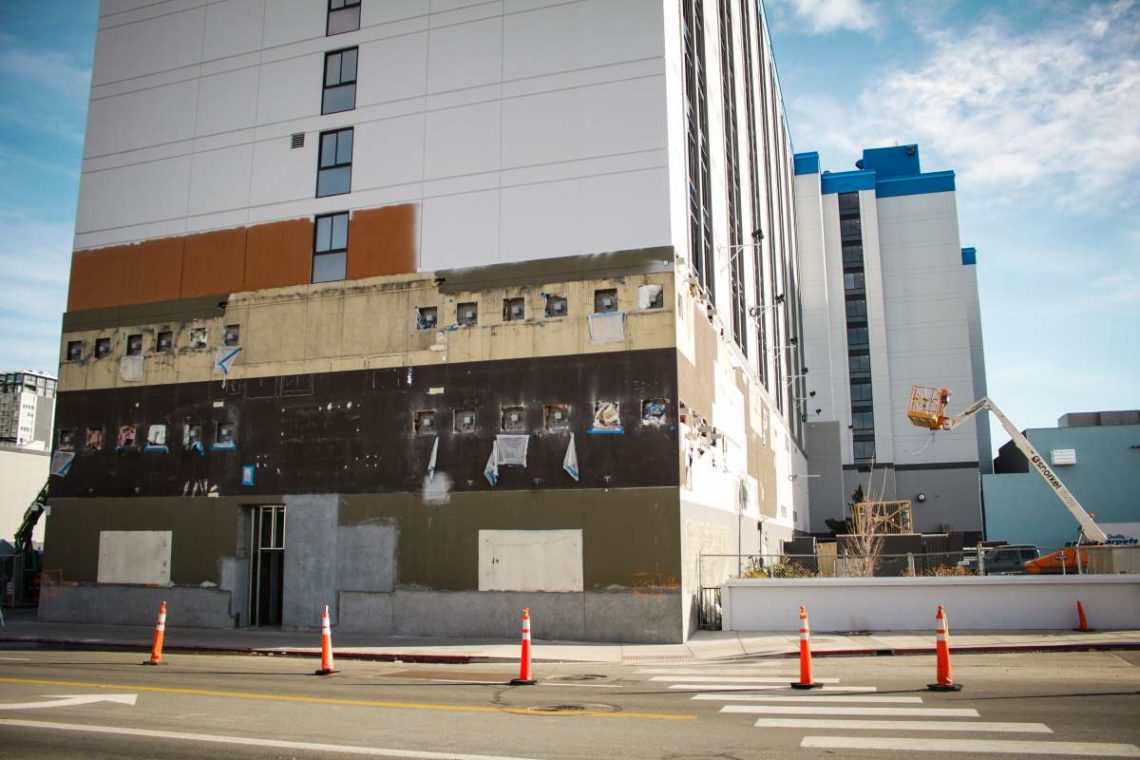 Star Dust Motel
---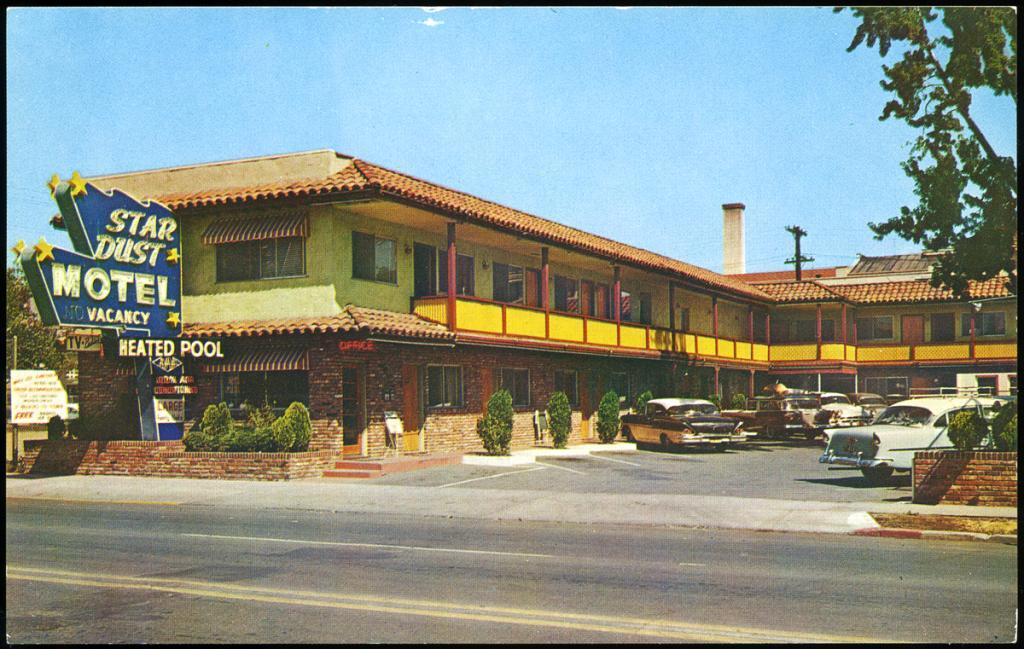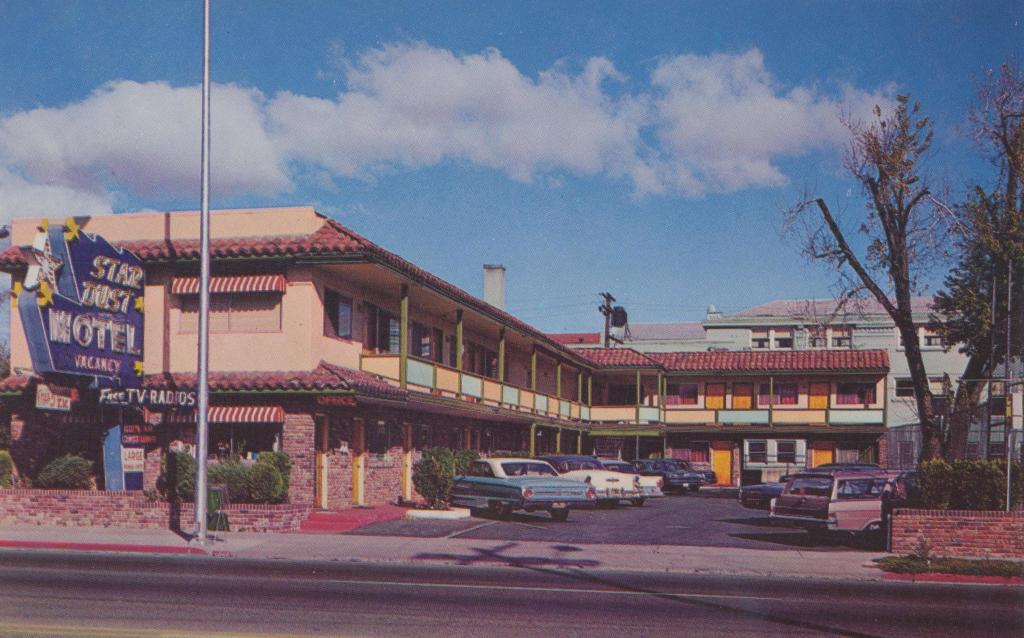 The Star Dust Motel is another one that has been gone for a long time. This was at 275 West 4th St, only a couple of blocks away from downtown. You can see another building rising up behind the motel; this was the old Central Junior High School. All of this was demolished in 1977, and the Sundowner Hotel was built here. Now the Sundowner itself is closed, going out of business in 2003. The north hotel tower, on the site of the old school, was converted into apartments. The south hotel tower, on the site of the Star Dust Motel, is still vacant after all these years.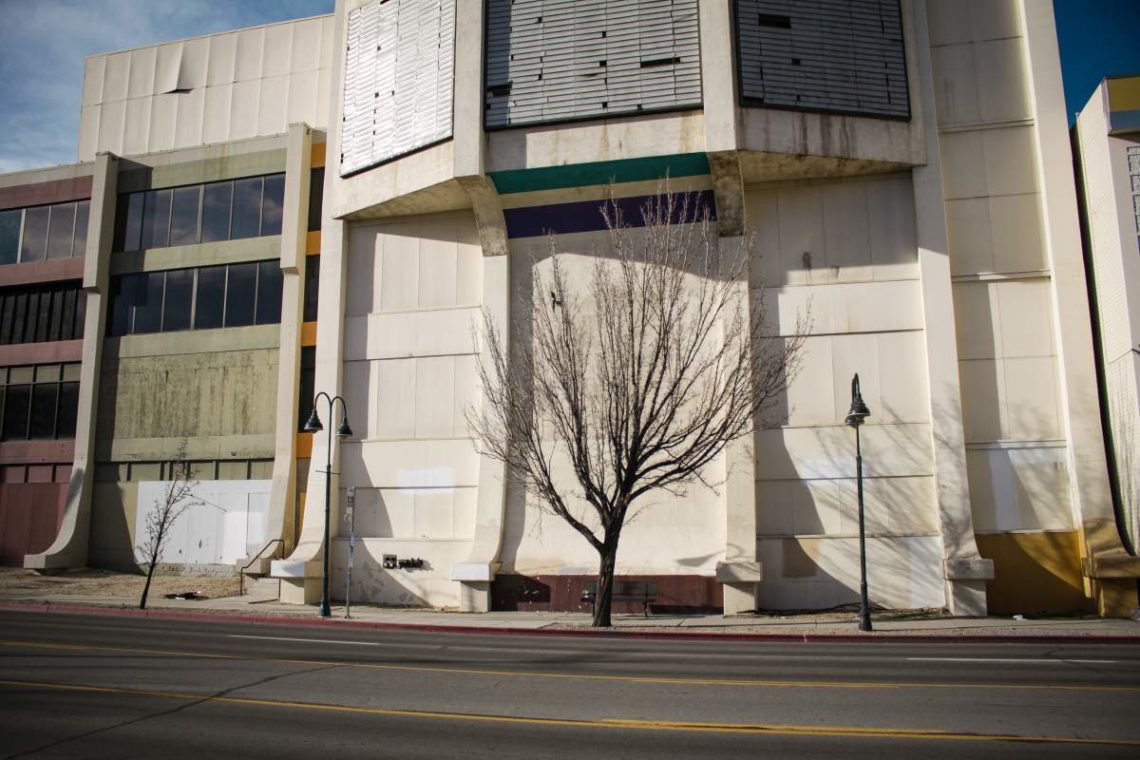 Bonanza Inn
---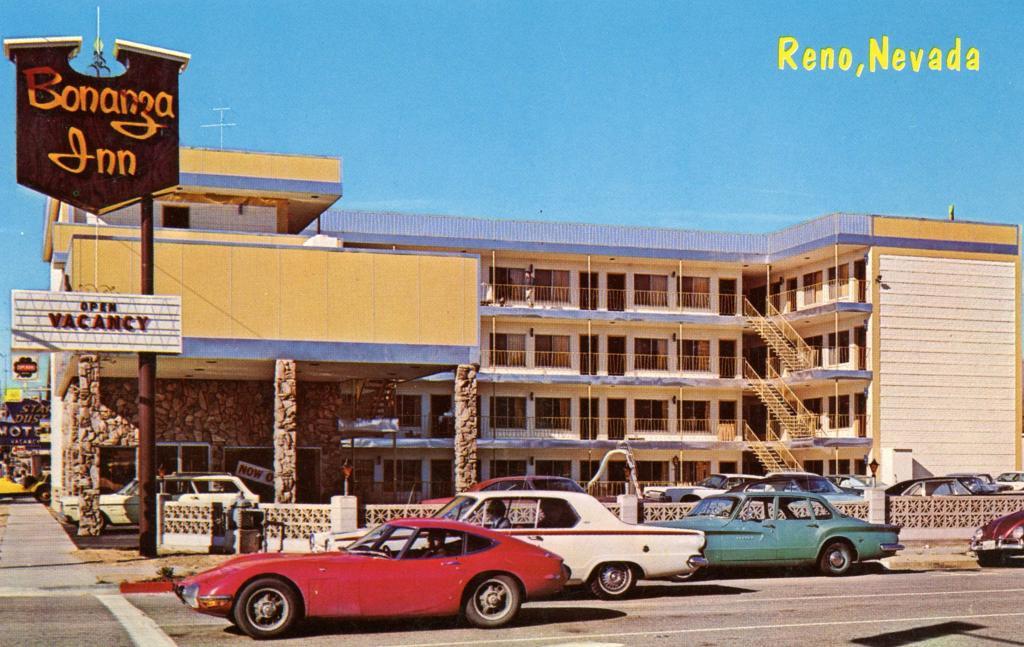 The last motel we'll look at today is the Bonanza Inn. This was next door to the Star Dust, at 215 West 4th St. It survived demolition, and the Sundowner was built only inches away from its back wall. The Bonanza Inn still stands today, but it's in limbo. This is one property that Jacobs hasn't purchased, possibly because it's wedged in between other properties that they won't be able to acquire. The Reno Housing Authority has shown interest in buying the property for their own low income housing project. As far as I know, any purchase is still up in the air. So we don't know yet if the Bonanza Inn will be seeing the wrecking ball or a new coat of paint.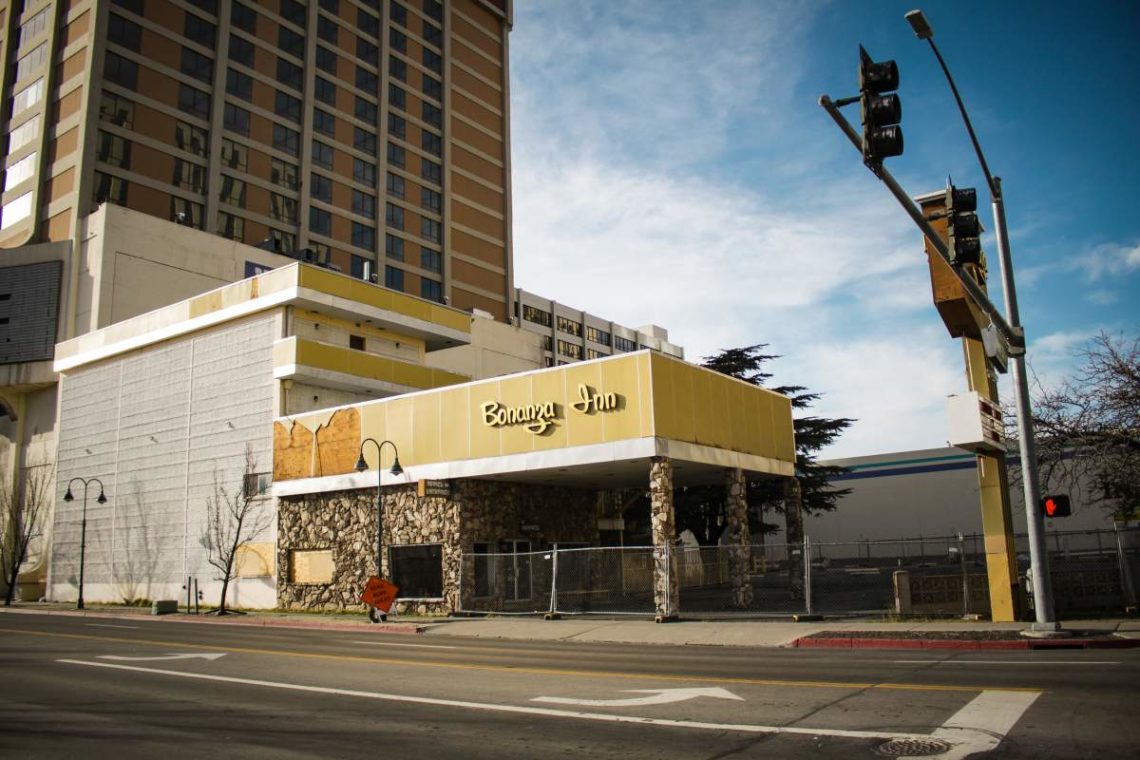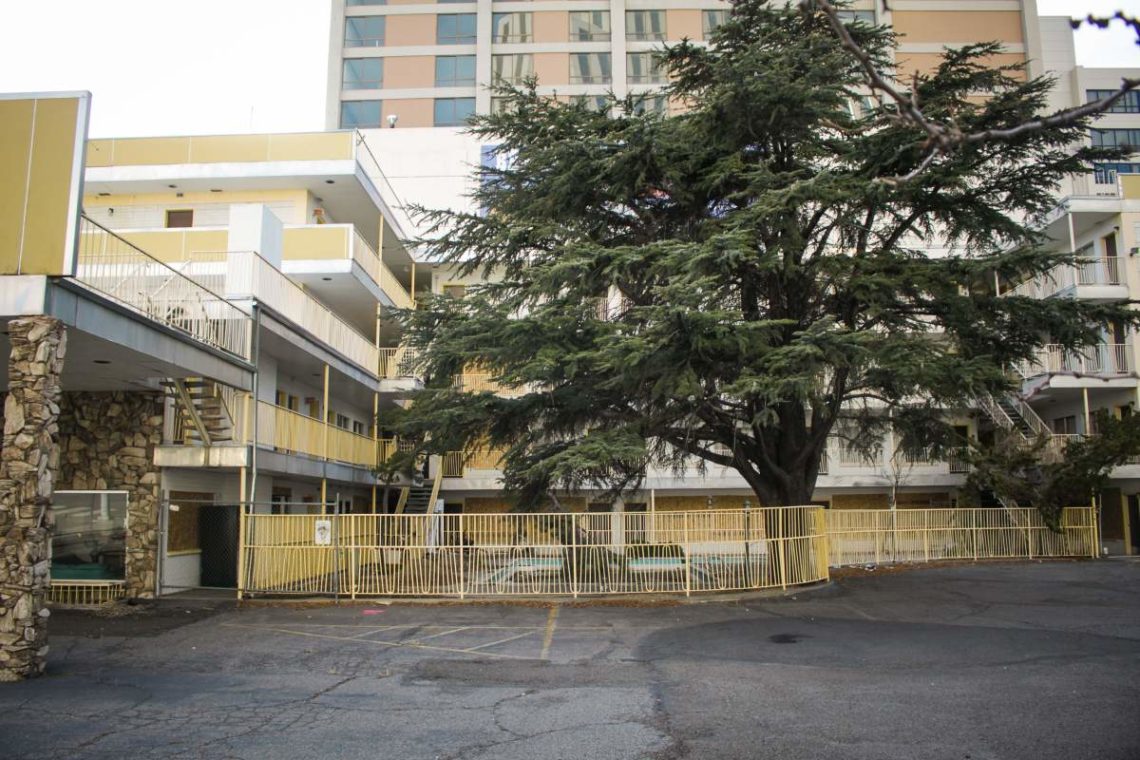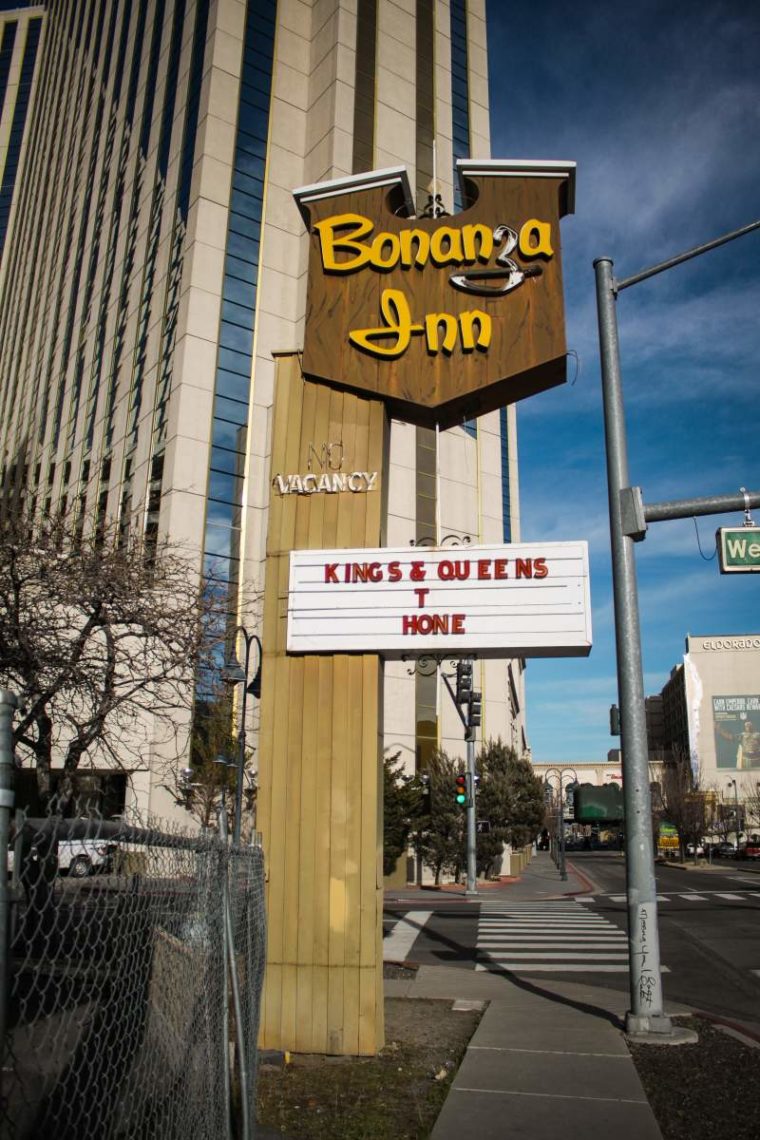 That's all we'll be looking at this time. But there are still plenty more motels scattered around Reno, so we'll be coming back to check out some more. Stay tuned!