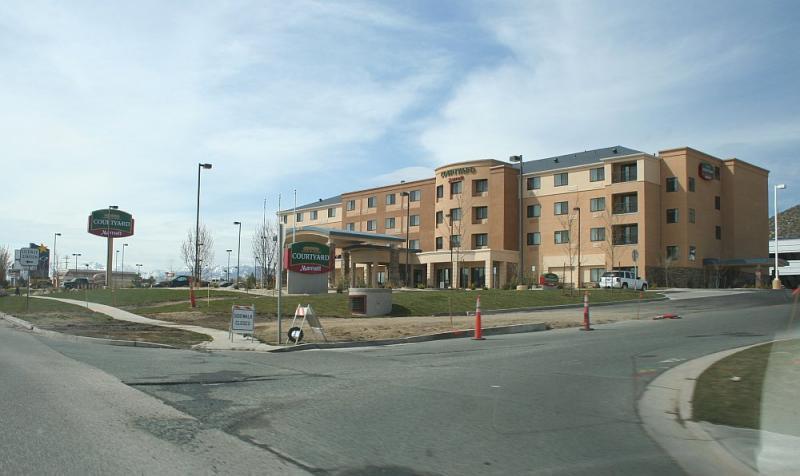 So I've been slacking in my duties, and I missed the opening of the new Courtyard by Marriott hotel next to the Casino Fandango. It opened on March 28th, adding 100 hotel rooms to Carson City's inventory. This brings the total number of rooms in Carson to 1,500. The article mentions that in a couple of years there will be 220 more when the Sierra Gold hotel opens, and it even makes a half-hearted attempt to bring the Ormsby House and its 135 rooms into the mix. "If it opens as planned," they say. That's a big if.
Marriott's website has a page devoted to the new hotel, and they're really trying to sell Carson City as a destination and get people to come visit. Here's their blurb:
Welcome to the Carson City Courtyard, located in the heart of the Carson Valley just 30 minutes from Reno and Lake Tahoe. Located in Nevada's historic State Capitol, this hotel is conveniently located close to area businesses including Carson-Tahoe Regional Medical Center, Harley-Davidson, and local government offices, and is just minutes from the Carson City Airport. Experience the Old West by visiting attractions such as the Divine Nine Golf Courses, Nevada Railroad Museum, Kit Carson Trail, Nevada State Museum, and Virginia City just up the hill. Enjoy the perfect steak or catch a flick at the Fandango Theater and Casino next door. Our spacious guest rooms include features such as plush beds, refreshing bath amenities, and Royal Cup coffee, and free high-speed Internet for your comfort and convenience. Try an upgrade to a roomy King Suite or the posh Players Suite! We offer breakfast daily in the Courtyard Cafe, drinks in our Lobby Bar, and everything else you need to enjoy your stay in Carson City!
Prices at the hotel start at $139 for a standard room with two queen beds, and goes up to $189 for the "Players Suite" with a separate bedroom.