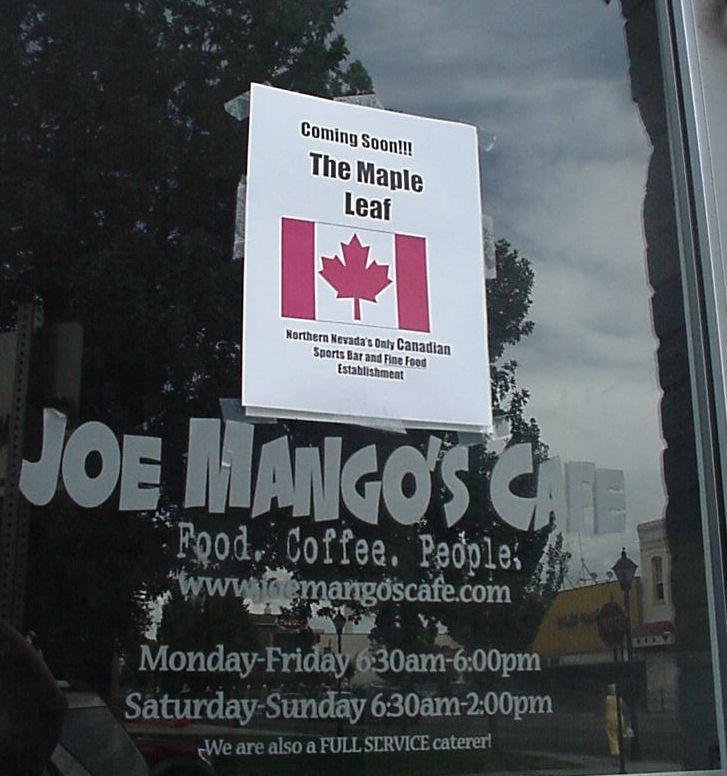 Apparently the sign in the windows of the Kitzmeyer Furniture building (former home of Java Joe's) advertising a Canadian sports bar is just a practical joke. The problem is that nobody, not even the owner of the building, knows how the sign got up there.
The real new tenant of the space, which was home to Joe Mango's Cafe for about a month, is Kim Lee's Sushi & Teri, which is currently located in the old Greyhound bus depot one block away at the corner of Telegraph and Plaza. This is a good move, I think, because it will bring more visibility to what I consider to be the best sushi place in the area. Not that I've had sushi for years and years; it's hard to sidle up to a sushi bar when you've got a wild three-year-old running in circles around the restaurant. But I'm sure we'll make it back one day, and when we do, it will undoubtedly be to Kim Lee's in the Kitzmeyer Building.
And what about Joe Mango's? Why did it close so fast? Apparently, the owner was never interested in running a restaurant. He always intended on reselling the lease, but he had to open and operate his own place for a little while before he could. Hence, Joe Mango's.
This also means we'll never get to find out exactly what a Canadian Sports Bar is. I envision 24-hour hockey and all the Tim Horton's donuts you can eat.