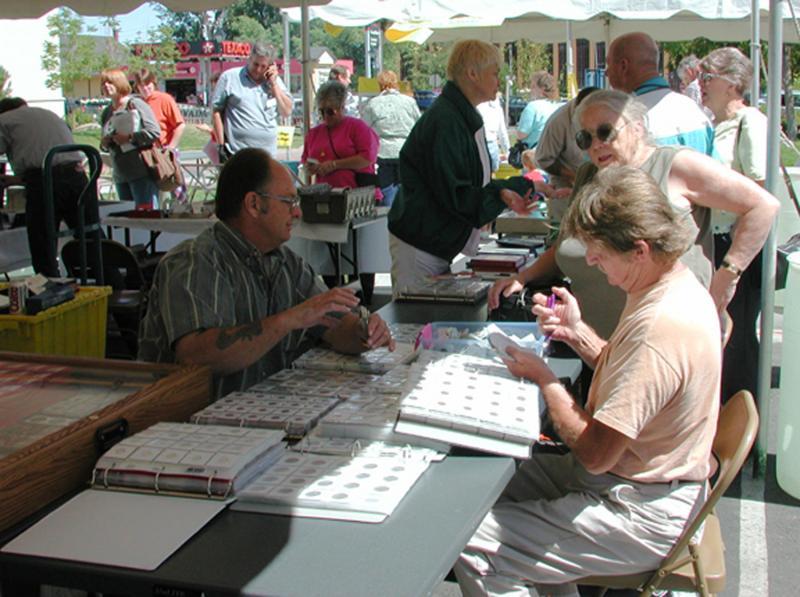 The Nevada State Museum will host the 2007 Carson City Mint Coin Show, August 25-26, 2007. Of the 30 dealers participating in this year's show, nearly all have donated one or more prizes for the raffle, a highlight of this year's event. Coin Show hours are from 8:30 a.m. � 4:30 p.m. on Saturday and from 8:30 a.m. � 3:00 p.m. on Sunday.
According to Coin Show Coordinator, Deborah Stevenson, "We will be drawing raffle tickets every half hour so the chances of going home with a rare coin or prize are better than ever."
The Grand Prize is a framed photograph of the Historic Carson City Mint with an 1875 CC Trade Dollar in a custom Nevada-shaped holder, and an 1883 CC uncirculated Morgan Silver Dollar in GSA holder. The total value of the prize with framing is over $1,450. Rusty and Marie Goe of Southgate Coins generously donated the Grand Prize. Allen Rowe of Northern Nevada Coin is also a Coin Show Sponsor, having donated two uncirculated CC Morgan Silver Dollars, GSA, dated 1883 and 1884. Art McBride Rare Coins donated a 1925 Peace Dollar, NGC 64.
"We anticipate giving away over $3,000 in prizes," said Stevenson.
The Carson City Coin Show is the only coin show in the country held in an historic mint. In addition, Rusty Goe will be signing his new book, James Crawford, Master of the Mint at Carson City�A Short, Full Life. Participants can also enjoy gold panning and see the Historic Coin Press No. 1 in action.
The U.S. Branch Mint in Carson City began operations in January of 1870. During a span of twenty-three years, the CC Mint produced nearly $50 million face value in gold and silver coins. By the time the coin presses shut down for good in 1893, this historic mint located just fifteen miles from the Comstock Lode had left a legacy of memorable coinage issues that would delight future generations of collectors. All told, 111 different date/denomination varieties were minted, including dimes, twenty-cent pieces, quarters, half dollars, three different kinds of silver dollars, gold half eagles, and gold double eagles.
After coinage operations ceased, the mint building served as a U.S. Assay Office until it closed its doors for the last time in 1933. Then, through the efforts of Judge Clark J. Guild, the State of Nevada purchased the building, and forty-eight years after the last coins were struck, it became the Nevada State Museum.
Admission to the coin show is $5 for adults, $3 for seniors, and free for members and persons under 18; fee includes the coin show and all museum exhibits. For more information, contact Deborah Stevenson at 775-687-4810, ext 237.