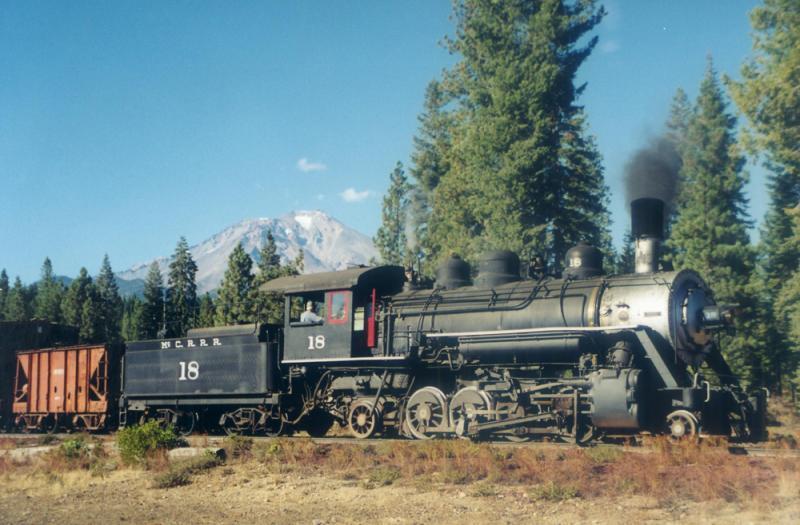 It figures that when I'm out of town all the exciting stuff happens. Last Tuesday, April 10, the McCloud Railway's #18 locomotive slipped quietly through town on it's way from Northern California to Central California. Now, any train locomotive being hauled through town on a semi is exciting. How often does that happen? But this was even more exciting because the #18 is the locomotive that will be used on the new Virginia & Truckee, running from Carson City to Virginia City, once all the track has been laid. It was bought by the V&T Railway Commission in 2005, but for the last two years it's been sitting in storage in McCloud, California, unused. This month it was finally time to move it out.
Now, the #18 wasn't headed for Carson City, it was only passing through; which may be a little confusing because this is its future home. The reason it's not staying here is that right now there's no place to keep it and nothing for it to do here. Until the tracks have been laid all the way down the hill, which is scheduled to be finished in 2010, having the locomotive here in Carson City would be pointless. So instead it's being shipped to Oakdale, California, and its trip through Carson City was merely a coincidence. CalTrans wouldn't allow the train to travel on I-5, the most direct route it could have taken. So the next best route was Highway 395, which just happens to pass right through Carson.
And if you're wondering what's so special about Oakdale, that's where the Sierra Railroad operates out of. Sierra Railroad is the firm that won the right to operate the V&T last year. And since the V&T tracks won't be ready for a few years, and since it was costing money to keep #18 in storage in McCloud, Sierra Railroad came up with the idea that they could operate the engine on their tracks in the Sacramento area until then. This way, not only will the engine actually be generating money for the V&T Commission through usage fees, it will also be raising awareness of the V&T project by acting as a moving billboard. Signs will be hung on the tender, and the #18 and the V&T will be mentioned prominently in all of Sierra Railroad's advertising.
So by being out of town I missed the #18 cruising along Carson Street, and I missed it getting stopped in Woodfords to wait for the storm to pass. But, this summer we'll be able to travel over to Oakdale to see it in action, and in a few years we'll all be able to ride behind it up the rails to Virginia City.
There are some photos of #18 being loaded up and leaving McCloud on this page, and passing through Jackson, CA on this one. And this site has a full discussion about the move, including comments from Chris Hart, president of Sierra Railroad.
And work is actually happening on the V&T, even though you don't hear about it much. The rails are being delivered, 11 miles worth, and as I understand it people are working on clearing out the partially-collapsed Tunnel #2, which is one of the biggest hurdles to getting the tracks down to Mound House. It's getting closer every day.