Halloween is becoming a bigger deal every year in Carson City. The Ghost Walk itself has become a huge event over the last few years, and now the Visitor's Bureau is taking steps to make it even bigger by teaming up with their neighbor to the south, Douglas County. This year seems to be the inaugural year of the "Haunted Weekend", taking place October 20, 21 and 22.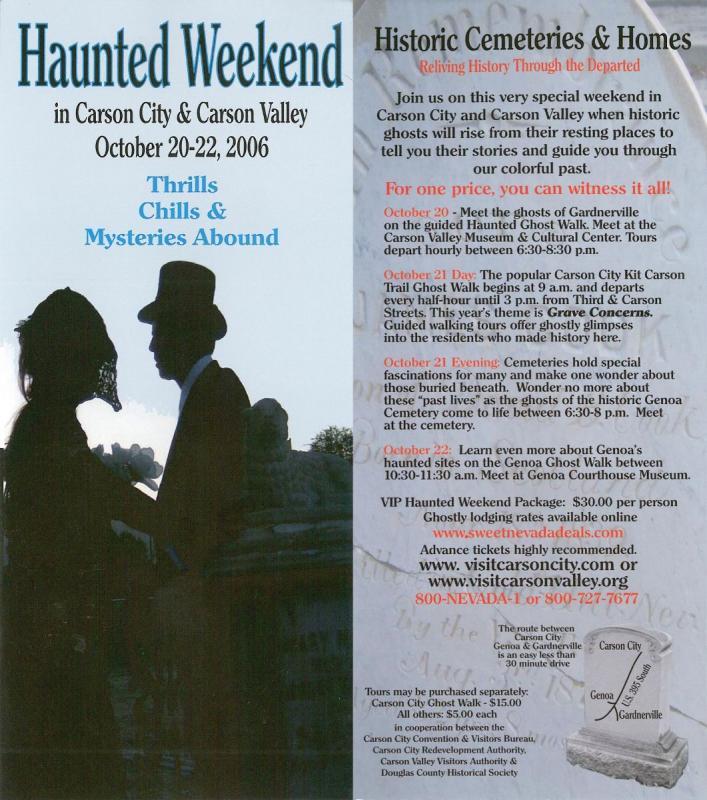 For one price ($30), you can take part in four different ghostly events around the Carson and Eagle Valleys:
October 20: Meet the ghosts of Gardnerville on the guided Haunted Ghost Walk. Meet at the Carson Valley Museum & Cultural Center. Tours depart hourly between 6:30-8:30 p.m.
October 21 Day: The popular Carson City Kit Carson Trail Ghost Walk begins at 9 a.m. and departs every half-hour until 3 p.m. from Third & Carson Streets. This year's theme is Grave Concerns. Guided walking tours offer ghostly glimpses into the residents who made history here. There are two tours:

The Resurrection Tour features spirits appearing in: Brewery Arts Center, Esser Home, United Methodist Church, Brougher Bath House and Rinckel Mansion.
The Remembrance Tour features spirits appearing in: Stewart Nye Home, Edwards House, The Bliss Bungalow, and Bliss Mansion.

October 21 Evening: Cemeteries hold special fascinations for many and make one wonder about those buried beneath. Wonder no more about these "past lives" as the ghosts of the historic Genoa Cemetery come to life between 6:30-8 p.m. Meet at the cemetery.
October 22: Learn even more about Genoa's haunted sites on the Genoa Ghost Walk between 10:30-11:30 a.m. Meet at Genoa Courthouse Museum.
This seems to be a pretty excellent promotion, and a good demonstration of the two counties coming together to attract visitors. Of course you can buy tickets to each of these events separately as well. The Carson City Ghost Walk is $15, and each of the others is $5 apiece.
You can make reservations by calling (775)987-7410, or download the PDF form (80kb) and fax it in.