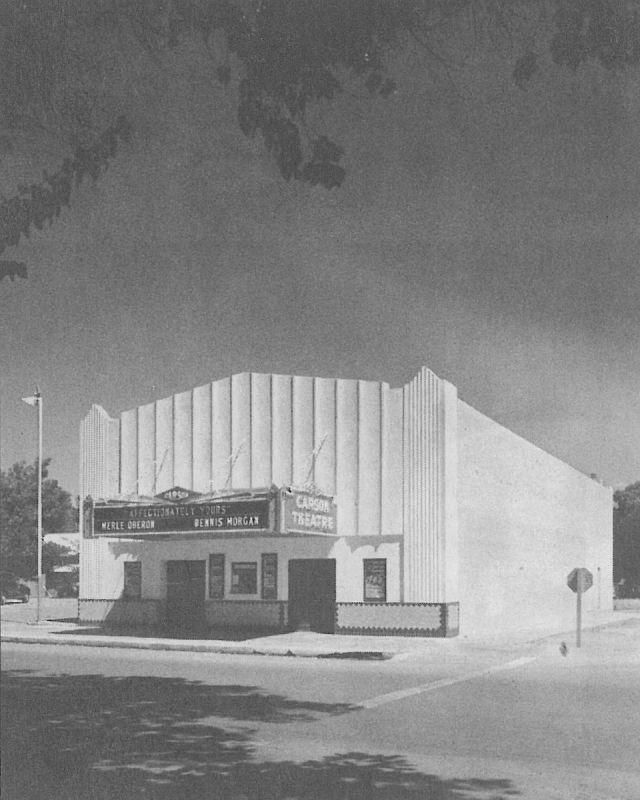 1941
This is the Carson Theater, on the northeast corner of Carson and Robinson Streets. I'm not sure the date it was built, but according to the Raymond Smith book, Carson City Yesterdays, during the first part of the century it was the meeting place of the Old Sagebrush Club. The Sagebrush Club was Carson's most exclusive members-only men's club. Many prominent businessmen, attorneys, judges, and government officials were listed on the membership roster over the years, and they only chose the best from among their own ranks to join them. The last meeting of the Sagebrush Club was in May of 1931.
In March of 1932 the building was converted into a movie theater, to cope with the loss of the Carson Opera House the year before. This theater was operated by the Roxie Theater Company of Reno through most of 1932, but by November the Depression had caught up with Roxie and forced them to close. In January 1933 some new owners with more cash at their disposal bought it and reopened it as the Carson Theater.
This photo was taken on September 2, 1941, and the movie playing is the romantic romp Affectionately Yours, starring Merle Oberon and Dennis Morgan.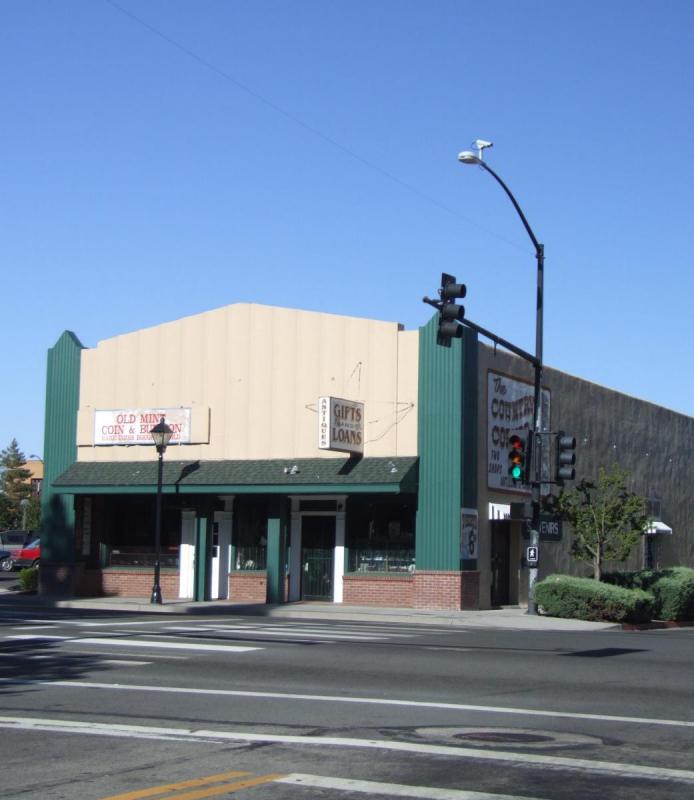 2006
By the 1960s the Carson Theater had moved out of this building, leaving it open for stores to move in. Today it houses the Country Corner Pawn Shop and the Old Mint Coin and Bullion store. The outside of the building remains remarkably unchanged, aside from the removal of the marquee and a few fresh coats of paint.
The Carson Theater relocated a couple of blocks north, to the corner of Washington and Carson. That building, on the southwest corner, later became the Golden Spike casino, and then sat empty for about 15 years before being renovated into the Washington Street Station, which it still is today.
At one time, during the 80s and 90s, Carson City had three movie theaters. There was Cinema 50 out by the Warehouse Maket (now Scolari's), the Frontier Cinemas on Winnie Lane, and the Northgate Cinemas near the north end of town. But today two of those are closed, leaving the Wallace Northgate as the sole survivor. That gives residents about as much choice in venues as they had sixty-five years ago. At least the Northgate has ten screens, compared to the Carson Theater's one. But construction is supposed to start soon on a new multiplex at the Casino Fandango, once again bringing choice in movie houses back to the Eagle Valley.