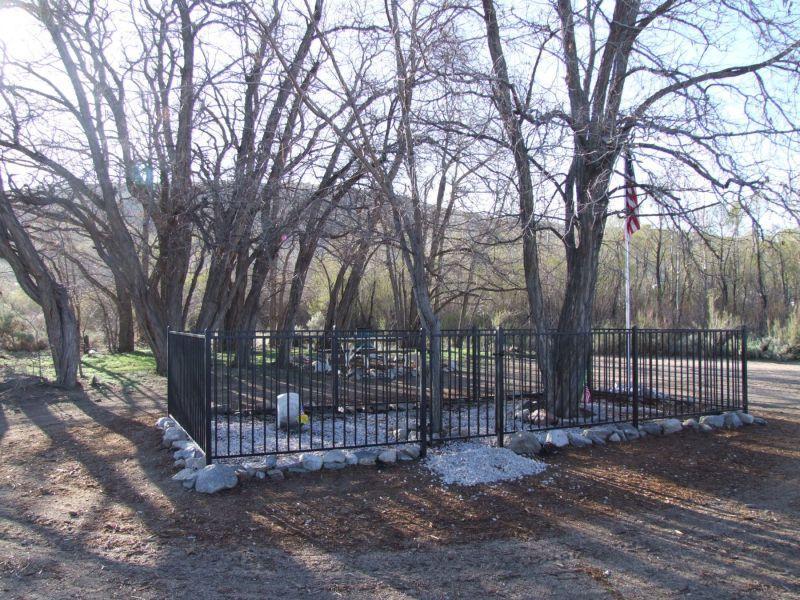 Okay, everyone who knows that there is a cemetery located in Carson City's Fuji Park, raise your hands. One, two…that's not a lot of hands. I guess it makes sense that it isn't well known, for while Fuji Park's tree-lined paths are very popular with city residents, the cemetery is in an out-of-the-way location that hardly anyone goes to. I myself have lived in Carson City for 21 years, and I only found out about the cemetery last year when I read about it in a book. And I never went to visit it until this week, when I had to scour the park practically from one end to the other to find it.
The cemetery isn't very big. In fact, it only has two residents, both military veterans who spent their last days at the Ormsby County Poor Farm which used to sit on the banks of Clear Creek. The gravesite is very well maintained, with an iron fence, gleaming white headstones, and even flags and flowers planted in the ground. It is in the shade of a couple of trees, and a picnic table is nearby so you can sit and enjoy your lunch while you listen to the soothing whisper of Clear Creek.
The two headstones are marked with the names of the two men, but scant other information, including dates of death. I did find this page online, which gives short biographies of the two men.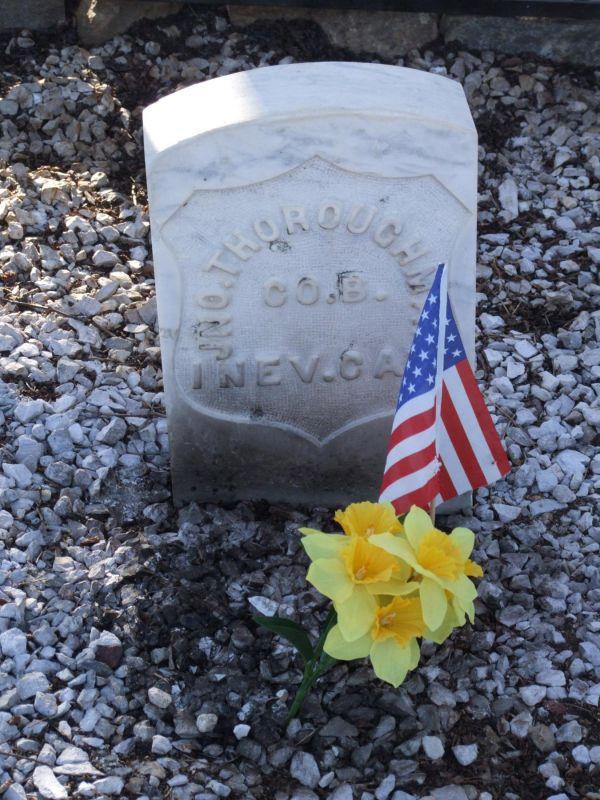 John Thoroughman
Born in 1838 in Ohio, died on December 9, 1909.
Enlisted in army in Dayton, Nev. on June 23, 1863 for a 3 year enlistment. He was inducted at Fort Churchill and mustered out at Camp Douglas, Utah Territory on June 25, 1866. He entered the Ormsby County Poor Farm before Feb. 2, 1909.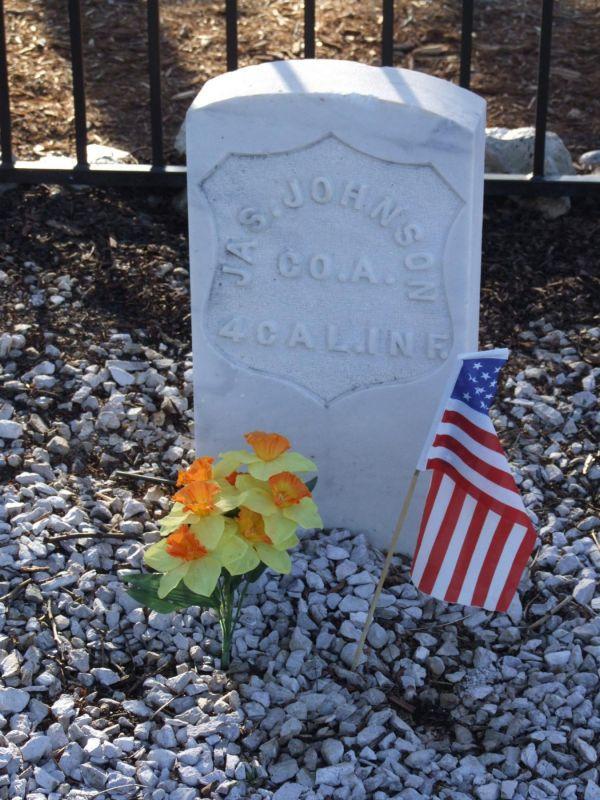 James Johnson
Born in 1836 in Ohio, died on April 13, 1910.
Enlisted in the army on March 17, 1865 from Marysville, CA. He was with Company A, 4th Regimental Cavalry Infantry Volunteers. He was mustered out Nov. 30, 1865 at the Presidio. He moved to Carson City in 1870. Worked at various ranches in the area and took an army pension on April 13, 1907. Admitted to the Ormsby Poor Farm Feb. 1909, left on March 11, 1909, readmitted June 5, 1909, left again on Sept. 15, 1909, and readmitted on Jan. 6, 1910.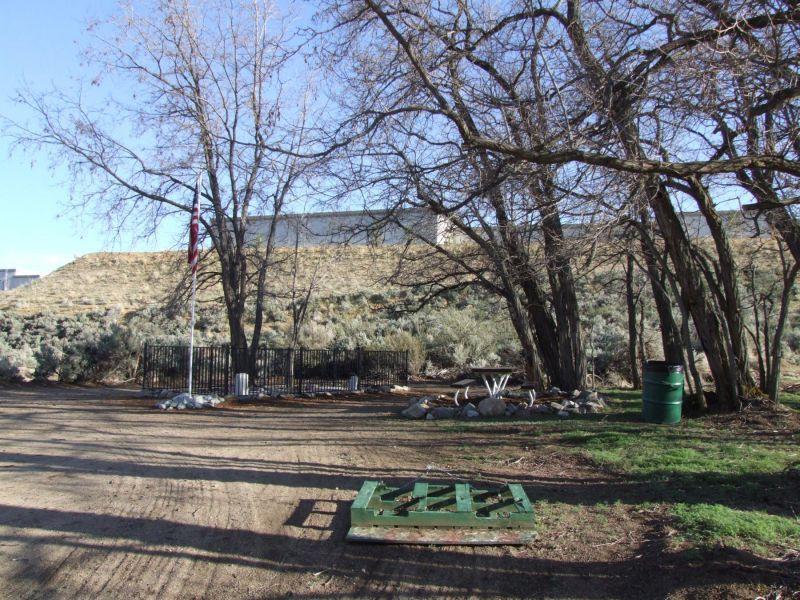 If you want to visit the cemetery, you have to venture outside the green areas of Fuji Park and into the dirt of the Carson City Fairgrounds. At the back of the fairgrounds you'll find a small bridge that crosses Clear Creek. If you go over the bridge and turn to the right, you'll see the cemetery on the other side of a clearing. It's not marked with anything other than the headstones, no plaque describing who these men were or why they ended up buried here. Just a small fenced-in area with a flagpole, in the shadow of the new Wal*Mart. Just another forgotten piece of Carson City history.