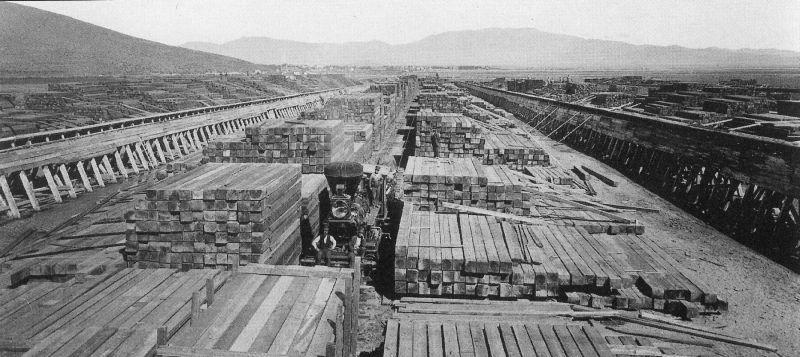 1877
These are the lumberyards of the Carson-Tahoe Lumber and Fluming Company. Formed by D.L. Bliss, Henry Yerington, and Darius Mills, this company was responsible for denuding most of the Lake Tahoe basin through clear-cut logging. Between 1870 and 1898 they removed over 750 million board-feet of lumber from the Tahoe forests. Their main operation was in the Glenbrook area, where the trees would be chopped down and sawed into boards at one of several sawmills. They were then hauled by train, along a railroad line built special for the purpose, up to Spooner Summit, and tossed into a 12-mile flume that carried them down Clear Creek Canyon and into the Eagle Valley. Once the boards reached the valley they were stored here, at the company's main lumberyard on the outskirts of Carson City.
These yards were a mile long and half a mile wide. Millions of feet of timber could be stored here at once. From here the boards were loaded onto Virginia and Truckee railroad cars and sent to Virginia City, Carson City and the Carson Valley. They were used to build houses and mills, and to shore up the mines of the Comstock. The company also sent wood to the Carson Box Factory that it operated a little ways north of here.
This spot became the morgue for Tahoe's forests, and Virginia City was graveyard.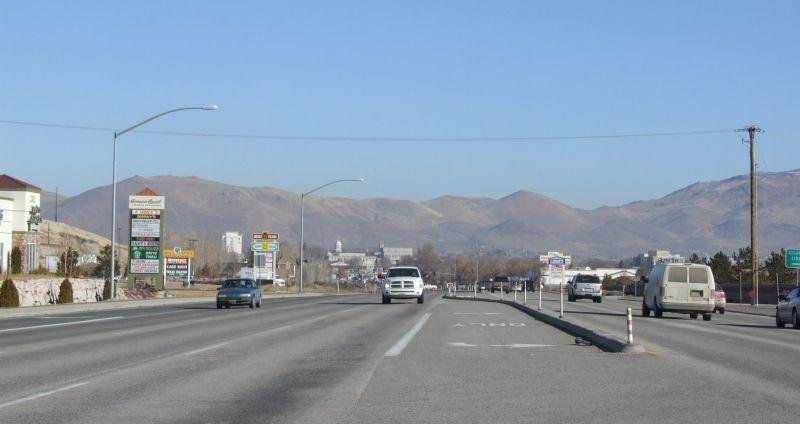 2006
By 1898 most of the trees around Glenbrook were gone, so the company moved its operations to the west shore of Tahoe and ripped up the railroad and the flume. After this the lumberyard didn't have a steady supply of timber anymore, and it shrunk as Carson City found other sources of wood.
In 1877 this site was outside the borders of Carson City, but nowadays Carson has grown to fill the entire valley and this spot is right in the middle of it. South Carson Street (Hwy 395) roughly follows the path that the Virginia and Truckee right-of-way took out of town, passing right by where the lumberyard used to stand. To the east of the highway are houses; to the west is the Carson Indian Colony. And the site of the old lumberyard has been turned into a commerical stretch of road, with motels, restaurants and stores.
Carson City does still have lumberyards, and one of them is Copeland Lumber on Stewart Street, across from the new Bryan Building. That spot is where the Carson Box Factory used to sit, providing a tenuous link between the two lumberyards. The timber doesn't come from Lake Tahoe anymore, though. The basin is now considered a scenic area, and with logging heavily restricted the forests around Glenbrook have grown back.