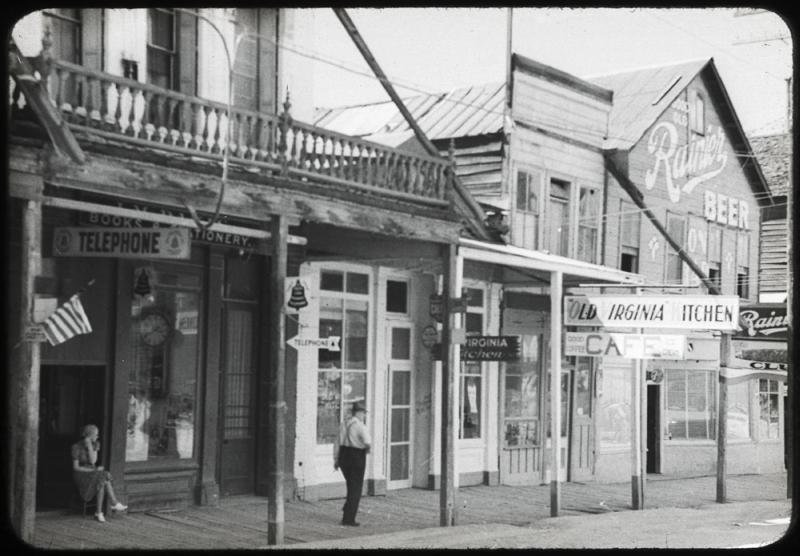 1940
July 8, 1940. Monday afternoon, 3:40pm. This is the heart of Virginia City, Nevada. A few people are strolling around. A lady is waiting for someone in front of the stationery store. "Good Old" Rainier Beer is on tap down the street.
In 1940 the population of VC was depressingly small. Most of the mines had played out, the V&T Railroad had pulled up their tracks, there was nothing to bring new people to town, and nothing to make people want to stay. VC was well on its way to becoming a ghost town, a forgotten outpost in the mountains. A few residents and businesses stuck with the town through the bad years, though. Here at least we have the Old Virginia Kitchen (with Good Coffee!), a bar, a bookstore, and some signs of life.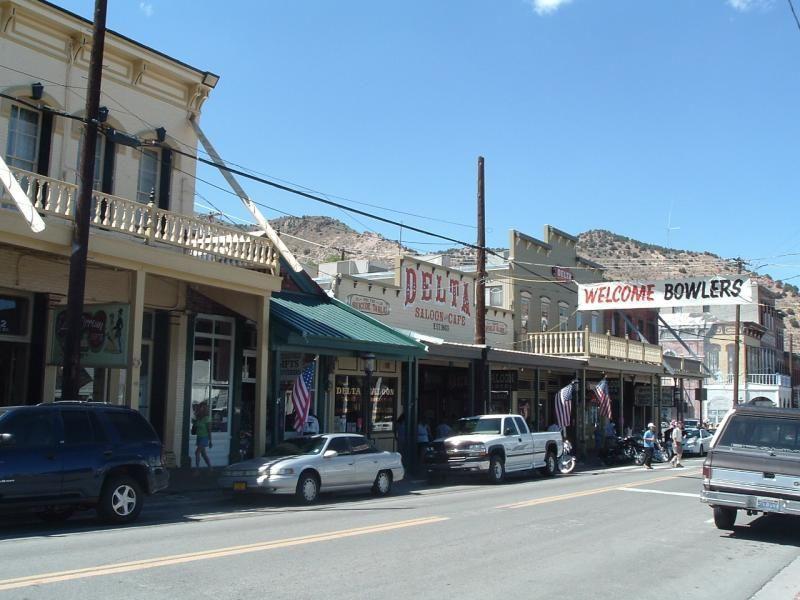 2004
The modern view shows a lot more life downtown. The Old Virginia Kitchen is long gone. Right now it's serving as the Delta Gift Shop. The bookstore is gone as well, replaced by Eilley Orrum Gifts. Eilley Orrum was known as the Queen of the Comstock. With her husband, Sandy Bowers, she became rich off Comstock gold and built Bowers Mansion in Washoe Valley before dying in 1903..
The place down the street that was selling "Good Old" Rainier Beer is the Delta Saloon. It seems to have lost its second story. It may have been the Delta back in 1940, too; I can't find any name on the building in the old photo. The Delta has been around as a saloon and gambling hall ever since the heyday of the Comstock, and it's still going strong as VC's biggest casino. It's also the home of the Suicide Table, an old Faro table in the back of the casino. Depending on who you ask, there was a string of either owners or players who lost everything they had at this table, and killed themselves over it. There's a little mini museum set up around the table.
C Street today is a place bustling with tourists no matter what day you go. And tourists bring money, enough to keep this little town of 900 alive. The stores have changed with the times, though. Where once there were cafes, bookstores, and drugstores, now there is an endless stream of gift and jewelry stores. Eilley Orrum. JA Cohen, Purveyor of Fine Jewelry and Gifts. Comstock Rock Shop. Palace Emporium. Pioneer Emporium. Silver Stope, Indian & Silver Jewelry. Wild Bunch Gifts & Souvenirs. Leather Plus. Leather Works – The list just goes on. This is not a downtown for locals. It's strictly for tourists. Just like most downtowns in Nevada, in fact.
But I guess that's better than becoming a ghost town.