After the tragic death of Bridget Chambers on July 15th, there has been a grassroots movement in Douglas County to get a stoplight installed at the corner of Hwy 395 and Stephanie Way. That corner is where Bridget was killed when another driver made an ill-timed left turn and collided with her car. The thinking is that a stoplight would have made one of those cars stop and wait for the other, and Bridget would still be alive today.
That Stephanie intersection has been home to many, many left turn accidents like that over the years, but Bridget's accident was one of the only fatalities. Hers is certainly the highest profile death that's happened at Stephanie Way, being a popular teenage girl. Within hours after the accident a small memorial sprung up around a streetlight at the corner, and over the next few days mourners kept adding candles, stuffed animals, and poems. That continued until the day that a couple of highway workers removed half of the memorial, and moved the rest of it back to the fence along the roadway.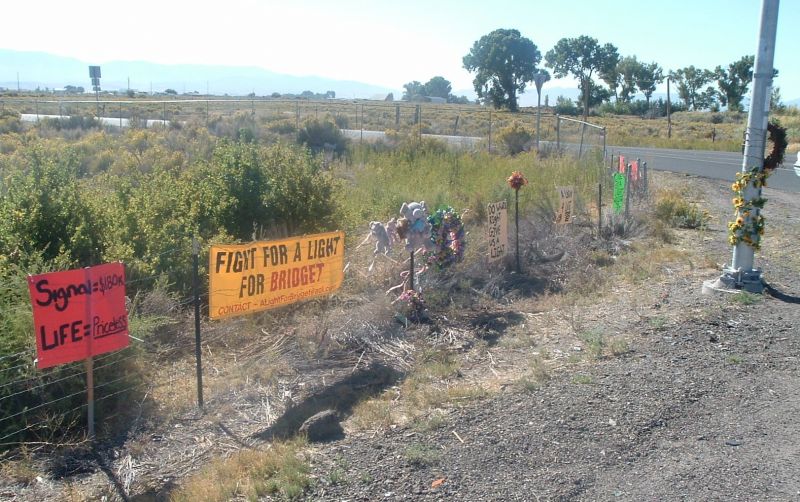 Handmade signs surround Bridget's memorial at Stephanie Way.
Over the last couple of weeks there has been a new addition to the memorial at Stephanie Way, a collection of handmade signs posted to the fence. And each one of the signs is pressing for a stoplight to be installed at the intersection.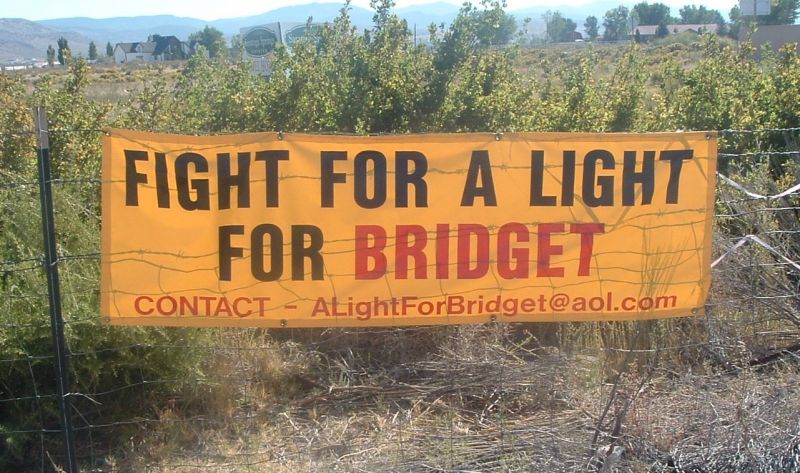 Get involved!
There was a petition being circulated, gathering signatures in support of a stoplight at Stephanie Way. That petition was submitted to the governor's office at the beginning of September. I don't think anyone's made a decision yet, but putting in a signal is a pretty big deal around here. They can take years sometimes to get approved. At least the Nevada Department of Transportation is starting to look into it, and that's a good first step. Stephanie Lane has almost as much traffic as Johnson Lane, and Johnson has had a stoplight for about seven or eight years. So, I think Stephanie is overdue.
Anyway, here are closeups of all the signs. If you want to join the grassroots effort, e-mail ALightForBridget@aol.com.