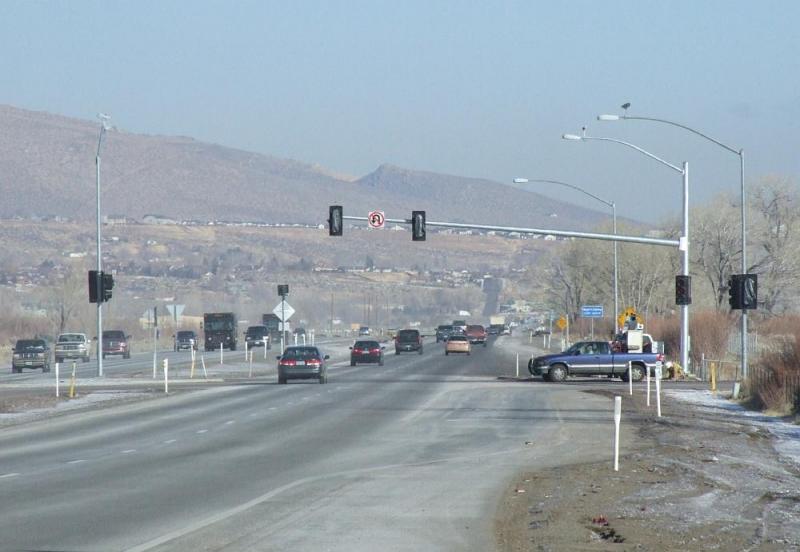 It's the day you've either been waiting for or dreading. Tomorrow Douglas County gets one more stoplight as the signal at Stephanie Way and 395 is finally turned on. Traffic driving from Minden to Carson City will now have two places where they might have to stop, here and at Johnson Lane. And yes it's a pain for everyone that drives through the valley, but it's less of a pain than getting in an accident because somebody thought they could beat the traffic.
Plus it will be a big help to those of us who live out there. We'll once again be able to make a left turn from Stephanie onto Hwy 395, something I haven't done in years. I know there are those who brave the traffic and actually try to make the turn, but it's not something I would attempt. I always go down to the light at Johnson Lane. Now I won't have to anymore.
Of course this is a band-aid solution to the real problem of traffic in the Carson Valley, but something tells me it's the best we're going to get for a long time. The real answer is to make 395 controlled access, with overpasses at the major cross streets. But don't call it a "freeway", because then it will never get built. Not that it will ever get built anyway, not until traffic is bumper-to-bumper the whole way through the valley and the people are rioting for something to be done. The money that went to the signal could have gone towards an overpass instead, but I don't think we'll ever see it happen.
There is an NDOT meeting next week, on Tuesday the 23rd where the community can discuss what needs to be done with Hwy 395. It's taking place at Jacks Valley Elementary School, from 6:30 to 9:00 pm. Whether any of our ideas will be seriously entertained is another matter. The official website mentions limiting left-turns and installing medians, and that's about it. And the only reason medians are needed is because 395 has this ditch running down the middle of it that is notorious for launching cars into the air. So instead of, say, I don't know, filling in the ditch, they'll put a Jersey barrier along it, and block off left turns from Airport Road, and declare the problem solved. Genius.
If we were in California, this would have been fixed by now. There's a flyover ramp along Hwy 50 in Folsom that's completely unnecessary, completely, but apparently they had the money so they just built it. But Northern Nevada doesn't warrant any money for improvements, even when the county is allowing hundreds more houses to be built and thousands more people to move here. We're just letting kids die while making left turns instead. And meanwhile construction costs are rising daily, so the best time to start building is always right now, and even waiting until tomorrow is too late.
So keep buying those band-aids!
Update: As of 11am, it wasn't switched on yet.
Update 2: By 5pm everything was up and running!